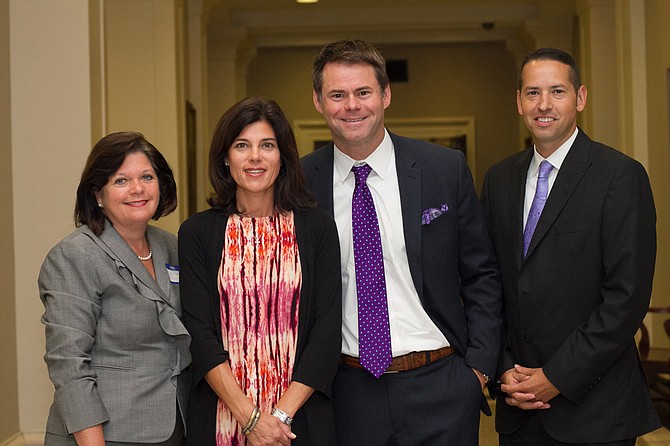 JACKSON — Children in the State of Mississippi's custody have few options when the new Mississippi Department of Child Protective Services remove them from their homes. The Jackson metro area and a few surrounding counties together have 272 foster homes—but 1,099 kids who need a place to go. Almost half those foster kids live in Hinds County.
The situation in Jackson reflects a statewide need for more Mississippians to become certified foster families. There are 5,601 kids in the state's custody and only 1,885 foster homes in the state. Gov. Phil Bryant and David Chandler, the new commissioner of MDCPS, are turning to local churches for help. MDCPS is working with churches and nonprofits to launch "Rescue 100" in Central Mississippi. The initiative will expedite the foster-care training timeline for prospective parents, and the goal is to train 100 new foster families to serve the central Mississippi area.
Fast Track to Foster Parenting
Becoming a foster parent can take anywhere from six months to a year, but the "Rescue 100" initiative has shortened that process significantly. The goal is that families who successfully complete the training can get certified in just a few months.
The State is partnering with the faith-based nonprofit 200 Million Flowers to help facilitate orientations and trainings in the metro area. Craig and Rachel Robertson, the Ridgeland-based adoption agency's founders, said that prospective foster families need to attend orientation before they can go to the training weekend.
"We're trying to get the word out for folks who might be led to or be interested in being foster parents," Craig Robertson told the Jackson Free Press. 
 "This is a way to get all of the training that's required—27 hours—in one weekend, which is extraordinary."
In order for prospective foster parents to get to the "Rescue 100" training weekend, Oct. 21-23 at Mississippi College, they must attend an hour-long faith-based orientation, then complete their initial application, and online CPR and blood-borne pathogen trainings.
Orientations are scheduled in Madison, Hinds, Rankin and Warren counties the week before the training weekend, and Craig Robertson said anyone who fits the state's requirements to become foster parents is welcome to attend.
In order to become a foster parent in Mississippi, a person must be a legal Mississippi resident, pass a criminal background check, be at least 21 years old, have no more than four children already living in their home and be financially self-supporting. State law allows both married couples and single people to become foster parents.
Janice Sandefur, the executive director of the Mississippi chapter of the National Association of Social Workers, says the content of the training is more important than how long the training takes. While the one weekend training seems fast, she said that it still offers benefits.
"(When) the family is immersed in the information along with other families, there's the opportunity for dialogue and sharing and questions, and if you have experienced foster families as a part of the training, which many organizations do, then you also get insight into what it's going to be like when you're on the other side and you're licensed," she said.
Traditional foster-care training can get long, and sometimes the initial enthusiasm families have can wane, Sandefur said, adding that keeping people engaged is critical.
Under normal circumstances, interested foster parents would apply to the MDCPS directly. To receive the expedited training through the "Rescue 100" initiative, however, families must attend an orientation developed and presented from a faith-based perspective.
"200 Million Flowers is a faith-based organization; we operate in the church and in the Christian community, but the State follows the law," Robertson told the Jackson Free Press. "So obviously others are invited to attend, but they should know that this is going to be presented from a faith-based perspective."
Sandefur said that local churches and nonprofits and other organizations are excellent recruitment tools to help find prospective foster families and get the information out there.
"I don't believe it's because of any particular belief system," she told the Jackson Free Press. "I believe that when you're looking for foster families, you're looking for groups or individuals who are willing to let you come and share the information."
Sandefur said she supports the "Rescue 100" idea and hopes it is successful. She said the need for foster homes is not unique to Mississippi—states everywhere struggle to find adequate and enough care for children in their custody.
Mississippi's foster-care system has started to change in the past year due to the Olivia Y consent decree, based on a 2004 lawsuit brought against the State for its poor treatment of children in its care.
Sandefur said the qualifications of those facilitating and conducting the training is critical to ensure that the prospective foster families are adequately prepared. She said follow-up is important, allowing prospective foster parents to ask questions.
"I do think that it's very critical ... that the workers are qualified that are out there doing the recruitment, doing the presentations, doing the home studies, following up, that's very, very important, and not just relying on one mindset or one set of values," Sandefur said.
MDCPS is partnering with Mississippi Children's Home Services, Southern Christian Services for Children and Youth, and the Mississippi Community Education Center to host the training.
'Nothing Worthwhile is Easy'
If a prospective foster family makes it through the training weekend, the state begin background checks and pre-screening, Robertson said. Everyone over the age of 14 living in the prospective foster family's home must get a background check, and then a home study by a licensed social worker will determine whether or not the family is prepared to take in a child.
Once a family is certified, they will still decide whether to take a child into their home when social workers call them.
The Robertsons stressed that fostering is not for everyone. Foster placements can last a few days or weeks—or drag on for years—depending on the child's situation. The State is legally required to try and reunite the child with immediate family or other relatives before looking to third-party adoptions. In the past year, MDCPS data show that 1,774 children exited the foster care system to reunification. About 66 percent of those kids left the State's care within a year of entering it.
 Craig Robertson said fostering is more than just parenting.
"This is not for everybody—you're opening up your home and your family to visits by social workers, (possibly) visits with the child's biological family, so there's a lot more to it then just having a child in your home," he said in the interview.
He also said that despite the challenges, "nothing worthwhile is easy," adding that 200 Million Flowers has existed since 2012. Robertson said that while the foster-care system has seen positive steps, there is still a long way to go.
If you're interested in attending a "Rescue 100" orientation or becoming a foster parent, visit 200millionflowers.org/rescue100.
Clarification: This story has been updated to reflect Commissioner David Chandler's new title. He is now the commissioner and was previously the executive director of the Mississippi Department of Child Protective Services.
Email state reporter Arielle Dreher at [email protected].
More stories by this author
Support our reporting -- Follow the MFP.