JACKSON — The Mississippi Department of Health can have a hard time keeping nurses because they can earn more if they go to work for other hospitals, an attrition problem that afflicts many state agencies and, ultimately, Mississippi taxpayers.
Dr. Mary Currier, the state health officer, told lawmakers Sept. 7 that her department's turnover problem results from the salary scale the State Personnel Board sets and how much funding the department receives in the first place.
"It hurts us to have nurses who come to work for us who then leave a year later because they found a job with a better salary," Currier told a legislative working group last week.
"Then you end up with a new employee you have to train all over again—and that's expensive, so if we keep our employees longer, I think it would benefit everyone."
A 'Revolving Door'
Other agencies share the Department of Health's struggle. At the Mississippi Department of Transportation, employees in their first five years have a tendency to leave at exponentially higher rates than those who make it past the five-year mark.
The maintenance staff—entry-level workers in the agency who mow the lawns, fix the guardrails and keep the roadways safe—make up 57 percent of the agency's resignations in the past five years.
Melinda McGrath, the executive director of the department, told lawmakers last week that hiring those maintenance workers is like the department has "a revolving door."
"We hire these people and train them with a skill set, and we help them get their commercial driver's license, but because pay is not commensurate with what they can get with other (companies) in the private sector or counties, or cities or whatever—they leave," McGrath said.
Maintenance Tech 1 salaries start at $19,345 annually. A 2016 Stennis Institute study found this salary to be grossly below the industry standard. The study surveyed several southern states' transportation departments as well as municipalities and counties throughout the state that employed maintenance workers MDOT would want to hire. The study looked at maintenance and equipment operator roles only.
"MDOT salaries were found to be well below the survey mean in all positions, throughout all scenarios," the study's researchers said.
House Transportation Committee Chairman Charles Busby, R-Pascagoula, asked McGrath last week if it was possible for her department to use the same amount of dollars, giving them to fewer employees by raising salaries and still complete the work that needed to be done. McGrath said that could be a possibility in the maintenance tech department, especially if the department could avoid the compliance language the State Personnel Board sets for agencies.
Lawmakers asked all state agency heads about the State Personnel Board—and if being removed from the board would help their agency raise salaries or hire the quality of workers that they needed.
The State Personnel Board, or MSPB, functions like a human-resources agency for state departments, recruiting and reviewing applicants for state jobs and ensuring that federally required standards are met. The board also makes annual salary realignment recommendations to the Legislature. A representative from the board was not available to speak with the Jackson Free Press by press time and opted to email a statement regarding the process for salary scales.
The Legislature set current salaries and ranges in 2007 when lawmakers approved the board's recommendations for salary realignment.
"If the Legislature funds MSPB's recommendations, the salary ranges are updated. If the Legislature does not fund MSPB's recommendations, an agency with a critical need to realign a certain job class can currently make a request to MSPB to correct the salary range," the emailed statement from MSPB says.
"However, MSPB's ability to authorize correcting the range is contingent upon the agency having sufficient funding from the Legislature to actually pay for the increase."
'Fast-food' Wages
The lowest-paid state workers often work more than one job. In the Department of Mental Health, the entry-level "boots on the ground" direct-care workers have a 48-percent turnover rate in the agency.
The agency has about 2,900 direct-care workers, and Wendy Bailey, a bureau director at the department, told lawmakers they were the "heart of the agency."
The high turnover rate, Kelly Breland, another bureau director, said is likely from pay and conditions. Direct-care workers make $8.37 an hour, or an annual salary of $17,408. After the salary realignment, which will be implemented in the coming fiscal year, they would make $20,020.
These employees work closely with patients in the state's hospitals, a job Bailey says is difficult, with intense training and a stressful work environment. "You may have someone do this job temporarily and then go to work at a fast-food restaurant and make pretty much that (wage) if not more with a less stressful job," Bailey said about potential turnover.
Breland said the pay for direct-care workers in the state is comparable to other states, but the high turnover rate can also come from the nature of the job. Bailey said it was not uncommon for direct-care workers to have another job, sometimes even two more.
Other agencies, instead of looking to raise wages or salaries, have privatized entire sectors. Representatives from the Mississippi Department of Human Services recently privatized its entire child-support division, they told lawmakers last week. With the governor cutting most agencies' budgets by 1.6 percent last week, agencies will have to consider where to take those cuts.
Some agencies might be able to make the same amount of money work by hiring fewer people with higher expertise. While that may be possible at some agencies for some positions, like maintenance workers at MDOT, it is not replicable everywhere.
On the other side of the agency spectrum, the new Mississippi Department of Child Protective Services is able to offer competitive salaries to its new social workers, largely because of the Legislature's extra appropriation to comply with the "Olivia Y" lawsuit, originally filed in 2004 to force Mississippi's foster-care system to adequately protect children in its custody and provide necessary services.
David Chandler, executive director of the child protection agency, told lawmakers last week that he felt the pay was fair, and that hiring was actually ahead of schedule. The new department has hired 237 new social workers, as of last week, and only has to hire 48 more to meet its December target.
For more state news visit jfp.ms/state. Email state reporter Arielle Dreher at [email protected].
More like this story
More stories by this author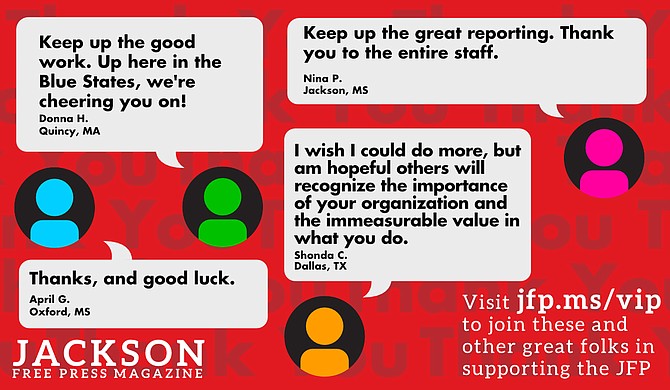 Thanks to all our new JFP VIPs!
COVID-19 has closed down the main sources of the JFP's revenue -- concerts, festivals, fundraisers, restaurants and bars. If everyone reading this article gives $5 or more, we should be able to continue publishing through the crisis. Please pay what you can to keep us reporting and publishing.