JACKSON — The juvenile-justice system can pose financial burdens on youth depending on their economic background and the color of their skin. A new study, conducted by the Juvenile Law Center, found that juvenile court fines and fee structures more severely affect poor families and exacerbate racial disparities in the juvenile-justice system.
In some states, fees that youth or their families are required to pay to either get a youth's record expunged or as the cost of diversion or penalty can make juvenile detention seem much more like a "debtors' prison" for kids.
Jessica Feierman, the lead researcher on the project, said that the study revealed the glaring inequality experienced in the juvenile-justice system largely based on income.
"We've created two separate systems of justice," she told the Jackson Free Press.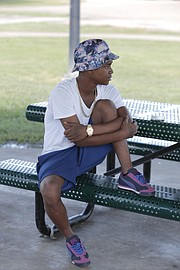 A full archive of the JFP's "Preventing Violence" series, supported by grants from the Solutions Journalism Network. Photo of Zeakyy Harrington by Imani Khayyam.
Feierman's study examined all 50 states' juvenile-court laws to determine what fees and fines were mandated or allowed based on judicial determination (meaning a judge can decide to impose a fine up to a certain limit). In Mississippi's law, youth-court judges have the capacity to fine a youth or their family up to $500 for failure to comply with orders of the court—or the young person could go to the detention center for 90 days.
"Young people don't have (that) money, so it's hard to imagine how many of them could successfully pay off such fines," Feierman said.
If the young person ends up in juvenile detention instead, his or her chances of committing worse crimes later, a 2016 BOTEC report about Jackson crime found.
Mississippi's youth-court law allows the judicial determination of fines or fees, with the exception of appeals. If a minor wants to appeal his case from youth court, Mississippi state law requires him to appeal directly to the Mississippi Supreme Court.
Feierman said that this provision is not common, when compared to other states, and she said it's common for appealed cases to go to an intermediate court in other states. In Mississippi, a young person is responsible for paying to appeal his or her case to the Mississippi Supreme Court.
"The concern about paying for the appeal is the chilling effect that it will have," Feierman said. "Juvenile cases are already not appealed often."
Mississippi-specific data on how much fines and fees play out in the juvenile-justice system here were not addressed in Feierman's study because those contacted in the state for the study did not respond to emailed surveys, or possibly didn't receive them, Feierman said.
Nationally, however, Feierman and her team found that financial penalties used in juvenile justice actually lead to increased recidivism rates in communities where data were readily available.
For more stories about juvenile justice in Mississippi visit jacksonfreepress.com/preventingviolence. Email state reporter Arielle Dreher at [email protected] and follow her on Twitter @arielle_amara.
More stories by this author
Support our reporting -- Follow the MFP.