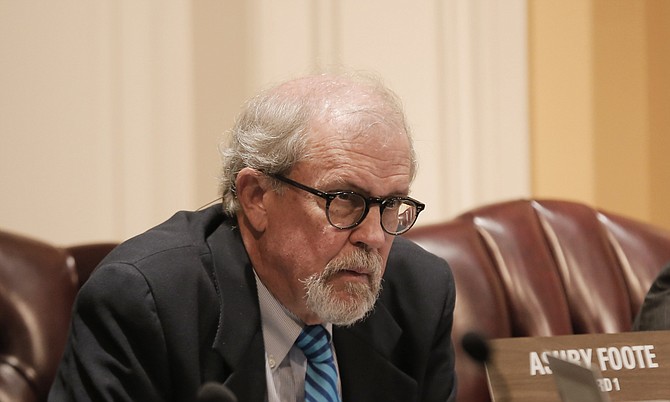 JACKSON — Walter "Dick" Dickerson and his wife have lived on Ridge Drive the Woodland Hills subdivision in Fondren for the last 21 years. It's not a gated community, and he does not want to be excluded from any plans made by neighborhood organizations to build one on his street.
Dickerson told the Jackson City Council this week that an organization within his neighborhood, the Woodland Hills Conservation Association, planned to build two gates within the subdivision.
"This proposal would gate my street, Ridge Drive, midway down the street, and my home and others in the Woodland Hills subdivision would be excluded from the gated area," Dickerson said. "This would have an adverse effect on our property value, being outside the gated area."
He is not the only one against the gates, Dickerson said. "We view this as an attempt, or an effort, to create a subdivision within the subdivision. And a number of excluded households are opposing the gated proposal that is being put forward by the association," he said.
At its May 3, 2016, meeting, the council had passed a gating ordinance that allows neighborhood associations to erect barriers to their communities, but an Oct. 11 memo from Eric Jefferson, the city's planning and development director, explains that after "receiving questions and concerns from City departments, private attorneys and concerned citizens," the City attorney's office is recommending that the council repeal the May 3 ordinance.
Mayor Tony Yarber said at the Oct. 18 city council meeting that the ordinance is "nightmare" to implement. He then asked the council to repeal it.
"What we wanted to do was get the opportunity to get some direction from council, particularly from the author of the ordinance, and to give you guys the opportunity to articulate to us what's wrong, what's happening," Yarber said at the meeting.
The original ordinance included a lot of paperwork. First, the applicant for a gate had to be a homeowner's organization or "other approved applicant." It is not clear in the ordinance where that line of distinction is drawn. The gate, or one of planned multiple gates, had to remain accessible to the general public 24 hours a day, seven days a week, and even had to have a sign broadcasting public accessibility.
The permitting process included a sketch of the gate, including the surrounding features such as fire hydrants, grates, planters and property lines. Even more cumbersome was a requirement for 60 percent of the homeowners in the platted subdivision or neighborhood to approve the gate, or if they weren't in a platted neighborhood, 60 percent of those living in homes facing the street on which the gate would be placed had to approve it.
Jim Wilkerson, a Fondren resident who is also the executive director of the Fondren Renaissance Foundation, asked the council and mayor what the timeline looked like, pointing out that some groups had already spent time and money readying their applications based on the ordinance as proposed.
"[S]ince y'all voted in May, (I know) there are a number of neighborhoods that have already gone forward on good faith of 60 percent to do their legal paperwork and their accounting paperwork, and they are spending funds right now, and they are not able to put in an application because the process is not set forth," Wilkerson said.
The mayor said he supports moving the item back into committee, which could make the proper changes.
"The primary reason ... that I wanted to have it pulled and it not be voted on today was to give us an opportunity for us to get some better clarity and direction," Yarber said. "We know from our end, but we wanted to be able to hear about what's happening at a community level. It's just extremely difficult for us to be able to implement at this point. So we wanted to ask that it be pulled or placed in committee so we can kind of push through it.
"Some people have already started down that road, and we didn't want to put them in a situation where they would lose time or money doing that."
Ward 1 Councilman Ashby Foote, the author of the ordinance, said he supported clarifying the ordinance with input from the public.
"First of all, let me thank the folks that came in today regarding this issue. I think it's an important issue for the neighborhoods and all," Foote said. "I think the next logical step is to have the town hall, a public hearing to let everyone offer their input and give a chance for feedback."
Council President Tyrone Hendrix said that Foote had requested the ordinance to go back to the rules committee. The council did not announce a time and place for any public hearings.
Email city reporter Tim Summers, Jr. at [email protected]. See more local news at jfp.ms/localnews.