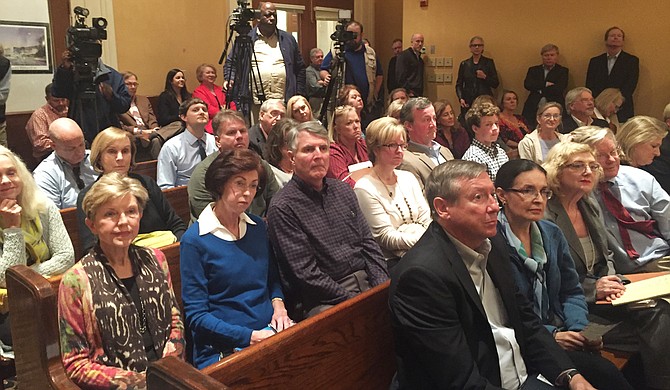 JACKSON — Carl Menist, a resident of the Woodland Hills neighborhood in Jackson, showed up to a Nov. 14 city-council public hearing to speak out against a plan to gate his community. Menist says both the property value and tone of the charming neighborhood would change with a gate installation.
Woodland Hills, he said, already has low crime and attracts younger families, who gates might turn off. "It appeals to them, and they like it the way it is," Menist said, adding, "It's a lot better than it was a few years ago."
Mayor Tony Yarber asked the council in early November to repeal and send back to committee for reconsideration an ordinance allowing neighborhood associations to build gates, which had passed months before. His office received public criticism about the process the ordinance required for gate approval, including unanimous consent among the residents. The council agreed, moving the ordinance back for reconsideration, prompting a Nov. 14 public hearing.
That hearing split between people like Menist who do not want gates imposed on his neighborhood and those who want them to keep possible criminals and high-speed traffic off their streets, which urban planners call "intentional segregation."
'Real Estate 101'?
Ted Duckworth, a developer and real-estate agent, said that whether a community has a gate can be a factor for some people considering buying a home in Jackson versus choosing to move out to Madison and Rankin counties.
"We are competing against the rest of the market," Duckworth said.
"This is real estate 101. When people are looking to improve their neighborhood or are out shopping their house, they look at the competition. We are competing against the suburbs in Jackson, and we have enough against us."
Menist, though, said his property has increased in value even without the gates. "I can tell you that where I lived, that my property value has increased four and a half times over the last 29 years," he said.
Other gate opponents said is not a matter of economics alone, but also about exclusion and segregation. "My family has lived in that house since 1968," resident Amy Kraus said. "We were one of the first homes in the area."
Kraus said her family helped develop the area and now would be excluded from the gating of the Woodland Hills area. "It's really hard to hear that you can put a gate up in the middle of the street that actually goes right up to our home," she said.
"We really want to stay in Jackson. I am just asking that we keep everyone in our thoughts," Kraus told the council.
If crime is the concern, Kraus said, gating it out would only push the problem to the neighbors outside the gate, not address the crime itself. "It's not slowing down crime for everyone else until we take some other measures," Kraus said.
For others, though, the gates symbolize safety and security.
Alan Lange is a local businessman who started the conservative Mississippi website YallPolitics.com and used to host a blog called jacksoncrime.org, with a large picture of a handgun, that complained about crime in Jackson. When Lange lived on the side of Woodland Hills near Old Canton Road, he had his front door kicked in, house ransacked and his car robbed three times.
"The proximity to high-traffic areas is a direct component and almost perfectly correlates to criminal activity," said Lange, who moved to another location in the neighborhood in 2003.
"So I think that it's understandable that a lot of people particularly next to high-traffic areas want that if it is feasible."
Lange, like others, leaned on the anticipated increase in property values that he said would happen as a result of the gates. He said that if the council crafts the ordinance correctly, then other neighborhoods across the city could benefit.
"There is no reason that Presidential Hills can't be done," Lange said of a majority-black neighborhood in Jackson.
Some proponents of the gating ordinance also want to stymie dangerous driving in their neighborhood. Jacob Stutzman said that on his way back to his home in Fondren the other day, a speeding car passed close to his young son.
"I'm not sure that they even saw me and my 4-year-old son in the street, (and) it scared me," Stutzman said. "Yes, it has property-value concerns, but it also has the safety-of-my-son concerns."
"People just drive way too fast in there, and this is a way that we can go about solving this issue," he added.
Jackson Police Department Precinct 4 Commander Keith Freeman said the gates pose a problem for safety officials in time of emergency.
"It may be good for those that live there, but it kind of makes it a longer delay for the police, fire and ambulance to get in," Freeman said.
He said police receive some calls for service in that area, but that it is normally relatively quiet.
Perceptions of Safety
Dr. E. J. Blakely, a leading expert on neighborhood gating and urban planning studied the effects of intentional segregation on cities while at the University of California-Berkeley.
Blakeley wrote in 1998 that studies have found little evidence that the safety residents might feel from living behind gates is real.
"The ambiguous and spotty successes and failures of gates and barricades as measures to control crime indicate that although people may feel safer, they probably are not significantly safer," Blakely wrote. 
 "Thus, fear and anxiety feed on themselves. Gates and walls reflect fear and serve as daily reminders of the perceived dangers on the other side at the same time they do little to improve the reality."
Ward 1 Councilman Ashby Foote, the principal author of the ordinance, said public input would factor into the next iteration of the neighborhood gating ordinance, with no set date to appear in front of the council.
"Thanks for everybody's efforts here," Foote said, "and hopefully we will get this all ironed out soon."
Email city reporter Tim Summers Jr. at [email protected] and follow him on Twitter at @tims_alive for breaking news. See more local news at jfp.ms/localnews.