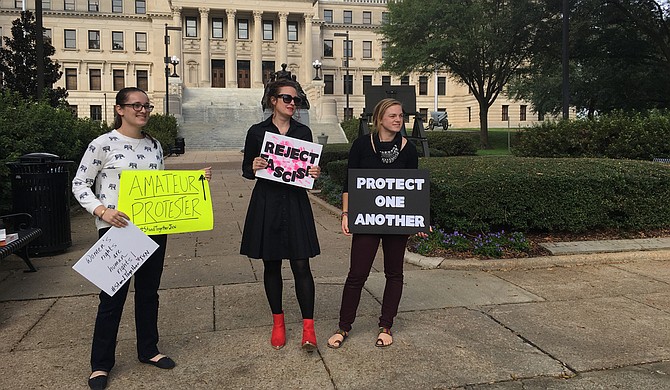 JACKSON — Mississippi native Marisa Green was scheduled to come home for Thanksgiving from New York where she lives and works as a photographer and an artist. But in the wake of Donald Trump's election last week, Green decided to come home early and organize a peaceful protest outside the state capitol on Sunday, instead.
"I searched for an event happening in Jackson, and I found none, and I feel that an immediate response is the only way to answer this kind of stuff," she said. "People need time to process, but the time to act is now. ... I've said it before, but if you're not angry, you're not listening."
It has been less than a week since Donald Trump got enough electoral votes to ascend to the White House, and incidents of hate speech and crimes have spiked since the election. Protests broke out across the country's big cities, and walk-outs continue in some public schools today.
Green and other protesters used #standtogetherjxn as a hashtag to organize a protest Sunday, which drew a few supporters, with up to seven people at its peak. Rachel Glazer, who lives and works in Jackson, said watching her mother react to the election spurred her to action. Glazer said her mother lived through the Civil Rights Movement, the campaign that led to Roe v. Wade and worked inside the criminal-justice system.
"(She) worked in law enforcement and saw the problems in our incarceration system and saw the systemic racism therein," Glazer said. "I couldn't watch my own mother suffering and (not) say, what's my role in this?"
Green and other protesters said this was just the beginning of organizing and finding people who felt similarly after the election. Karissa Bowley, who lives and works in Jackson, said she came out to protest out of a need to do something, but clarified that protesting is not nearly enough.
"I wanted to find people feeling similarly, and get started on doing whatever we're supposed to be doing to reach people, especially reach people that believed that this presidency would help them," she said.
Green said she continues to plan and organize in Mississippi. She said she is working on organizing Mississippians to attend the Women's March on Washington, scheduled in Washington, D.C., for Jan. 21, 2017, the day after Trump's inauguration.
The Southern Poverty Law Center has counted more than 200 incidents of election-related harassment as of Nov. 11. The incidents in this state include a black woman in Jackson's Belhaven neighborhood finding a threatening note on her car, which used the n-word, and the Ku Klux Klan distributing recruitment flyers in Starkville, the home of Mississippi State University. Nationally, many incidents are targeting Muslims, including a man threatening to burn a Muslim student at the University of Michigan alive if she did not take off her hijab. She did and then ran.
"It's important the we protect one another right now," Green said.
In a "60 Minutes" interview with journalist Lesley Stahl released Nov. 13, Trump said he had heard of only one or two instances of such incidents, but when pressed by Stahl said it's "terrible."
When asked if he had anything to say to his supporters harassing other Americans, he said: "I am so saddened to hear that. And I say, 'Stop it.' If it—if it helps. I will say this, and I will say right to the cameras: Stop it."
Email state reporter Arielle Dreher at [email protected].
More stories by this author
Support our reporting -- Follow the MFP.