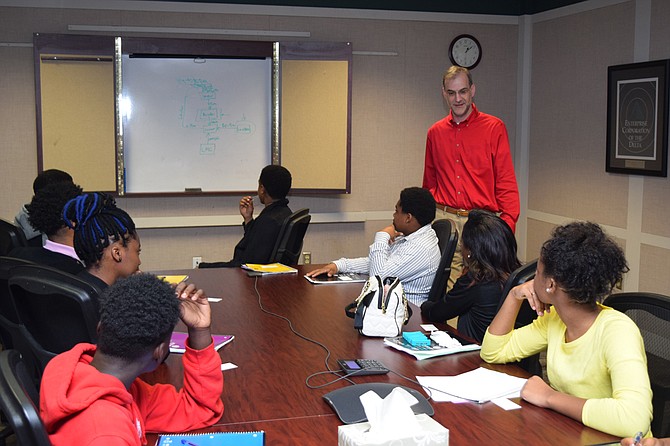 JACKSON — Students at Provine High School will soon be able to open up accounts with Hope Credit Union right in their own hallway.
The project started as a partnership between Provine High School's Business and Finance Academy and Hope Credit Union.
In the program, students participated in workshops, learning about financial literacy, how credit unions work and the importance of saving money from staff at Hope as well as their own teachers who received training from the credit union.
Every JPS high school student, except seniors, chooses an academy to take elective classes in for grades 10 through 12. Each JPS high school has three academies: health science, technology and a third academy of the school's choice.
At Provine High School, the third academy is the Business and Finance Academy.
The Jackson Public Schools Board of Trustees approved the agreement between the two entities at its board meeting on Nov. 1.
Dr. Freddrick Murray, the newly named interim superintendent of JPS, told the board that the first step of the project is to open the kiosk, which will be available to students, staff and faculty at Provine High School to open accounts with Hope Credit Union. The kiosk will not handle cash transactions at first, but eventually the goal is to have a fully functional Hope Credit Union branch at the high school available to all community members.
"Our plan is to create a footprint," Murray told the school board Nov. 1. "We've already started about a year ago. We started some work with some internships and externships; we hope to have a fully operable credit union within a year."
Murray said the district is following a model out of Nashville, which has multiple credit unions across a school district, but the kiosk at Provine is a good first step.
JPS board members praised the partnership, echoing the community and students' needs for financial literacy.
"In the long term for the community, when you look at Ellis Avenue with all the check cashing and payday lenders, the fact that there's a credit union (potentially opening) that's huge for our community and huge for our kids," JPS board member Jed Oppenheim said.
Pearl Wicks with Hope Credit Union has worked on the partnership with JPS since 2015. She said this is Hope's first partnership inside a high school but that working in schools and in the community is a part of what the credit union does as a part of its mission. The importance of saving money is one of the basic financial-literacy lessons students learn, she said.
Teaching students that they can start saving money in order to save for bigger purchases like cars or homes is an important lesson, along with learning the importance of building a relationship with a financial institution, she said.
"Savings starts where you are; you can start a plan to save for many reasons," Wicks said.
Most Unbanked, Underbanked
Twelve percent of Mississippians are unbanked, and 25 percent of Mississippians are underbanked, meaning they have a bank account but still rely on other financial service alternatives like payday lenders, check cashers or using money orders.
While the numbers of people who are unbanked or underbanked in America continue to decline, Mississippi still tops the list of the "Most Unbanked" and "Most Underbanked" state in the nation, new data from the Federal Deposit Insurance Corporation show.
Reliance on alternative financial services, such as payday lending, is an access issue in most cases. If a person gets off at 10 p.m., for example, no bank will be open for them to cash their check, but often check cashers or payday lenders are open.
Experts say this is largely due to the state's poverty, demographics and geography. Banks and credit unions are less likely to be found in the state's communities of color where the rates of under- or un-banked Mississippians are high, Joe Valenti, director of consumer finance at the left-leaning Center for American Progress, says.
Today, technology is helping to change these numbers, especially with smartphones. Access to financial institutions is easier than in past years, with financial institutions making mobile access to accounts and enabling services like text alerts, Valenti said. Other options, like prepaid cards, which function like debit cards but are not connected to an account, can empower people to keep track of their finances, Jacqulyn Priestly with the Master Your Card initiative said.
Master Your Card is a financial-literacy program sponsored by Mastercard, which will start financial education programs in northwest Mississippi.
Access to financial institutions can save users money in the long run, Valenti says. That is because services like check cashing or payday lending mean customers lose a certain percentage of their paychecks or the amount of money they are cashing or borrowing.
"A very low estimate that I've put together for a typical minimum cost is $400 to $500 a year that's going to financial services. It can be higher," he said.
While not all bank accounts are free, Valenti said banking with a financial institution in the long run can mean keeping more of one's money. For Wicks and Hope Credit Union, part of the partnership with Provine High School is about helping students realize that having a relationship with a financial institution means they can establish a credit line or take out loans in the future.
Email state reporter Arielle Dreher at [email protected].
More stories by this author
Support our reporting -- Follow the MFP.