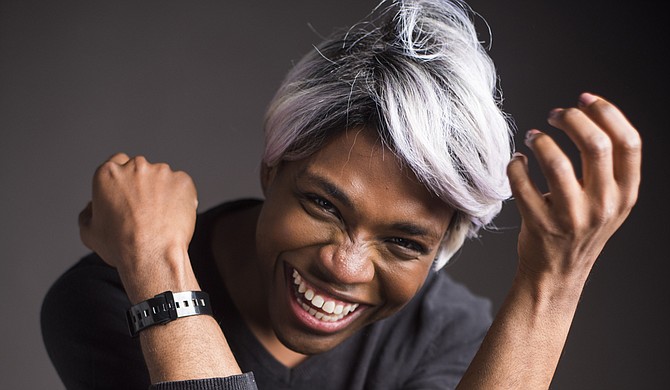 Katherine Day came home to Jackson on a train last fall; it had been six years since she had last lived in the city. Day grew up in Jackson, but when she was 24 years old, she made a break for it and left in 2006.
Day has lived in San Francisco, Asheville, N.C., and most recently New York City, working in the film industry. She studied screenwriting and film at Hunter College in New York City. Before she left Jackson, she studied biology at Belhaven University. And while Day did not finish any degrees, she says she's always learning.
Reflecting on her days as a production assistant and stylist in New York, Day says despite the long hours, she loved to learn on set, create projects much bigger than herself and look at the big picture.
"It's about networking and learning, and it's like being paid to go to school," she says. "I am never just doing what I am supposed to be doing, and if it's mundane, it's about multi-tasking."
In Jackson, Day works a day job to pay the bills, but the arts are where her passions lie. Here, she has realized that she is able to do everything she wanted to do in New York—without the competition—because the city has a smaller number of people.
"It's really great to move away, but it's often really good to come back because what 20 million people are doing elsewhere, you would be the only one doing it here," she says. "And you can bring a fresh perspective back to Jackson, Mississippi, which so desperately needs it."
Day wears many creative hats; she is an actor, screenwriter and jewelry designer, and she's found that Jackson is a good place to work on a lot of her passion projects behind the scenes. She has finished a screenplay for her first film, "The Homecoming Queen," and is working on getting the funding to finish production. "There are a lot of things I am working on behind the scenes," she says. "It's about me doing all the things that I've wanted to do."
She recently performed her comedy routine, "A One Woman Show," at Hal & Mal's, and got such great response that she will perform it again on Wednesday, May 25. Day's return to Jackson meant a way for her to greet the city as Katherine, a transgender woman, for the first time. Day says her identity as a woman is more than the "trans" image that media portray.
"Just as quickly as 'trans' became a thing, society made a mold, a cookie cutter for us all to fit in very quick, so anybody who is trans, we have to push them through this confirmation," Day says. She says that when trans women start the change, a type of femininity is expected, but not everyone can fit the "super-model" mold.
More stories by this author
Support our reporting -- Follow the MFP.