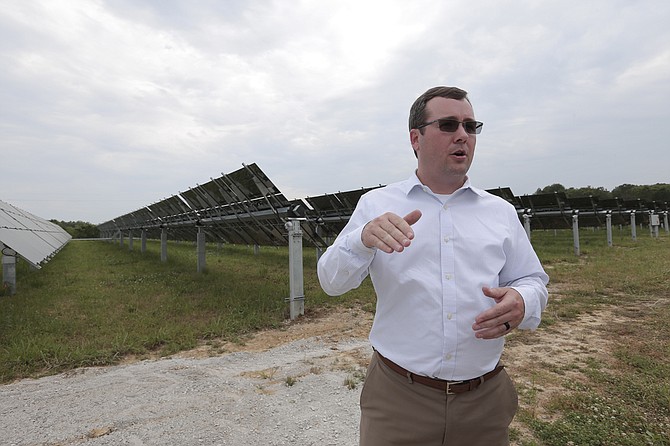 JACKSON — It's a relatively overcast day, but the rows of solar panels are tilted to face where the sun could be shining if the clouds parted. The backs of the panels are mirrored, reflecting the green glass below them, giving off a sort of space-age vibe. Solar energy is what it sounds like: it's generating power from sunlight, and in parts of Mississippi, the sun is at least in part responsible for turning on your lights.
Last spring, Entergy announced it would invest $4.5 million into three solar plants in Mississippi. Entergy mainly serves the western half of the state. The plants were set in three different regions of the state to test weather patterns: DeSoto County, Jackson and Brookhaven. The solar panels came from the Stion Corporation in Hattiesburg.
The plants began producing power around the new year, and the Jackson plant had its official opening ceremony last week. The Hinds County plant differs from the other two in that its panels electronically track the sun, so every nine minutes the panels tilt one degree, tracking the sun throughout the day.
Aaron Hill is the manager of transmission planning at the plant, and he explained how the panels work. The panels absorb the sunlight, which creates DC power, then sends that power to a white inverter box, which is about the size of a large wardrobe located to the side of the rows of panels. The inverter converts DC power to AC power, which goes right up on a power line and out to the grid to power people's homes and businesses.
"It's producing energy that's being used. It's part of a study first to learn how feasible solar is in Mississippi because a lot of the data that you read is from Arizona, California, more of a drier climate," Hill said. "So how does a moist environment, a humid, tropical environment, how does that work for us?"
Only time will tell. So far, Hill says Mother's Day weekend was one of the Hinds County plant's best-performing days. The plant generated about 400 to 500 watts of DC power, which amounts to power for about 58 houses.
On a cloudy day, the plant generates less power, but Entergy is not using solely the solar panels to generate energy in Hinds County. The combined cycle natural gas turbine, which sits on the same land as the solar plant, just behind the row of solar panels, produces power in conjunction with the panels. So on a day like Mother's Day, the turbine didn't need to generate as much energy as normal—it's balanced out with the panels so the two compliment each other.
Testing Real-Time Effects
Entergy will provide feedback to the state's public-service commission as the plants continue to produce energy and they learn whether a set-tilt system (like they have in DeSoto and Brookhaven) works better than the tracking system used in Hinds County. A website, solarems.net/kiosks/337, tracks all three plants and updates every 15 minutes to show how much power each solar plant is producing.
Currently, power distribution is immediate, meaning that any energy the panel produces must be used immediately and sent out to the grid. Hill and his team are learning what the real-time effects of this are.
"We're studying how the output of the solar (project) matches how you and I use power in our house, how it matches our load profile," Hill said.
"The peak of our system is more in the late afternoon and close to or after the solar stops producing, so that's what we're looking at, too."
In summer, the solar plants might produce power at the peak times of use because the sun is out later, but Hill said some data in the solar energy community suggest that extreme heat bothers production.
"I can't tell you if that's true, but we'll see, we'll look at that," Hill said. "We'll have to see in the summer if it's more (production), or spring or fall may be the peak time. I'm not sure, yet."
'Walk Before They Can Run'
At a public meeting last week, Central District Public Service Commissioner Cecil Brown said the solar plants were a way for Entergy to "walk before they can run" to make sure they know how solar is going to work in Mississippi before they roll out more plants.
Brown told Hinds County residents that the way utility companies work is that consumers pay for the power plants that produce electricity.
"You are billed for the cost of that (plant), and you are tied to the profit of that, so the thing about these solar facilities is that if they don't work for some reason and they don't work efficiently, you're going to have to pay for that," Brown said.
Hence, the baby steps in Mississippi. Brown said there are about 15 solar projects statewide, adding that utility companies are testing geographic regions and ways to produce solar energy around the state. In terms of efficiency or cost-effectiveness, it will take more time for engineers to look at the solar plants over several months and see how they work in conjunction with other power sources.
Hill is optimistic. "They are working great. I don't think we have any identified challenge," he said. "I don't know as compared to the other resources how it has performed, but as far as the solar project, it's producing power."
Email state reporter Arielle Dreher at [email protected] and follow her on Twitter @arielle_amara.
More stories by this author
Support our reporting -- Become a JFP VIP.
The news business has changed dramatically in the past two years, and we need your help more than ever to keep bringing you important stories about Jackson and the Metro. Become a JFP VIP with an annual membership or you can Sign up as a monthly supporter. Thanks for anything you can do to empower our journalism!