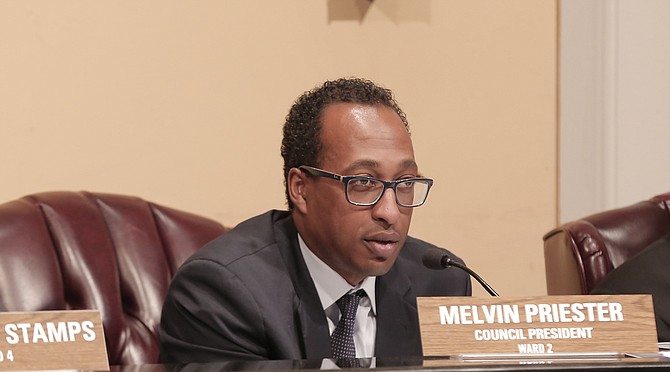 JACKSON — For more than 20 days, disabled 58-year-old Jerome Bell slept on the concrete floor of a cell with no cushion or mattress in a crowded Hinds County jail.
Bell is one of seven plaintiffs in a class-action lawsuit leveled against the City of Jackson for a process that the complaint in the case refers to as the "pay or stay" policy of the municipal court. The attorneys representing the plaintiffs are Jacob W. Howard and J. Cliff Johnson of the MacArthur Justice Center, along with Alec Karakatsanis of the Equal Justice Under Law organization in Washington, D.C., who are part of a national movement to stop what they called "debtor's prisons," where people who can afford fines, often for minor offenses, have to sit in jails.
"As Mississippians, we understand the devastating reality of poverty," Johnson said in a press statement. "We should not tolerate a system in which those with money pay their court debts and return to their comfortable homes while those who are poor and unable to pay are thrown into what essentially are debtors' prisons. It is our sincere hope that the City of Jackson will cease this practice immediately and thereby set an example for the many other Mississippi cities engaged in the same or similar conduct."
Document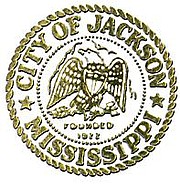 The policy, the complaint states, is that defendants are told that they can either pay the fine for accumulated penalties or even for past crimes, sometimes in the thousands of dollars, go to work or sit out the cost of their fine in jail.
"It is the policy and practice of the City to use incarceration, and the threat of incarceration, to coerce payments from impoverished debtors and their family and friends," the complaint alleges. "The City's prosecutors and other officials call this scheme the City's 'pay or stay' policy."
Hauled Off to Jail
Bell was arrested in early July 2015 and brought to Municipal Court to address charges that he allegedly owed the city $4,759 for "traffic violations and related fines, fees and costs."
Bell, disabled and unable to work, uses a small Social Security check and other sources, like the Supplemental Nutrition Assistance Program, or SNAP, and a monthly "Senior Citizen box" from a local church to feed not only himself but his partner, who also lives with him in Jackson, and her teenage grandson.
Thus, when the prosecutor and the judge agreed that Bell had only two options, pay or stay, he was hauled off to the Hinds County jail to work off his debt. The problem was, he was physically disabled. So instead of working for the county at the penal farm for the $58 a day it earns, he earned only $25 per day against his fines.
If Bell had been able to work, the complaint states, he would have been a free man again after 82 days. And although that does not seem ideal, it is preferable to about 190 days in jail, which is what the "sit" rate of $25 would have allowed.
Then, after 35 days, the Municipal Court released Bell only after his attorneys asked one of the municipal judges to "reconsider Mr. Bell's incarceration" because "he was too poor to pay his debt and thus that the City must offer him an opportunity to perform public service or some other alternative to payment or incarceration."
The judge ruled that Bell, a physically disabled man, would have to work 500 hours of community service without any accommodations for his disability. Eventually, the complaint states, Bell was put on a payment plan of $25 a month.
If you are wondering how Bell was able to spend those last 15 days on a mattress, the complaint states that it was only after attorneys requested he be moved that he got the mattress.
City to Settle Soon, Maybe
Bell's experience mirrors that of the other plaintiffs, although some of the particulars for each move off into the extremes.
For instance, the plaintiffs range from 61-year-old James Sheppard to 25-year-old Marteze Harris. Michael Davis, a 34-year-old Jackson resident with a physical disability, faced $19,403.81 for "traffic violations and misdemeanor offenses." Jarmale Walker, a 26, faced $1,199.65 for a traffic violation he committed almost 10 years prior, as a 16-year-old.
None of them had the ability, at the time of conviction, to pay or address the fine. Most of them, the complaint states, had no savings, cash or significant assets. Most were subsisting on disability payments. And this common experience gives their claim weight, as court documents show that the city is ready to settle.
Council President Melvin Priester Jr. said he could not comment on ongoing litigation.
However, the court docket for the case states that during a conference call before Magistrate Judge Robert H. Walker, the City's legal counsel "advised that the proposed settlement agreement was presented to the Jackson City Council for approval at their meeting on May 3 and that the settlement was approved in principle."
"The attorneys are preparing a revised settlement agreement and will submit same to the Jackson City Council for final approval at their June 7, 2016, meeting."
The docket also shows a scheduled meeting before the magistrate two days later, after the "revised agreement" goes before the council. In the complaint, the plaintiffs requested "an order and judgment preliminary and permanently enjoining the Defendant City from enforcing" the "pay or stay" policy, as well as compensation for damages suffered.
Also see: 'Pay or Stay' Lawsuit Against City Part of Larger Trend of Challenges
Email city reporter Tim Summers Jr. at [email protected]. Read more local stories at jfp.ms/localnews.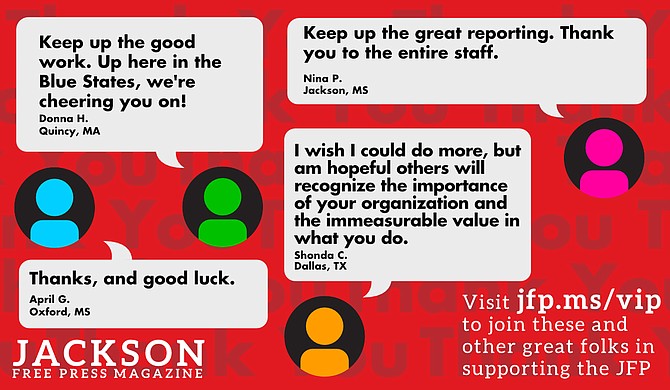 Thanks to all our new JFP VIPs!
COVID-19 has closed down the main sources of the JFP's revenue -- concerts, festivals, fundraisers, restaurants and bars. If everyone reading this article gives $5 or more, we should be able to continue publishing through the crisis. Please pay what you can to keep us reporting and publishing.