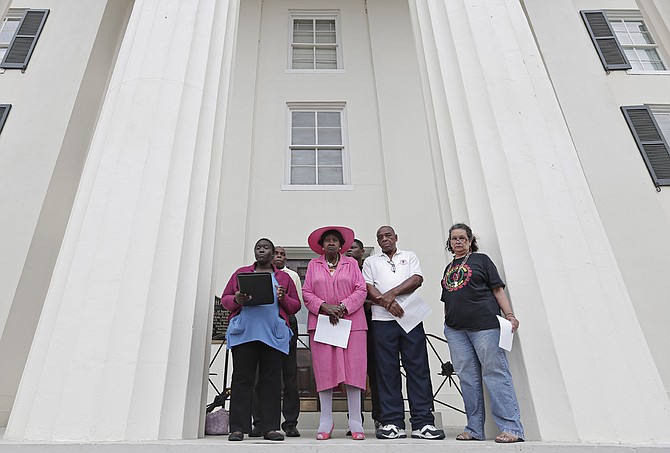 A small group of concerned citizens gathered in the light rain Tuesday morning on the steps of Jackson City Hall to protest the "secrecy and division" of the city government, even as Jackson City Council gathered for its regular meeting inside.
"We are the Coalition for Economic Justice," Iya 'Falola H. Omobola, one of the spokespeople, said. "We are here to express our deep love, high hopes and great expectations for the city of Jackson."
"We are also here to express our vehement opposition to the vicious actions taken by the Republican-controlled state government of Mississippi. Yes, we are troubled by the controversy surrounding the city budget. We are troubled by reports of secrecy and division in city hall."
Omobola warned that what is happening inside city government can open the door for more state interference in Jackson. "We are here today to express grave concern that weak leadership inside of city hall will only serve as fodder for further attacks by the state. We, the Coalition of Economic Justice, oppose any attempted takeover of Jackson's municipal holdings and governance," she said.
Ineva May-Pittman, a long-time Jackson resident for whom the council will consider renaming Poindexter Park today, spoke out against changes in the public-hearing portion of the meetings. Now, any comments that are not items on the agenda are saved until after the meeting, which she said is an effort to keep the number of comments down.
"I think that that is a way of discouraging us, so that we will leave because the council lasts a long time, and we have to sit there now through that," May-Pittman said.
And after the series of meetings held since early last week on the City's budget and revenue issues, there might be a lot the public wants to share with the council.
Yesterday, Public Works Director Kishia Powell spoke to the council on the status of the water-sewer revenue numbers, which have suffered as of late due to difficulties implementing certain parts of the $90-million Siemens contract, especially billing and collections.
Powell presented numbers to the council from October 2015 to the first week of May 2016. The projected revenue for each month, in order for the city to reach the required budgeted amount, is $6,027,323.50. The City has never reached that amount, during this period, and while sales for the city has hovered below $6 million, collections for the last three months has been between $4.3 million and $4.8 million.
"The $2.6 million for one week of sales for May is promising," Powell said. "In terms of sales, we are getting better at approaching the budgeted revenue, but our collections are still down."
She said cited several reasons for the low collections, including the layover from the period of time when customers were not getting their bills. This is the reason that some customers received abnormally large bills in recent weeks, she said. The City is now billing them the amount they owed for all the time before.
Powell said the City was not performing shutoffs during the last several months, but will start again soon. "We are going to be announcing that we are going to be resuming the shutoffs for delinquent bills, but that will be in a limited fashion." Her department will investigate 111 locations that have a new meter but not an active account for shutoff. "We are doing that in addition to pulling illegal connections that have been identified."
Public Works is trying to shore up the bill ledgers through the automatic billing system, AMI, as well as manually, "We are trying to get to a point where we bill either AMI or through true-reads from our meter readers all of the active accounts we have, which is about 58,000," Powell said.
"I just want to make sure that we are billing everyone that is using the water," Ward 1 Councilman Ashby Foote said. "The important thing is that everybody that is using the services is signed up as a customer. ... Because I am confident that everybody uses water."
Ward 6 Councilman Tyrone Hendrix and Council President Melvin Priester Jr., of Ward 2, both voiced concerns from their constituents about receiving, after months, higher bills than they expected.
"What we are just trying to see is just progress in getting the situation fixed," Priester said. "And I think progress of getting the situation fixed is everybody is getting a true bill, and everybody is getting the correct bill."
"It's accurate. It's high, but it is because they have not been billed for consumption in prior periods," Powell said. "We are not seeing that widespread issue where folks have these astronomical bills because people have a leak and let it continue because they cannot afford to have it repaired."
"Or they have not received a bill for other periods, or bills from other places they have lived have caught up with them."
Email city reporter Tim Summers, Jr. at [email protected]. See more local news at jfp.ms/localnews and jfp.ms/water.
Support our reporting -- Follow the MFP.