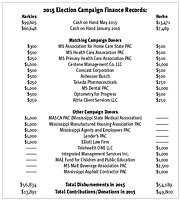 Click to view a side-by-side comparison of Harkins' and Hornhn's campaign finance records.
Sen. Josh Harkins, R-Flowood, and Sen. John Horhn, D-Jackson—airport "takeover" adversaries—both had fairly easy paths back to the Capitol this past election. Harkins ran completely unopposed, and Horhn defeated his Democratic opponent in the primary with 75 percent of the votes.
Harkins served as the vice chairman of Ports and Marine Resources Committee in the last session, but this session, he is the chairman of the University and Colleges Committee and vice chairman of the Energy Committee. Horhn stayed as the chairman of the Economic Development Committee and has been in the Senate since 1994. Harkins joined the Senate in 2011 after winning a primary runoff election.
Both senators received campaign donations from several of the same PACs and businesses (see chart). Horhn had several independent people donate to his campaign fund, while Harkins had no donations from individuals, 2015 election campaign finance records show. Harkins did pay himself $28,000 in July to repay a loan, his campaign-finance records show.
Note that there is no Mississippi law prohibiting politicians from using leftover campaign funds for personal use, such as "cash on hand."
More stories by this author
Support our reporting -- Follow the MFP.