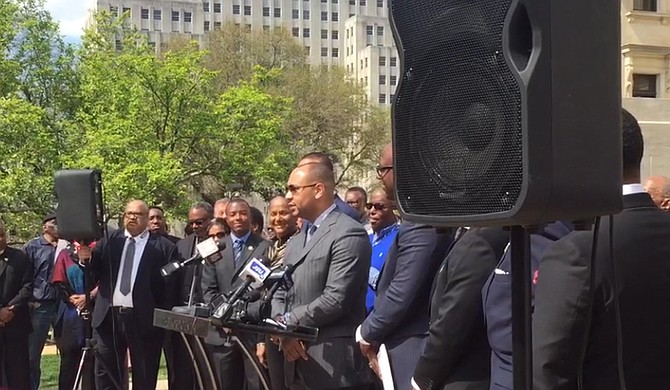 The Mississippi attorney who filed a federal lawsuit against Gov. Phil Bryant has hired full-time security for his law firm staff and family due to death threats after news broke that he had sued the governor in order to change the state flag.
"There have been threats within and without the state to my life, so we have reported those to the FBI, local officials and the Department of Justice," Carlos Moore, a Grenada-based attorney, said Friday.
Despite some negative backlash, Moore likes to stay positive and says the flag rally at the capitol last Tuesday energized and encouraged him to keep fighting. Moore filed his third amended complaint against the governor in the U.S. Southern District Court, which states that Mississippi incorporated the Confederate battle flag emblem in 1894 in its flag design with a "racial discriminatory purpose to subjugate African Americans to second-class status."
Moore said his updated lawsuit adds a complaint under the 13th Amendment, which abolished slavery in 1865. The second section of the 13th amendment said, "Congress shall have power to enforce this article by appropriate legislation." In subsequent U.S. Supreme Court cases, this section was broadly applied to include "badges and incidents of slavery," specifically in the 1968 U.S. Supreme Court ruling in Jones v. Alfred H. Mayer Co. Moore says that subsequent case law could be used in his case against the Mississippi state flag.
"The case law that is related to 13th Amendment says that any badge, incident, relic or vestige of slavery is unconstitutional, so we're asking the court to find that our state flag with the Confederate emblem is a badge or a relic of slavery that needs to be ruled unconstitutional," Moore told the Jackson Free Press.
Moore's lawsuit also says that the Mississippi state flag causes "immediate, irreparable harm" to African American citizens residing in or visiting the state of Mississippi. Moore, who is African American, says that he strongly believes the state flag needs to change for his daughter, who is 5 years old, and the next generation.
"She has the whole majority of her life to live, and for the great majority of her life, she will not have to endure this (flag) because of this fight; we are going to win this fight," he said.
Last Tuesday, Moore spoke at a rally at the capitol alongside South Carolina Rep. Justin Bamberg, D-Bamberg, and pastor of Baltimore Empowerment Temple Jamal Bryant and J. Wyndal Gordon, who is serving as Moore's co-counsel on the lawsuit. Moore said he is thankful for the support he has received thus far and plans to continue the "uphill battle" in a fight he said is worth fighting for.
"I've received a groundswell of support from across the country and state, black and white, that are standing with me and supporting me and believe in this movement," Moore said.
Email state reporter Arielle Dreher at [email protected] For more state flag coverage, visit jacksonfreepress.com/slavery.
More stories by this author