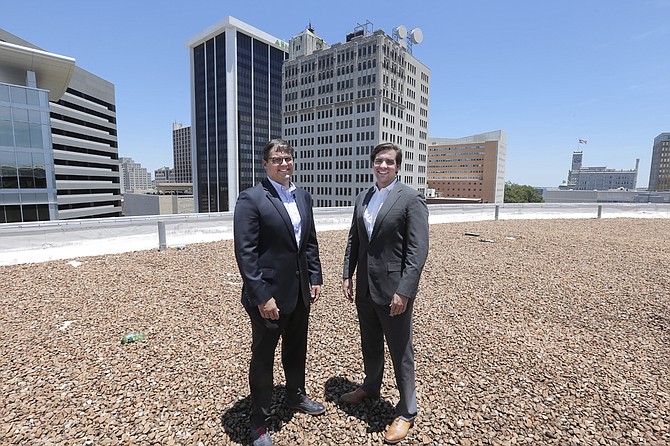 JACKSON — Dyke Nelson clearly isn't afraid of heights, as he leans over the side of the old AT&T building in downtown Jackson, describing the effect of the infinity pool on the rooftop.
"So, my idea is to build up the pool so your infinity edge would be to this view," Nelson, one of the partners with the company that bought the building known as the Landmark, said. His firm, Weinstein Nelson, has built similar urban projects across the South, including in Baton Rouge, La., and Charlotte, N.C.
He points to the other buildings around, including the King Edward Hotel and the Standard Life, and explains that he hopes that with the development of the Landmark, more similar projects will begin to fill in the downtown area. The apartments, around 200 one- and two-bedroom layouts, will effectively double the number of available residential spaces in the downtown area.
"If you look at national trends, the desire to be in an apartment is very strong," Nelson said. "The desire to be in an urban center and not have to drive anywhere is very strong."
The building, with a large curving front, will be separated into the residential side and a commercial office space. The residential side, some of which AT&T used for media presentations, including a full rear-projection screening room, will be renovated into apartments, which will take some time. The distinction plays a big role in the timeline for the development of the building, as Weinstein Nelson junior partner Bee McNamara explains, as the group will begin altering the office space to fit renters' needs.
"That build-out won't happen until we have a tenant," McNamara said. "They literally could sign a lease tomorrow, and we start building that out tomorrow, and they move in whenever we want."
Those spaces, he said, would be first to fill, and then the residential side would have to be completely redone, and that would put the completion date for the project sometime in 2017. "We are thinking early 2017, mid 2017," McNamara said. "We are hoping to begin construction within the next few months."
But while the offices and the apartments are laid out and renovated, the shop space downstairs will fill out, McNamara said, including the only grocery store for downtown. "The apartments are the last thing to be completed," McNamara said. "The grocery store could be at the very end of 2016."
Grocery Store for Downtown
Empty, defunct storefronts circle around a recessed common area on the ground floor. Tiny trees, young and reaching up for the light, are set in pairs around the circle—where the Southern Komfort brass band led a second-line parade for the JFP's carnival-theme 2015 Best of Jackson party. Across from the security guard's desk, a large, empty space—what used to be a cafeteria with a bright, white kitchen in the back—sits ready to address one of the Jackson's nagging problems, Nelson said. He laid out the firm's plans to partner with a grocery store in the old cafeteria space, "which is to serve the needs not only the people of downtown, but the surrounding areas, as well."
"We haven't signed anything, yet, but we're looking to do a full-service grocery store that would take that side, and that side lays out really well because it used to be a cafeteria," Nelson said.
Experience in other markets tells them that people are attracted to prepared food, not preserved food. "You can imagine this side in all glass, where you can see somebody making sushi on this side, and someone's making hamburgers on that side. If all of those things are happening at the same time, it really energizes the space."
This is a similar step to what their firm did in Baton Rouge with a project called 440 on Third. Nelson said that when he moved his family from San Francisco to the Louisiana capital city 15 years ago, the downtown area was "desolate, it was unsafe, and people had a bad perception about it." Then they built the 440, he said, and now the downtown (area) is "thriving."
He compared it to Jackson's own issues downtown, including the lack of eateries operating after 5 p.m. and the perceived safety problem.
"There was no grocery store, now there's a grocery store. There's lots of restaurants, lots of bars, lots of everything," Nelson said. And in addition to the grocery store, they anticipate other shops will populate the ground floor in the months to come.
No Need for Tax Credits
Ben Allen, president of Downtown Jackson Partners, said that the development was crucial to downtown, not just for residential space but for its financial independence from state and local assistance.
"It is incredibly important because it will literally double the number of apartments in the Capitol Street area," Allen said during a June 9 phone interview. "Every apartment downtown is leased, and almost every apartment has a waiting list."
Allen, who has been in talks with Weinstein Nelson, echoed the impact it would have for the culture of downtown, perhaps as the beginning of resurgence similar to Baton Rouge.
"In Revitalization 101, in any city, it all begins with people living downtown," Allen said, referencing Baton Rouge. "Eighteen years ago, there was no one downtown; now there are thousands of people. There were two restaurants; now there are 63. There were no hotel rooms, and now there are 1,400."
"And that's a city that is pretty much like our city," Allen said, stating his hope that it will lead to more similar expansion of downtown options. "It's a big deal."
Allen listed several other development projects, including the Deposit Guaranty National Bank Lofts, the old Eastland federal courthouse, the Edison-Walthall hotel and the Capitol Art Lofts project, all of which are waiting for the state Legislature to approve and allocate before renovation can begin.
"The Legislature killed them last year; there was none. And this year they have put in $60 million, but they can only be $12 million a year for five years," Allen said. "And we've got $30 million in needs in downtown Jackson alone. And that's for the whole state."
Those funds, Allen said, were to assist the renovation of buildings built before the Americans with Disabilities Act's requirements, which can sometimes hit developers with unforeseen costs. And in downtown, most of the buildings are older than the ADA, so those sorts of renovations, along with other leftover poor construction decisions, such as the use of asbestos, keep developers and banks shy of big risk.
"It's going to happen," Allen said of the greater downtown development, "but it is happening slowly."
However, Weinstein Nelson doesn't have to wait for tax credits and approval. All they have to do is open their doors.
"The encouraging thing about this is that they were able to buy the building," Allen said, "so all of that construction cost, when you factor that in to the rehab, it can work."
McNamara said on June 9 that the firm was excited to begin making arrangements with companies for the office space, starting immediately. As for the residential development, although it will take some time, they look forward to bringing a more cosmopolitan living situation to the now-stagnant downtown area.
"We are excited to bring it to the market," McNamara said. "We want to be the coolest, sexiest building in Mississippi. That's the goal. You don't see infinity pools with a skyline in Mississippi, and that's what we are bringing."
Email city reporter Tim Summers, Jr. at [email protected] and follow him on Twitter @tims_alive. See more local news at jfp.ms/localnews.
Support our reporting -- Follow the MFP.