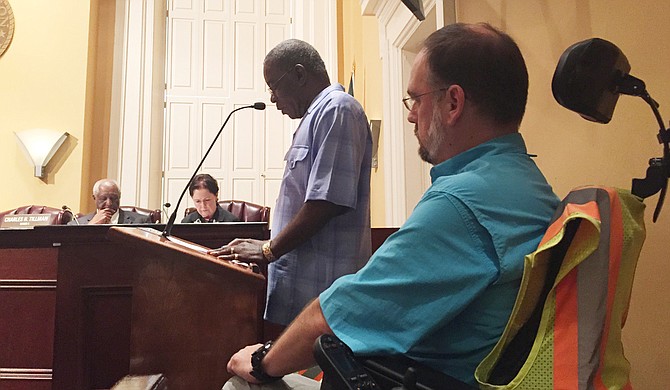 JACKSON — In the wake of state legislation cementing transportation network companies like Uber into the market, the Jackson City Council is in the middle of an overhaul of the ordinances governing taxicabs, while members of the disabled community are expressing trepidation that they will be left out in the rain.
During a July 18 Planning Committee meeting Ward 2 Councilman Melvin Priester Jr., the lead author of the revised ordinances, focused a large part of the discussion on providing better service to people with disabilities.
"The thing that I feel as though we still have to address is handicapped accessibility," Priester said.
Considering the current budget crunch that the City is suffering, Priester suggested to the committee that the council explore other options than simply writing a check with tax-payer dollars.
"What I think we frankly need to do is find federal money or pool money to just buy some handicapped-accessible vehicles," Priester said.
He added that perhaps the City should also offer tax incentives to bring a company in to fill the need.
Around the Edges
"It seems as though other people in this local marketplace are stepping in around the edges, perhaps illegally, to offer wheelchair accessible service," Priester said.
In his opinion, Priester said, the City should require taxicab companies to offer wheelchair-accessible service, incentivize the service for a company or find some other type of solution.
Dr. Scott Crawford, a local advocate for Americans with Disability Act compliance, said he knew of only two companies in the area providing on-demand service for those with mechanized wheelchairs: Taxi Tim and Veterans Taxi Cab. A representative for Veterans Taxi said the company had three vehicles that provided 24/7 service.
Crawford said he believes the best-case scenario would be to require a number of wheelchair-accessible vehicles that the City could rent out to the taxi companies, as they needed them. He also spoke of the elephant in the room—Uber.
"The way it is going to shake out is that Uber eventually is going to have to provide wheelchair service. It is only a matter of time," Crawford said.
Council Vice President Margaret Barrett-Simon, of Ward 7, said allowing small businesses to enter and participate in the market was paramount.
"And your plan would allow for that," she said of Crawford's idea.
An Uber public-relations representative, Evangeline George, sent a form release on the company's policies for "Uber Accessibility." It mentions a specialized service that the company rolled out in June 2015 called uberASSIST.
Document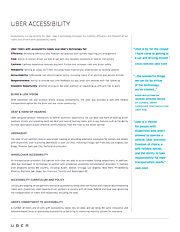 "Top Uber driver-partners receive specialized training on providing additional assistance for seniors and people with disabilities," the release explains, listing cities that the program has currently launched in major metro centers like Chicago, San Francisco, Los Angeles, San Diego, Salt Lake City, Houston and Portland, Ore.
It is not clear if and when Jackson would have the same service.
"uberASSIST is designed for additional assistance for members of the senior and disability communities. Drivers are specifically trained to assist riders into the vehicles and can accommodate folding wheelchairs, walkers, and scooters," a July 9, 2015, post on the company's site states.
That service does not include ramps or the ability to transport passengers with motorized wheelchairs.
George said she was not sure exactly how Uber drivers were currently trained to handle such a request. She declined to make further comments on the record over the phone but later sent an email response:
"Uber's technology has expanded access to reliable transportation options for all riders, including those with disabilities. Uber expects driver partners to comply with all state, federal and local laws governing the transportation of riders with disabilities, including the ADA. As part of this, driver-partners on the Uber platform are prohibited from denying rides to individuals with service animals or small assistive devices."
Not a Perfect Solution
The Brookings Institution, a nonprofit public-policy organization in Washington, D.C., looked into how partnerships between metropolitan transit providers and transportation network companies—called TNCs—might benefit both partners by providing services that neither adequately addresses on its own.
"Transit agencies may want to explore contracting out direct response services to TNCs," an article about the report explains, indicating that paratransit services fall into the direct-response category. "Beyond minimizing costs through their software platforms and efficiency deploying drivers to customers, TNCs can probably update technologies faster than traditional public transit agencies. Riders could also benefit, free from worrying about the need to schedule days in advance."
If the City moves in the direction of Crawford's suggestion, perhaps a partnership would work for everyone's benefit. But not everyone agrees on such an alliance. Amalgamated Transit Union, an advocacy organization for transit workers, argues that the TNC dependence on independent contractors and required high density of participating contractors in an area are divisive flaws to the public-private partnership model.
"For instance," an ATU report released April 27 states, "if a TNC were given a paratransit contract it would have to ensure reliable service according to ADA standards. It is one thing to rely on an army of casual drivers with their own vehicles to transport people during their spare time. It is quite another to ask these workers to retrofit their vehicles to be ADA-accessible or to purchase new ones outright and ensure that they provide service to this market segment."
ATU's International President Larry Hanley said during a July 22 phone interview that instead of directly outsourcing the paratransit demand to a private company, cities like Jackson should work on acquiring the technology to address the biggest problem with paratransit: scheduling.
"For some reason, this technology eludes them," Hanley said. "It's like they feel like they have to make the entrepreneurs their partner in running transit and thereby drain the whole system in order to just operate the whole schedule, and it's simply not true."
Email city reporter Tim Summers Jr. at [email protected]. See more local news at jfp.ms/localnews.
Uber's Required ADA Compliance Under State Law
Mississippi's Uber law states that companies "shall adopt a policy of non-discrimination with respect to riders and potential riders and notify transportation network company drivers of policy."
Support our reporting -- Follow the MFP.