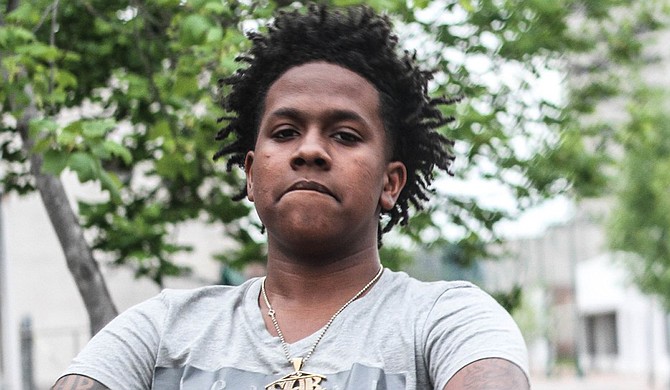 Jackson-native hip-hop artist Lil Lonnie was surprised when his song "Colors" received national attention after it went viral in the summer of 2015. Soon after, several popular entertainment websites featured his music, including Billboard, which premiered his single "Change Up" in May 2016. "Colors," which Will-A-Fool produced, propelled his career to new heights, allowing him to work with producer Big Fruit, best known for his work with K Camp.
"I knew it would be a hit but wasn't expecting it to become so popular throughout the southern region," he says.
Lonnie says he has always been a fan of music ever since his older brother, Lorenzo Taylor, and friends introduced him to hip-hop culture. He began his career making beats for other local artists as a freshman at Callaway High School, but it has not always been easy for the now-20-year-old rapper. Growing up in the poverty-stricken Virden Addition neighborhood, Lonnie was subjected to recurring gang violence, which has become a common theme in many of his songs.
"I talk about street stuff because I am from the 'hood, but at the same time, most of my music is more motivational," he says. "When you are coming from the 'hood, I want you to know (there are) better things to do, better ways to be."
Lonnie aims to make "music you can vibe to," combining smooth and energetic beats to engage fans and says he does not have specific musical inspirations, but he looks up to music moguls such as Jay-Z for their business knowledge.
"I want to be an actual legend like him one day," he says.
Lonnie graduated from Callaway High School in 2013 and went on to pursue an associate's degree in general studies at Hinds Community College in Raymond. The rapper quickly realized he was meant to take a different route, and in August 2014, he transferred to Jackson State University, where he studies mass communications
While he says he didn't particularly enjoy his short stint at Hinds, he did learn from peers that he had a growing fan base in Jackson. Transitioning to JSU allowed Lonnie to focus more on his music. He released his track "I'm the Type" that fall, and a few months after, he released his first successful songs, "Colors" and "Special."
"I was able to work more since I was not in school for the spring semester," he says. "I worked up until that summer to get those songs out. I didn't know my songs would go viral."
In November 2015, the rapper dropped his first mix tape, "They Know What's Going On," to show his new fans that they could expect great things from him for a long time to come. Thus far, the project has amassed more than 180,000 streams and more than 100,000 downloads, and it also allowed Lonnie to learn more about the production process alongside producers such as Raybands, Trelle Got Wings, Remy and Will-A-Fool.
"This mix tape was right after I dropped all of my singles, and it was all about proving a point, to demonstrate my consistency," he says. "That was the only reason for it. It actually worked out pretty good."
Listeners haven't had to wait long for Lonnie to strike again, either. He released his second mix tape, "They Know What's Going On 2," in June, bringing in many popular names from the industry, including Bryson Tiller, Slim Jimmy of Rae Sremmurd, K Camp and Moneybagg Yo. Even with how recently he released the mix tape, it has already garnered more than 27,000 downloads.
On Monday, July 18, he also released another project, "The Big Three," a collaboration that introduced the new sounds of three local deejays: DJ Moneycure, DJ Jukebox and DJ Dream.
Lonnie says his management team, Jonathan Davis and Jonathan Minor of Bigger Picture Management, has been instrumental in helping his career. He has known both Davis and Minor since he was a child, long before they formed Bigger Picture Management in 2014.
"They have influenced my career the most," he says. "We are all one team."
Lil Lonnie performs at 10 p.m., Thursday, July 21, at Nitelyfe (4125 W. Northside Drive). For more information, visit lillonniemusic.com.
More stories by this author
Support our reporting -- Follow the MFP.