JACKSON — It is up to the highest court in Mississippi to decide whether Hinds County District Attorney Robert Shuler Smith will be able to continue the duties of his position while the county circuit court deliberates his alleged acts of assisting defendants.
On July 18, Smith filed a motion for writs of prohibition and mandamus with respect to an order stripping him of his duties as district attorney, state court documents provided to the Jackson Free Press show. The order, which Hinds County Circuit Judge Jeff Weill filed June 23, alleged that "the district attorney has been engaged in improper use and abuse of the sacred grand jury process."
"Accordingly, the undersigned," which is Judge Weill, "finds it necessary, under these unusually exigent circumstances, to disqualify the district attorney from all participation and knowledge in the grand jury process. This includes a prohibition from participation by proxy through directing any district attorney staff members."
Document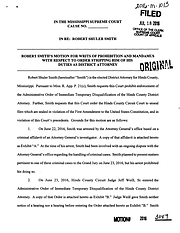 A writ of mandamus, Mississippi College School of Law Professor Matt Steffey explained during a July 19 phone interview, is an old technique to ask a higher court to supercede a decision, in this case by a lower court.
"It's an old common-law writ," Steffey said. "In other words, it's a thing you would request an old 16th-century court to do."
To simplify the idea, Steffey described it as "an order directing a governmental official to do something."
However, just because Smith requests that the court address the motion, it is under no requirement to do so. "The Supreme Court does not have to hear it. It can choose to, and it can choose not to," Steffey said. "Or it can send it back and say, 'It's too early in the process for us to be involved.'"
Steffey said that, in his opinion, some on the Supreme Court bench would want to hear the motion. "There will be justices on the court who think that this should be reviewed immediately," Steffey said. "Whether that's the majority of them or not, we will see."
The ban on Smith presents real questions about Judge Weill's authority to do it.
"Judges have a lot of inherent authority about what goes on in their courtroom, but to shut him out of access to all Hinds County grand juries—it has just never been clear to me where that authority comes from," Steffey said. "And whether barring the district attorney from court, just on the basis of filing charges, is going to strike many people as inconsistent with assuming innocence until someone is proven guilty."
Document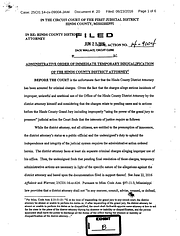 This is one of two main arguments the Smith camp puts forward in his motion: that Weill deprived Smith of his constitutional rights by barring him before a trial, and that Weill was not "impartial" due to a relationship between the "adversaries."
However, Steffey said that allowing Smith to work on cases, if he should be guilty, might end up hurting the cases in the long run.
"On the other hand, you don't want to open up avenues to question cases later because you have a potential conflict of interest, of some sort, with the DA still participating," Steffey said.
With the internal strife, perhaps it is the appropriate time for the high court to step in, he added. "This is an invitation for the Supreme Court to intervene," Steffey said.
Email city reporter Tim Summers Jr. at [email protected]. See more local news at jfp.ms/localnews.
Support our reporting -- Become a JFP VIP.
The news business has changed dramatically in the past year, and we need your help more than ever to keep bringing you important stories about Jackson and the Metro. Become a JFP VIP with an annual membership or you can Sign up as a monthly supporter. Thanks for anything you can do to empower our journalism!