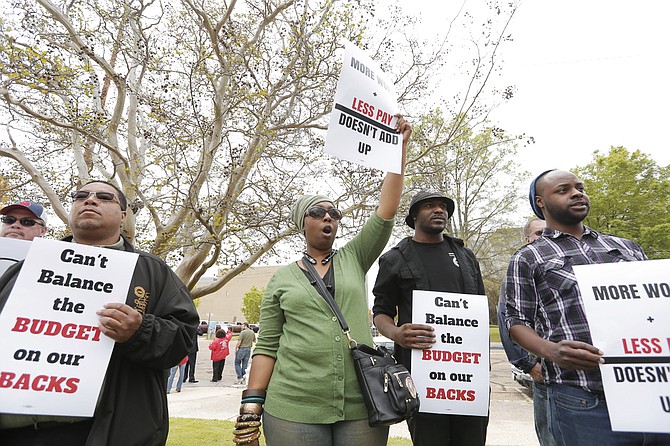 JACKSON — The City of Jackson must cut all across the board to balance the budget for the next fiscal year, which means that the furloughs for City employees are here to stay.
"By this math, the furlough is not going to go away," Council President Melvin Priester Jr. said during a phone interview July 7. "We all know that we are going to have to make some very bad choices to get the budget balanced this year."
Michael Thomas of Systems Group, the financial adviser hired by the City, presented a preliminary budget update to the city council on June 30. The numbers he introduced showed that for the upcoming financial year, the City would not bring in enough revenue to meet the expected and currently budgeted expenditures.
Document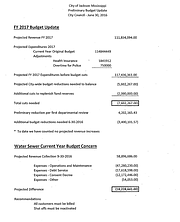 For fiscal year 2017, beginning in October 2016, the projected revenue is going to reach $111,834,094. The problem then is that the projected expenditures, including $750,000 in overtime for police, overreaches the available resources by $5,602,267. The document assumes a capital cushion of $2 million, meaning that the City is short $7.6 million.
"The question I could not get answered was: What are those cuts and why couldn't we make these cuts last year," Priester said.
Thomas said during a July 8 interview that he could not list any specific departmental cuts, although the document provided to the council lists a "preliminary reduction per first departmental review" of $4,202,165.
"What we did is met with all the different departments and asked them to give something," Thomas said. He added that the $4 million in cuts included nixing short-term purchasing, as well as budgeted positions.
"You might want to call these 'low-hanging fruit,'" Thomas said, "Any kind of adjustments that departments would look at it and say, 'OK, we can manage that.'"
Thomas said the next round of meetings with department heads would not just include cutting $3.4 million, but also prioritizing what he called "critical services."
"We want a plan to go along with the reductions," Thomas said. "We are trying to make the cuts as far away from what we determine to be the critical services: fire protection, police protection, public works."
Thomas said that the idea would be to slash as much as possible without cutting essential services.
Email city reporter Tim Summers Jr. at [email protected]. See more local news at jfp.ms/localnews.
Support our reporting -- Follow the MFP.