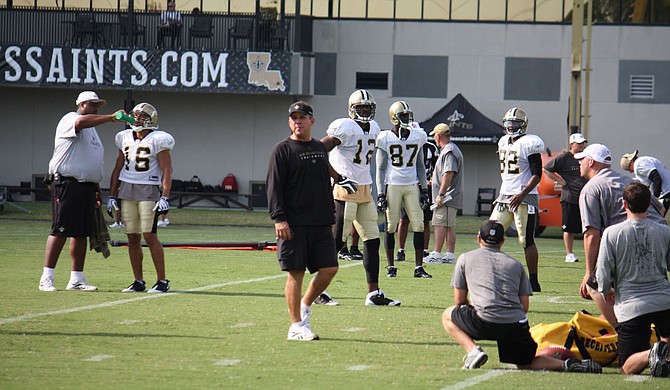 The 2015-2016 NFL Season is hardly in the books, and coaches are already getting the ax. One coach doesn't have to worry about that, but he does get to pick his next landing spot.
Fox Sports and NFL Network have reported that the New Orleans Saints are shopping head coach Sean Payton for a second-round draft pick. That, to me, is a very cheap price for a guy who is a proven winner.
After 10 seasons in New Orleans, it might be the right time for him to move on from the Saints. At this point, players start tuning out a coach that has been banging the same drum. The team also has to deal with the baggage of "Bountygate," a seemingly never-ending revolving door of defensive coordinators and the unsettled situation with Drew Brees being owed $30 million next season. So Payton has a lot of reasons to get out of town while the gettin' is good.
The Saints finished in the regular season 7-9 this year, which is the third time in four seasons that the team has finished with that record. Brees is under contract for next year, but his huge salary cap is a major problem. Payton has two years left on his contract but can be traded. It seems highly unlikely Payton would get the boot until he wants to go, after bringing this franchise to respectability and its only Super Bowl win ever in 2009.
Five teams—the Philadelphia Eagles, San Francisco 49ers, Miami Dolphins, Cleveland Browns and New York Giants—already have openings. The Indianapolis Colts could be looking for a new head coach this week.
Payton could join the Colts because of quarterback Andrew Luck and coach the same team he defeated in his lone Super Bowl win. The Eagles could be interesting depending on their cap space over the next few seasons. A team such as the Browns would seem like a long shot with the rebuilding job always going on in Cleveland.
It seems unlikely that Payton will want to stay in New Orleans if Brees is gone. He will have a clear picture about what the Saints will do with the quarterback when he sits down with General Manager Mickey Loomis. But more than likely, Payton already knows what Brees would like to do next season. It's laughable to think the conversation hasn't come up.
If Payton wants to go, the Saints would be wise to get something out of this whole affair. If he stays and coaches out his contract, New Orleans would get nothing should he want to leave after the next two years.
After all is said and done, the Saints' fans will probably have to face a new year without Payton or Brees on the sidelines in New Orleans.
But as with every new year, change is inevitable.
SPORTS FACT OF THE WEEK
by Amber Helsel
Tug of war was an Olympic game from 1900 to 1920.
More stories by this author
Support our reporting -- Follow the MFP.