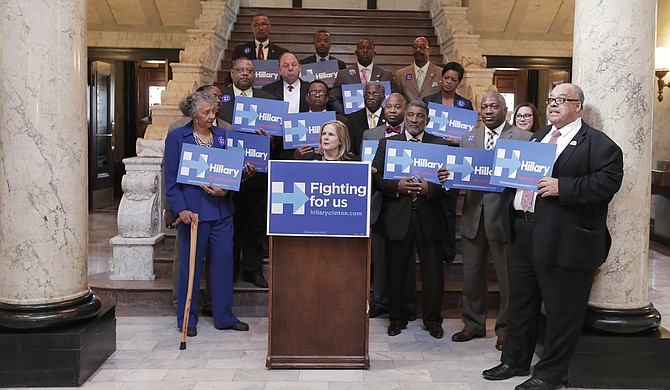 "HILLARY, HILLARY, HILLARY, HILLARY."
Democratic lawmakers chanted their endorsement for Hillary Clinton in the Mississippi Capitol after a brief press conference Wednesday when legislators from the House and the Senate endorsed her as the Democratic presidential primary candidate.
"Hillary Clinton has the experience, the background, the knowledge, the love of America and its citizens and the vision to lead this country to an area of prosperity we have not seen in many, many years," Rep. Earle Banks, D-Jackson, leader of the Black Legislative Caucus, said.
Banks encouraged Mississippians to get out and vote March 8 in the presidential primary election and said that electing a candidate to the national convention is an important process.
"We have two great candidates with Bernie Sanders," Banks said. "But the best candidate is Hillary Clinton, so we ask you to get out and vote on election day."
Sen. Deborah Dawkins, D-Pass Christian, said Clinton understands the problems women face and the plight of poor people well.
"She understands all of the women's issues intimately," Dawkins said. "But, as she said, women's rights are human rights, and in Mississippi, human rights are not at the forefront when it comes to the Republican leadership."
Dawkins said Clinton has foreign-policy experience and "street cred" with the African American community, both areas that make her a stronger candidate than Sanders. The last time Clinton was in Mississippi four years ago, Dawkins said she saw Clinton's caring side. Dawkins brought her son, who was rehabilitating from a near-fatal car accident, to meet Clinton and said she only focused on her son and his experiences in the hospital, wanting to know how the systems he had to go through worked.
"She is just a real caring person—there's something about being a mom, and now she's a grandmother," Dawkins said.
U.S. Rep. Bennie Thompson, a Democrat, endorsed Clinton back in November.
More stories by this author