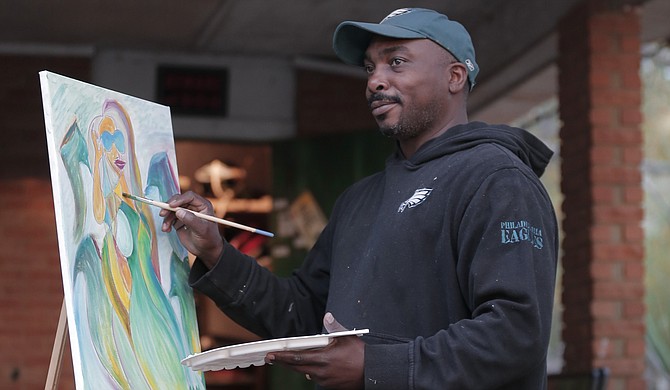 Myron McGowan is many things. He is a native Mississippian from rural Foxworth, Miss., who takes style influence from the '70s (no gold chains, though, he says).
He's a Jackson State University graduate twice over, having earned a bachelor's degree in commercial art in 1996, and a master's degree in elementary education in 2009; he's a football coach and a Jackson Public School art teacher; he's a father of five and grandfather of one ("Hopefully holding there for a while," he says); and he's also an artist.
Art has been his love since before he could remember, he says.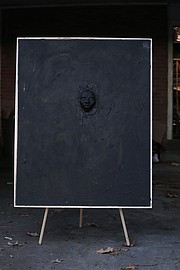 "But in rural southern Mississippi, they did not teach art in school, and I filled many notebooks, odd pieces of paper and anything that I could lay my hands with my art," he says. "It wasn't until college that I got some training and met others like myself."
Over the years, he developed what he says is an unorthodox style of oil painting, creating abstract pieces with an Afro-centric twist. Some feature recognizable African-American characters while others are much more abstract.
His signature piece, "Behold Adam," is a single, somber color and has a face protruding through the canvas as if it had just burst through.
"My goal is to bring to life in my viewers' eyes my thoughts and philosophies," he says.
Jacksonians will be able to see McGowan's art first hand at the 14th Annual NuRenaissance Art Showing and Gala, which takes place Saturday, Dec. 10, from 6 to 8 p.m. at Freelon's Da Groove's 440 Grill (440 N. Mill St., 601-949-2535). The event is free and open to the public.
McGowan says he wants to dispel the idea that an art show is a quiet, formal affair with everyone dressed well, sipping wine and talking about the art in hushed undertones.
"Mine is a celebration of my gifts," he says, "and the bar will be open."
For more information and to see some of his most recent work, visit nurenaissance.com.
More stories by this author
Support our reporting -- Follow the MFP.