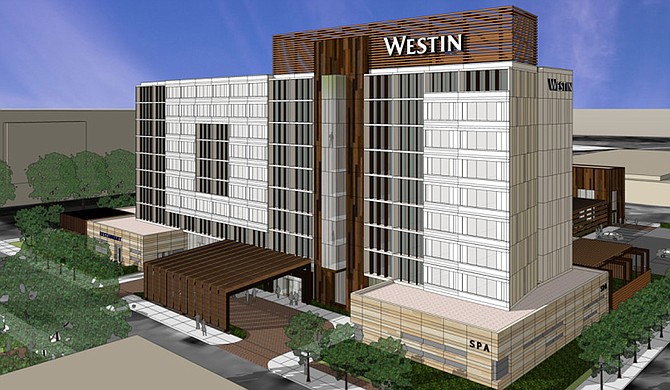 JACKSON — The Hinds County Board of Supervisors passed a preemptive agreement for renovations to the sewerage system in downtown Jackson. The supervisors passed the agreement in an effort to avoid any problems that might come up between them and the Mississippi Development Authority over improvements that are part of the downtown Westin hotel development.
Pieter Teeuwissen, the board attorney for the Hinds County Board of Supervisors, told the body during its regular meeting Monday morning that the question of an interlocal agreement recently came up.
"Last week, when we were going over the details on this, the Westin developers mentioned that they may need an interlocal agreement between the county and the city to do that infrastructure," Teeuwissen said. "My comment then was that I'm not sure (the developers) do, because the city has already given a permit and spelled out in the terms of the permit what Westin must do."
Capitol Hotel Associates, LLC, runs the Westin Hotel development, a 205-bed, $60-million project, and the MDA had already chipped in a $12-million loan for the project in 2014. The construction of the sewage pipes, as well as the project as a whole, has involved the cooperation of the City of Jackson, the Jackson Redevelopment Authority, MDA and Hinds County.
However, Teeuwissen told the board that he wanted to make sure the county did not ruffle any feathers with the MDA since MDA is providing so much financial backing of the project, and wished for the authority to approve any interlocal problems with this blanket agreement as construction moves forward.
"If someone at the state of Mississippi decides that we need an interlocal agreement with the City of Jackson to replace the necessary infrastructure to allow for the Westin Hotel to come online, we will have it, " Teeuewissen said.
The project will replace the sewage pipes that run along West Street from the Capitol building to the Westin Hotel, and Teeuwissen said that it would involve many different entities. The interlocal agreement might prevent any problems before they happen with the MDA and the project.
"Far be it from us to tell the state what to do, especially when we are asking for money," Teeuwissen said.
Email city reporter Tim Summers Jr. at [email protected]. See more local news at jfp.ms/localnews.
More like this story