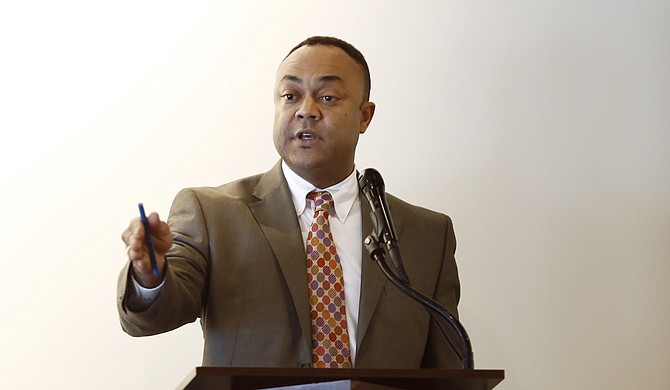 JACKSON — Christopher Butler, the Jackson man in the middle of Attorney General Jim Hood's investigation of HInds County District Attorney Robert Shuler Smith, was arraigned today for having an illegal, pre-paid cell phone in the Hinds County Detention Center at Raymond.
Document
Butler is being held for $500,000 as a habitual offender after the State of Mississippi indicted him for wire fraud and embezzlement after an alleged financial scheme at Mega Mattress in west Jackson, where he was the sales manager before his arrest earlier this year. Butler was also out on bond for drug charges resulting from a Mississippi Bureau of Narcotics arrest in 2012.
Smith has long maintained that MBN framed Butler, but has not made the evidence of the conspiracy public to date. A joint investigation by the attorney general and the FBI resulted in five counts against Smith for improper contact with Butler and his attorney and family, and one count for helping a different defendant, Darnell Turner, a long-time Smith associate who is under indictment for alleged aggravated assault and domestic violence.
Read more about the investigation and arrest of Smith, as well as other men associated with his office.
---
Here is the verbatim press statement from Hood's office today about Butler's arraignment:
Jackson Man Arraigned for Possessing a Cell Phone While Incarcerated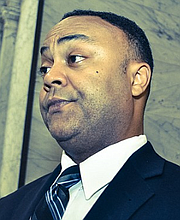 An archive of reporting on controversies surrounding Hinds County district attorneys, present and past.
JACKSON— Attorney General Jim Hood announced today that a Jackson man has been formally charged for possessing a cell phone while incarcerated at the Jackson Detention Center.
Christopher Butler, 39, was indicted Aug. 3 by a Hinds County grand jury on one count of possession of a cell phone within a correctional facility. He was arraigned today in Hinds County Circuit Court before Judge Jeff Weill, Sr.
The indictment alleges that Butler possessed a Tracfone while he was being held at the Jackson Detention Center.
Butler remains in custody. If convicted as a habitual offender, he faces the possible sentence of 15 years in prison and $25,000 in fines and must serve his sentence day-for-day without the possibility of parole.
A charge is merely an accusation, and a defendant is presumed innocent unless and until proven guilty beyond a reasonable doubt in a court of law.
The case was investigated by the Hinds County Sheriff's Office then referred to the Attorney General's Office for prosecution. Ronnie Odom of the Attorney General's Public Integrity Division assisted with the investigation and prosecution will be handled by Assistant Attorney General Stanley Alexander.
Additional reporting by Tim Summers Jr. Read more about the investigation and indictments of DA Robert Smith and associates at jfp.ms/DAFiles. Email Donna Ladd at [email protected] and Tim Summers Jr. at [email protected].
More like this story