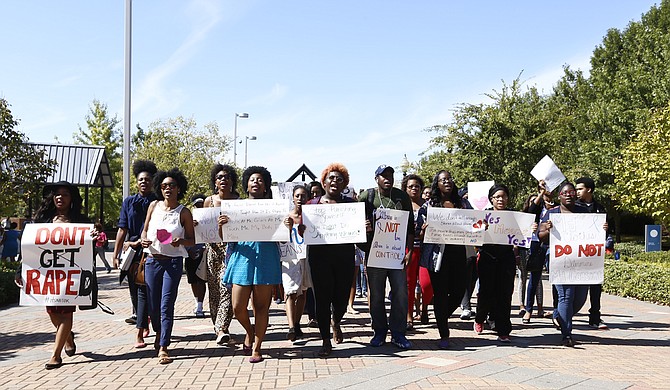 During her freshman year at Jackson State University in 2011, a close friend of Arekia S. Bennett's was gang-raped on campus.
As a result, Bennett started looking around and realized no students were actively advocating against campus sexual assault and starting conversations about solutions and ways to prevent it moving forward.
"It's about starting a dialogue about the situation," Bennett told the Jackson Free Press. "It's about accountability."
Now a senior, Bennett decided to raise that awareness herself, starting a group called GIRL, the JSU Feminist Majority chapter that is taking to the streets on campus, demanding more safety and awareness about risk female students face.
Earlier this year, Bennett joined Patrice Hudson, the leader of the campus Generation Action (Planned Parenthood) chapter, and Natalie Nicholson, who started Essence of a Lady Tiger this year, too.
The three groups organized a rally on Oct. 16 and are calling on changes for their campus in policy and open conversation about how to bring change going forward.
Both Bennett and Patrice Hudson point to a need for more feminist groups at HBCUs. The Generation Action group started its work on and off campus, Hudson said—even before her group even got its official paperwork.
"We started into the legislative session in 2015—we got to lobby and meet the people that work for us in the government and hold them accountable," she said.
Both young women, with the support of Planned Parenthood and Feminist Majority, are working on new policy language to make procedural action more specific for victims who do report assaults. Ultimately, Bennett and Hudson both want the campus culture to change and their peers to recognize what sexual violence is and how women should be treated and respected.
'Yes Means Yes, and No Means No!'
A group of about 30 women and a few men filled the JSU Gibbs-Green Memorial Plaza on Oct. 16, an unusually warm and sunny afternoon in mid-October, chanting ""Whatever we wear, wherever we go, yes means yes, and no means no!"
Bennett said the rally was to inform not only the administration but also students.
"Our peers (need to) know why we did what we did and why certain things and behaviors aren't acceptable, along with policy-making with our administration to make sure that everyone feels safe," Bennett said.
The group marched down the plaza and into an alley between dorm buildings, the spot of a recent unreported sexual assault, student organizers say.
The chants grew quiet as the group paused for a moment of silence to respect the victim who was reportedly assaulted at the location. News of the assault spread virally through GroupMe chat among certain students, but the victim chose not to report the crime, student organizers said.
When students do report incidents to the JSU Department of Public Safety, those incidents are posted on the crime log online—which details the offense, time and location but does not disclose personal details of victims. An annual report catalogues all reported campus crime for a school year.
The most recent report indicated that one forcible sex offense was reported in 2014. Eight domestic-violence charges and five stalking charges were filed in 2014 on JSU's main campus.
The group continued to march and chant to the JSU Department of Public Safety building where a handful of student leaders met with school officials and public-safety officers to express their concern with the campus' zero-tolerance policy.
JSU's zero-tolerance policy states that "violence, threats, harassment, intimidation and other disruptive behavior by members of the University community or visitors will not be tolerated." The behaviors listed include fighting, hazing, verbal and written statements, sexual assault, and gestures of threats or physical harm. Punishment for any of these actions is suspension and removal from premises, and possible "disciplinary action, criminal penalties, or both, in accordance with University procedures."
Hudson said she and other student leaders presented their demands—not requests—to campus officials that day, asking that the zero-tolerance policy be stricter and more specific.
"The real reason why I was doing it (marching) is our voices aren't heard," Patrice Hudson said. "We are trying to show them that we are serious, and this isn't a game to us, and we're real victims."
Currently, when a student reports a rape or assault to the campus Department of Public Safety, a criminal investigation begins. If the student reports the assault or rape to the Title IX office or any campus official, the Title IX office will be notified and an internal university investigation conducted. A student doesn't have to press criminal charges to have an internal investigation done. An internal investigation could result in expulsion or at least suspension for students the judiciary committee finds guilty of sexual misconduct.
"We had to clarify that it accounts for sexual assault and domestic violence as well," Patrice Hudson said.
A Title IX investigation could result in referral for a university judiciary hearing where the accused perpetrator could be punished under the "zero tolerance" policy which could mean suspension, removal from campus or expulsion—depending on that hearing's result.
At the October meeting, student leaders asked that campus security be visible to everyone at all areas at all times, for the student government association to support all engagements with student groups and the administration, access to rape kits, and mandatory sexual assault training for everyone including faculty, staff and students.
How JSU Responds Now
Thomas Hudson, Title IX coordinator at JSU and no relation to Patrice Hudson, said all faculty and staff are required to take an online training in sexual misconduct. Undergraduate students also must take a similar type of training in their new student orientation, he said. But student leaders are asking for more than that—they want to ensure that graduate and transfer students are also required to take the training as well as campus safety officers and all faculty.
Students who wish to report a sexual assault or rape can report to the Title IX Office, the Department of Public Safety or to any faculty member at the university.
"The role of our office is to internally investigate those matters," Thomas Hudson said.
Students can report incidents to the Title IX office at any time. The Title IX office forwards internal investigations up to the judiciary committees of the university for hearings if necessary. Hudson said while he can't put a numerical figure on the increase of JSU students reporting incidents, he said more students are coming forward and talking about their experiences, regardless of whether they report the incident formally.
If victims want to prosecute their perpetrator, the best route is to report the incident to the campus safety department, seek medical services immediately and hold on to physical evidence.
JSU students who want to have a rape kit done after an assault are referred off-campus to the University of Mississippi Medical Center or St. Dominic's Hospital because they can provide the "best possible services for students," Thomas Hudson said.
The university's health center is not equipped to do complete sexual-assault exams but does contraception and morning-after pills to students, but Bennett and Patrice Hudson want the student health center to offer rape kits and full services. Mississippi State sends students to a local hospital as well, while the University of Mississippi offers exams at their student health center.
Mr. Hudson said the Title IX office is seeing more students come forward and voice input on these issues.
"We are doing even more outreach with our students and having them work with us to continue the conversation and highlight these issues," he said.
Comment at jfp.ms. Email Arielle Dreher at [email protected]
More stories by this author
Support our reporting -- Follow the MFP.