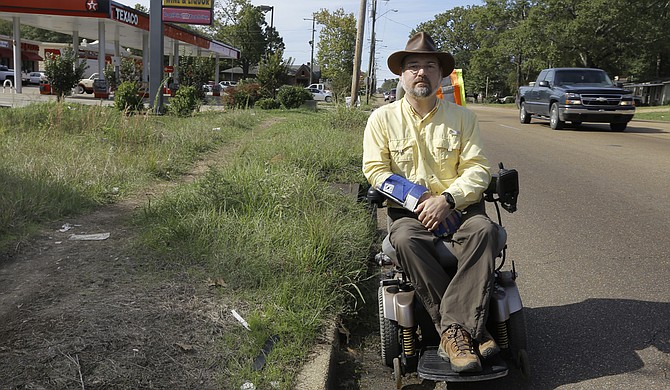 Scott Crawford rambles north up State Street into oncoming traffic, a yellow safety vest with orange stripes and silver reflectors fastened to the seat of his motorized wheelchair. "Always try to ride against traffic, so they can see your face," Crawford warns. "It's safer."
Despite the danger, Crawford has no choice but to ride in the middle of the street in most of Jackson. To the untrained eye of an of able-bodied person, Crawford's Fondren neighborhood near State and Meadowbrook Road, where he has lived since 2006, looks accessible enough. Most of the sidewalks have curb cuts for people in wheelchairs, some relatively new, a sign that the City of Jackson has occasionally updated some of its infrastructure to comply with provisions of the Americans with Disabilities Act.
A closer look, guided by Crawford, reveals a world of perils for people like him.
A bus stop near his home has a curb cut, but its slope is slightly steeper than ADA guidelines of a 1:12 ratio; in other words, the angle should be no more than 1 inch tall for every 12 inches of length.
This particular stop, which he measured with a digital level, is too tall. The practical significance of adhering to the ADA's technical specifications such as slope and the width of sidewalks becomes clear when Crawford whips his wheelchair around and his back wheel comes close to going off the curb.
In several places, the sidewalks simply end; in many others, utility poles render the walk unusable for Crawford and his chair.
Three people have been killed in the past three years in wheelchair-related accidents in Jackson, and some 100 in the past decade, according to local news clippings included in a presentation Crawford gave to the ADA council earlier this year.
Over the years, Crawford estimates he has submitted 75 written complaints to the City of Jackson about various ADA violations; he has made many more verbal complaints. The original ADA legislation required cities to submit a plan; Jackson did develop a transition plan in 2011, but it was not formally adopted.
Sam Gleese, the ADA coordinator for the City, said going through three mayoral administrations between 2013 and 2014 made it even more difficult to nail down the details of a plan. The City is currently soliciting public comments on what Gleese calls an updated, more detailed transition plan that builds on the 2011 document, now posted on the City's homepage. The public comment period ended Nov. 16.
Crawford and other advocates for people with disabilities aren't hopeful that the plan will produce results. For him, only one remedy remains—filing a lawsuit against the City of Jackson, which his attorneys at the nonprofit organization Disability Rights Mississippi say they are preparing.
"It is blatant discrimination," Crawford said. "I have to ride in the street. My friends have to ride in the street."
'We Got Sued'
The ADA required that all cities with more than 50 employees come into full compliance by 1995. The law's ultimate goal is to lower the barriers for people with different kinds of abilities and help integrate them into mainstream society. While advocates for people with disabilities say that few cities are shining examples of ADA compliance, Jackson's compliance is bad by any standard.
Joi Owens, the managing attorney for Disability Rights Mississippi, said the plan Jackson developed in 2011—19 years late, she notes—was vague and lacked a firm timeline for implementing changes to make the city more accessible. In addition, ADA required municipalities to hire an ADA coordinator, which Jackson did not do until 1997, when Sam Gleese came aboard.
"We want to make sure we do it right. We went round and round with this thing for a long time. As the disability community keeps pointing out, it's 25 years late, and that's true. I wasn't here 25 years ago in this position. The mayor wasn't here at that time so, in all fairness, we have to go from where we are," Gleese said.
Jackson Mayor Tony Yarber has said all projects outlined in the City's 1-percent sales master plan would include bringing roadways into ADA compliance. In their public comments on the ADA Transition plan, DRMS officials recommend amending the document to contain firm timelines and budgetary commitments for necessary projects—and to include "people first" language (i.e. saying "a person with a visual impairment" instead of "a blind person").
"We are concerned at the lack of progress since then, the lack of timely correction of complaints submitted by members of Jackson's disability community, and the lack of firm timelines for coming into compliance with this important human rights law," said Owens, the Disability Rights Mississippi attorney.
Private businesses get it, Crawford said, pointing to a "perfect" wheelchair ramp that a national drugstore retailer installed. He said businesses have a profit motive to encourage as many people as possible to shop there and that they tend to be more leery of getting sued than cities are. Cities, on the other hand, get sued all the time and are slower to respond—until someone forces the issue.
Crawford recalls a recent visit to Nashville, where he traveled miles in his wheelchair looking for noncompliant sidewalks. When he met with an ADA coordinator there, Crawford asked how that city became almost completely compliant. The coordinator responded: "We got sued."
25 Years Behind the Law
Advocates say many of the cities that have the best ADA-complaint sidewalks have been sued. In July 2000, under then-U.S. Attorney General Janet Reno, the Justice Department settled with 17 cities, including Nashville, which agreed to remove barriers "to all aspects of civic life, including courthouses, libraries, polling places, police stations, and parks."
As recently as 2014, two groups in California filed a class-action lawsuit in federal court against the City of Long Beach on behalf of plaintiffs alleging "a systematic failure to fix uneven and/or crumbling pavement, remove protruding and/or moveable obstructions, maintain a sufficiently wide path of travel, and correct excessive slopes and cross-slopes," all of which are items Crawford has included in formal complaints to Jackson.
"Persons who have mobility disabilities must choose between remaining segregated from significant kinds of daily activities—including visiting public facilities, places of public accommodation, or friends, and accessing public transit stops - and thereby remaining safe, or risking injury or death by traveling on or around inaccessible pedestrian rights of way," the Long Beach complaint states.
Christy Dunaway, who lives in northeast Jackson, said inaccessible sidewalks have far-ranging effects. For example, a pool of standing water near a poorly designed curb cut might require a person in a wheelchair to go around into traffic; if they roll through the water, they can get their clothes dirty.
"It's one thing for an able-bodied person to stand out in the rain," Dunaway said. "And an able-bodied person might be able to dodge a puddle of water; a person in a wheelchair cannot."
Crawford, who is relatively active, said the condition of the sidewalks forces him to stay at home unless he has to venture outside for an important meeting or a snack from McDonald's.
Dunaway said that just goes to show that inaccessible sidewalks prevent people with disabilities from fully participating in the economy.
"We're 25 years beyond ADA's passage. We've been talking to (City of Jackson officials) for years and years and (they're) still not getting it right. There's no excuse for that."
Gleese, the ADA coordinator, said after the transition plan public-comment period ends, each City department will complete an ADA compliance self-evaluation, which he expects to be complete by Jan. 1, 2016.
Comment at www.jfp.ms/news.
More stories by this author
Support our reporting -- Follow the MFP.