The organizers of the USA International Ballet Competition--a two-week Olympics-style competition for top young dancers held every four years--will soon launch "Ballet BackStory," a series of short programs designed to help people better understand and enjoy classical ballet. The first program, organized in conjunction with Ballet Mississippi, will be held at noon Tuesday, March 24, at the Arts Center of Mississippi (201 E. Pascagoula St.).
Artistic director David Keary will appear at the event to discuss the narrative of Ballet Mississippi's upcoming production of "Coppelia," and costume designer Gerry McElroy will talk about the costumes used in the performance.
Mary Schiele Scanlon, president of event sponsor Friends of the USA IBC, is one of the organizers for the event.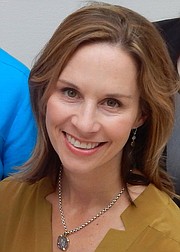 "We are trying to bring ballet to everyone with this event," Scanlon said. "This first event will feature Ballet Mississippi's upcoming spring performance of the classical comedy 'Coppelia,' and we hope to feature more in the future, including 'Cinderella,' 'Giselle' and other traditional ballets. Most of these have been featured in USA IBC competitions for years."
Scanlon, 47, was born in Greenville, Miss., and grew up in Belzoni, Miss. She started dancing at age 4 and has studied everything from ballet and tap dancing to ballroom dancing throughout her life. She went to high school at Humphrey's Academy in Belzoni and later attended the University of Mississippi, where she graduated with a bachelor's degree in French in 1990.

She taught English in Dunkirk, France, for a semester after college and married her husband, Pat Scanlon, after returning to Mississippi and settling in Jackson in 1991. Mary and Pat, who have been married for 22 years, were friends at University of Mississippi and became reacquainted while Pat attended the University of Mississippi Medical Center School of Medicine in Jackson. The couple has two sons, Patrick, 19, and Duncan, 15.
Scanlon joined Friends of the USA IBC through the organization's executive director, Mona Nicholas, who reorganized Friends of the USA IBC four years ago when the organization had been on the verge of disbanding. Nicholas met Scanlon through the tap-dancing group Mona on Tap, which is currently on hiatus. Familiar with Scanlon's dancing background, Nicholas asked her to serve on the reorganized Friends of the USA IBC's board.
Scanlon and Nicholas began organizing Ballet BackStory about three months ago, pulling together local arts programs and ballet schools to participate.
"We're hoping that Ballet BackStory will both give the public a chance to learn about the techniques and various schools of ballet, as well as help expand membership and recognition for the USA IBC," Scanlon said. "Understanding classical ballet makes a big difference. We want people to be able to appreciate the expressions, the emotions that go into a performance. The USA IBC does a lot to enhance the understanding and enjoyment of this art form."
Friends of the USA IBC is seeking volunteers for its annual Moonlight Attitude fundraiser in Jackson, as well as the local public school ballet program CityDance and preparations for the next USA IBC competition. Anyone interested in volunteering can email Scanlon at mssca[email protected] or call Friends of the USA IBC at 601-355-9853.
Support our reporting -- Follow the MFP.