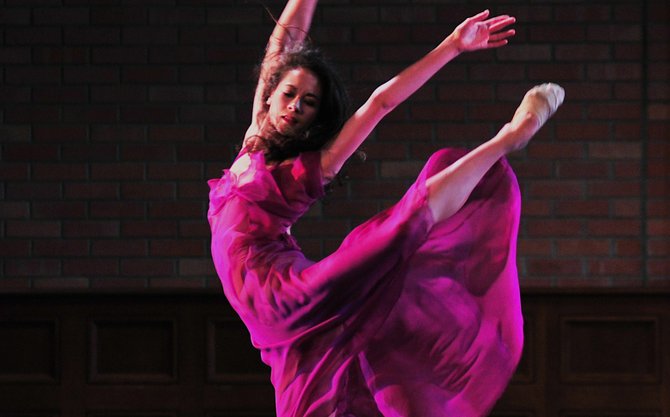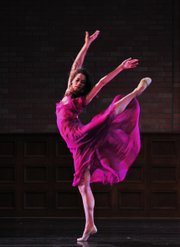 As a ballerina, Aynsley Taylor Inglis' body is her medium. She controls and manipulates every muscle, making graceful movements, jumping, turning and spinning.
She makes it look easy.
But, as she's quick to tell you, being in the world of ballet isn't easy. To get to her caliber of dancing, you have start early and dedicate your life to dance.
"You have to physically master yourself and then, on top of that, there's training on (things like) how to act, and then you have to put those things together—the artistry, the acting, the performance, and then all of the techniques," Inglis says. "It's a lot. It's basically your whole life. You can't be a ballet dancer and not be all in, I think."
At the core of her career is her training, and she says the most important element of that is her coach, Valentina Kozlova, a former principal dancer with the New York City and Bolshoi ballets. Since most classical ballet pieces have been passed down over the last 250 years, having a coach is of the utmost importance. "You need someone who really knows what they're doing and how it's supposed to be done," Inglis says.
Then there's the training itself. Anysley, 26, says she has danced Monday through Saturday—and sometimes Sundays—since the day she told her mom she wanted to quit jazz and tap and only focus on ballet at the age of 3. From then on, she's lived and breathed the dance medium, training eight hours most days, starting her classes with barre exercises, then floor exercises, then the practice of a specific piece.
"I wouldn't say I like ballet," Inglis says. "I would say I love ballet. It's my life and who I am. For me, what I love about it is being able to know that even if you can't do something now, if you keep working hard and intelligently and diligently, you can get there. It's cathartic as well as artistic at the same time."
Inglis, a native of Wilmington, Del., is trained in the Vaganova method, a technique developed by Russian ballerina Agrippina Vaganova that combines elements of French, Italian and earlier Russian techniques. She performed with the Tulsa Ballet Company in pieces such as Ben Stevenson's "Dracula" and Marcello Angelini's "The Nutcracker." Most recently, she toured with the Corps de Ballet with the Universal Ballet Company in Seoul, South Korea, for two seasons, performing in cities such as Tokyo, Seoul, Vancouver and San Francisco.
Inglis won a bronze medal at the 2005 USA Russian Pointe Competition, placed first in classical and contemporary in the senior division at the Youth American Grand Prix regionals in 2006, and has won numerous awards, such as the National Foundation for the Advancement in the Arts' 2005 Merit Award for Ballet and the Editor's Choice Award in "Pointe" magazine in 2011. In August 2013, Inglis won a bronze medal in the senior women's division of the Seoul International Dance Competition in South Korea.
But one of her many accomplishments hits a little closer to home—Inglis competed in the 2010 USA International Ballet Competition in Jackson.
She didn't make it past the first round.
But, as this was her first international competition, she says she wasn't that surprised.
"I remember after that, they had gone from 50 senior girls to 13," she says. "It was an unusually strict cut. Nobody goes to their first competition and wins something. At least I hope they don't. If they do, they're amazing."
Out of the record 357 dancers who applied, Inglis was one of 117 dancers invited to the USA IBC. She represented one of 31 countries present at the competition, as a large influx of people from all over the world came to compete in and see the United States' only internationally sanctioned ballet competition—in our capital city.
International Ballet Comes to Town
The journey of the USA IBC began in 1911 with the birth of Thalia Mara in Chicago to Russian parents. Mara began dancing at an early age; she debuted professionally in 1926 with the Ravinia Park Opera Ballets in Chicago and went to the Carina Ari Ballet in Paris a year later. In 1962, she opened the National Academy of Ballet and Theater Arts in New York with her husband Arthur Mahoney, whom she divorced two years later. The school closed in 1973, and in 1975, at an invitation of the Jackson Ballet Guild, she was off to Jackson to start a professional ballet company and school for the state. She saw her journey to Mississippi as a way to further the arts and create a wider audience for them. She worked with the Jackson Ballet Guild for six years.
Once a judge at the International Ballet Competition in Varna, Bulgaria, she introduced the idea of ballet competitions to city leaders and convinced them to secure Jackson as home to a USA IBC. In 1978, Mara and others created the Mississippi Ballet International to produce the first competition, held in June 1979. At the end of that competition, the International Dance Committee of the International Theater Institute of UNESCO sanctioned the Jackson competition, thus putting the competition in the International Ballet Competition rotation with Varna, Bulgaria, Moscow, and Tokyo. Congress passed a Joint Resolution in 1982, declaring Jackson the home city of the IBC.
In the first competition, 70 dancers came from 15 different countries to dance on the Jackson stage. In the second, 78 dancers came from 19 different countries. More and more dancers came from more countries as the years went on. In 1986, Andris Liepa and Nina Ananiashvili became the first Russian dancers in the competition. And the number of dancers and countries only increased from there. The National Endowment for the Arts, through the Mississippi Arts Commission, named the event an American Masterpiece in 2010. National Endowment for the Arts created the American Masterpieces initiative in 2007 to "acquaint Americans with the best of their cultural and artistic legacy." USA IBC was the fourth initiative.
Brenda Trigg, the organization's director of public relations and marketing, credits the USA IBC's success to the strong leadership.
Sue Lobrano, the executive director of the organization, has been with USA IBC for 34 years. She started in 1980 as a staff member and became executive director in 1986. Lobrano herself worked closely with Mara. The two taught at Jackson Ballet together, and when Mara would travel the world to different competitions, Lobrano was often by her side. When Mara stepped away from her position as artistic director, she made Lobrano promise to not let the integrity of the competition be compromised and to keep the high standards of ballet present at the USA IBC.
"It's one of the most highly regarded medals to get because (when) people come to America and they're seen here, they get the opportunity to work with major ballet companies," Trigg says. "It means a lot."
The USA IBC is held every four years, and this year celebrates its 35th anniversary and 10th competition. This year, Edward Villella is the jury chairman.
"He (Villella ) was the first American male ballet dancer to really break through and get acclaim," Trigg says. "He just made ballet dancing for males something it hadn't been."
Villella came to the art form from an athletic standpoint, as a former boxer and baseball player at the State University of New York Maritime College.
After getting in trouble multiple times while his sister was in ballet class, Villella's mother enrolled him in the School of American Ballet and age 10. Villella stopped taking classes when he went to college, but after graduation in 1957—he received a degree in marine science—he returned to the ballet world, becoming a member of the New York City Ballet that year. Through his dancing, he achieved U.S. stardom and high critical acclaim.
"Up until that point in ballet, the male was mainly there for the female, you know, (as) her partner," Trigg says. "He brought a lot more energy and virility and excitement and athleticism to ballet."
Along with Villella, the USA IBC is shaking the competition up with more contemporary dancing, specifically choreography from Matthew Neenan and Trey McIntyre. In the second-round performance, the contemporary round, dancers will choose a piece by Neenan or McIntyre to perform for the judges. In years past, dancers often used their own pieces for that particular round.
"We anticipate that they're going to appreciate the opportunity to basically learn choreography and work with the actual choreographers who are being recognized as geniuses. If someone had the opportunity to work with some of the other choreographers, who came before these guys, that would have been phenomenal," Trigg says. "... They may have a favorite piece that they (would have liked) to do, but it makes up for that." Trey McIntyre and his brainchild, the Trey McIntyre Project, is the USA IBC's artist-in-residence for 2014.
Getting the Capital City Ready
The planning for each USA IBC begins months ahead. Organizations such as Friends of the USA IBC gather together local citizens interested in the arts to help out. Volunteers do anything from coordinating the Juror's Lounge to stuffing envelopes. This year, though, the most impressive preparation for the event lies within the city itself.
Friends of the USA IBC, which started back up in 2012 after years in remission, is a volunteer organization that works closely with the USA IBC to get the competition ready and raise awareness for it.
In December 2013, the Jackson City Council voted to provide funds to renovate Thalia Mara Hall.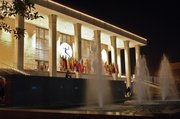 Right now, the theater seats and carpet have been ripped up so Thalia Mara Hall looks like a completely different place, but come June 14, the hall will be rife with new improvements. The renovations for Thalia Mara Hall will cost about $5.5 million and include the renovation of the lobbies and gathering spaces, the renovation of the lower lobby for tickets, merchandise and concessions, restroom upgrades, and of course, new seating and carpets.
The state provided $1 million of the funds, and Friends of Thalia Mara Hall are expected to bring in $1.7 million. Jackson itself will put $2.8 million into the project, some of which will come from a $5 surcharge on tickets to Thalia Mara Hall events.
"If we have to go day and night, whatever we have to do to complete it," says Michael Raff, the director of Thalia Mara Hall.
"All the contractors involved know that. They know they have to stick to their schedules." Renovations are expected to be done in early May, but must be done by June 1.
After the 2010 competition, the University of Southern Mississippi conducted a study to determine exactly how much revenue the event brought to Jackson—a total of $10.2 million, the university found. This year, Raff hopes the event will bring in $12 million. He recognizes USA IBC's effect on Jackson.
"It's just, by effect, so many different countries are involved," Raff says. "The whole country is involved. It's put Jackson on the map again, in a different way. Often people are the country, when you mention Jackson, Mississippi, they'll say, 'Oh, the International Ballet Competition.' It's something we're so proud of."
A New Face
As more and more people migrate to the capital city in search of jobs and education, the face of Jackson is getting younger. In 2010, the U.S. Census Bureau estimated that Jackson has a population of 173,514. People between the ages of 15 and 34 make up 56,005 of that number, one of the biggest age ranges in the city being 20 to 29, about 17 percent of the total population.
"Jackson is now recruiting this whole generation of young people," says Liz Lancaster, communications director for Friends of the USA IBC. "Young people are coming to Jackson for jobs. Young people are coming here to go to Millsaps and Belhaven and JSU and there's this whole group of young people in Jackson that are looking for ways to get involved in the arts and in the community."
With the shift toward a younger generation, Friends of the USA IBC recognizes the importance of getting a new crowd in to experience the competition and all it offers Jackson. The organization's biggest focus right now is getting the awareness about the competition out and also recruiting more members, mainly those 21 and up. Their newest membership, the junior patron membership, is $30.
While recruiting 20-somethings for membership is something Friends focuses on, their ultimate goal is to broaden the audience of the competition, starting early in some cases.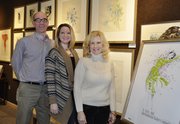 "We want to reach the younger generation because they are the future of this competition," Nicholas says. "We want them to get involved now so they grow to love and cherish this like we have."
But it's not just about broadening the audience. Though USA IBC's largest focus is the competition itself, one of the its goals is to foster the dancing community in Mississippi through programs and education. The USA IBC's crowning jewel for this is CityDance, a free afterschool program for public school students between ages 7 and 12.
Since 2003, the USA IBC has accepted dancers in the program from the beginner's level to advanced. In the 2013-2014 school year, Trigg says that the program saw its highest numbers, with about 60 of a 120 hopefuls accepted to CityDance. Through the help of sponsors, students got free leotards, ballet shoes and twice-a-week classes.
Trigg hopes to reach all types of dancers through programming. She recounts the tale of Brooklyn Mack, an African American dancer from South Carolina.
"He saw a ballet company come to his school and it's like 'Wow, you've gotta be strong to do that. I mean, those leaps, those jumps,'" Trigg says. The dance company inspired Mack, who is now a dancer with the Washington Ballet.
"When we're born, we want to dance, we want to move," Trigg says. "... We only learn to not dance."
Ballet, Blues and Bucci is from 5:30 to 7:30 p.m. March 25. The USA IBC is June 14-29. Ticket packages are available from $265 to $405. Individual tickets go on sale April 7. Tickets can be purchased at the USA IBC box office at the Arts Center of Mississippi (201 E. Pascagoula St.). Call the box office at 601-973-9249 between 10 a.m. and 4 p.m. Monday through Friday. Visit usaibc.com for more information.
Support our reporting -- Become a JFP VIP.
The news business has changed dramatically in the past year, and we need your help more than ever to keep bringing you important stories about Jackson and the Metro. Become a JFP VIP with an annual membership or you can Sign up as a monthly supporter. Thanks for anything you can do to empower our journalism!