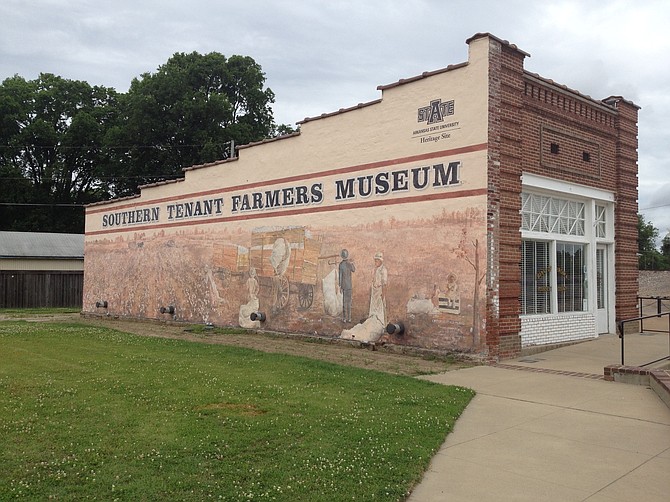 TYRONZA, Ark.—The black and white sharecroppers of the Arkansas Delta in the 1930s were the lowest of the low, the poorest of the poor. They worked from sun-up to sun-down, buried in debt, a southern peasantry every bit as bound to landowners as their medieval counterparts in Europe centuries before.
Franklin Delano Roosevelt had them in mind when he declared the South "the nation's number-one economic problem," yet the federal government botched its attempt to help them with the Agricultural Adjustment Act of 1933, allowing landowners not only to grab federal dollars intended for the peasants, but even to evict them from their shacks and shotgun houses. That's when the lowest of the low finally stood in protest.
It was in 1934 when 11 white and seven black sharecroppers and tenant farmers gathered in Red Square, a combination of dry cleaners that H.L. Mitchell ran and a gas station that local marshal Clay East operated, in Tyronza, a tiny town located at the heart of the Arkansas Delta. In that humble building, they established the headquarters of the Southern Tenant Farmers Union.
Taking inspiration from the writings of Upton Sinclair and the speeches of Norman Thomas, Mitchell and East were both self-proclaimed socialists. They were disgusted with an unhinged capitalism that had plunged the nation into economic chaos and left their neighbors near starvation while plantation owners and their political cronies jealously guarded the status quo.
This rare moment in southern history where black and white came together to stand for social justice against overwhelming odds is preserved in what must be the most humble of historic places—the nine-year-old, state and federally funded Southern Tenant Farmers Museum in Tyronza, located in the same building where Mitchell and East led the union.
Some have called Southern Tenant a predecessor to the Civil Rights Movement, Cesar Chavez's United Farm Workers and today's Farm Labor Organizing Committee in Ohio and North Carolina.
"It took a lot of courage," Linda Hinton, the museum's director, says. "One of the original members had been a Klansman, but whenever he started looking around and seeing how he was being treated, and saw the blacks were being treated the same way, he joined the union."
Courage, indeed. Earlier efforts of sharecroppers and tenant farmers to assert their rights were met with brutal suppression. An Arkansas Delta picker strike in 1891 ended with nine of the strikers captured by masked vigilantes and summarily hung.
What is probably the worst race massacre in U.S. history took place in nearby Elaine, Ark., in 1919 when black sharecroppers met in a church to organize for better wages. A band of armed white men launched a terror campaign against them, which led to more than 100 deaths.
Members of the Southern Tenant Farmers Union faced beatings, kidnappings, jail time and constant threats from gun-toting night riders. However, a strike in 1935 led to several landowners agreeing to better wages. By 1937, the union claimed tens of thousands of members in Arkansas, Mississippi, Tennessee, Missouri and Oklahoma.
"Meetings followed the pattern of religious revivals, with fiery sermons, passionate exhortations, and emotional hymns," writes University of Mississippi historian Elizabeth Payne in her essay on Southern Tenant organizer Myrtle Lawrence.
Great labor songs like "We Shall Not Be Moved" and Southern Tenant sharecropper-poet John L. Handcox's "Roll the Union On," came out of the movement. Takeover attempts by Communist-led unions, internal divisions and other pressures eventually drained the farmers union of its fire, and by the 1940s, it was a mere shell of itself.
Decades later, the history remains controversial, Hinton says. "When I started working here, I spoke to a couple of elderly ladies at the church and asked them about it, they whispered, 'Yes, we do know about it,'" she says. "They felt they had to whisper."
The museum, which gets about 4,000 visitors a year, is part of a four-site "Southern Heritage" tour that Arkansas State University sponsors and also includes the barn studio in Piggott where Ernest Hemingway worked on the novel "A Farewell to Arms," Lakeport Plantation in Lake Village, and Dyess Colony, the farm cooperative whose most famous resident was Johnny Cash.
The Southern Tenant Farmers Union failed to realize its dream of equality and fairness in the Delta. The region remains poor and divided, its biggest change seen in the corn and soybean crops quickly replacing King Cotton. Yet a closing sentence in a 1937 Southern Tenant declaration of rights speaks to the hope that union still inspires: "To the disinherited belongs the future."
Joe Atkins is a veteran journalist, columnist and professor of journalism at the University of Mississippi. His blog is laborsouth.blogspot.com. Email him at [email protected].
More stories by this author
Support our reporting -- Follow the MFP.