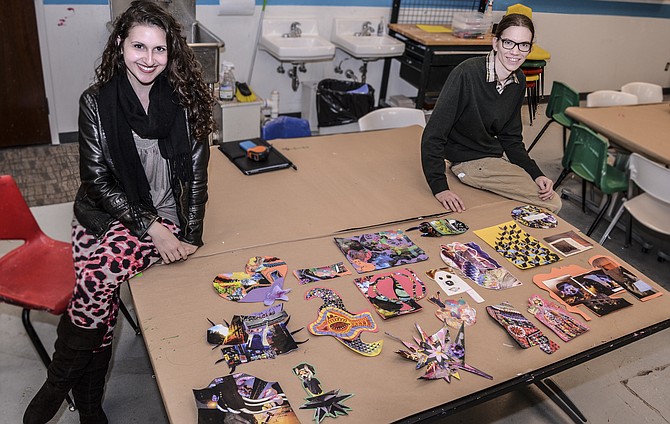 Whenever the Mississippi Museum of Art is open during January and February, you might find as many as 25 people of all ages playing with photo prints, scissors, glue, stamps and stencils in one of the facility's classrooms.
The mostly amateur photos come from across the state (and from Mississippi expats), taken on smart phones or whatever digital camera might be handy to snap a picture of a baby, a garden, a pair of sparkly high heels or a meal. What they have in common is that they answer a question: What are your happy memories of Mississippi?
Armed with those photos, other folks make collages—at MMA or an offsite workshop—blending and combining the pictures into new forms. Collage, a most democratic art form, requires only a bit of imagination and a willingness to explore shapes and images. No artistic training is required. A mistake could simply be a new direction to follow.
"The images get used over and over again throughout the whole project," says Morgan Welch, one of the coordinators. "It's fun to get to see them get used. Different people will collage them completely differently, focusing on different parts of the image. ... All of these things are what make Mississippians happy.
The first week in March, the team at Jackson's HannaBerry Workshop—artists Sarah Qarqish and Welch—will transfer the scanned collages to scrim, a net-like architectural material, and create an undulating walk-through pavilion in the museum's Art Garden during the second week in March.
"When you walk up to it, you're going to be able to see it right in your face," Qarqish says. "You may see below you the imagery. You may look above you and see it. I love the idea of the sun hitting the pavilion and the scrim. It's like netting, so light, and the wind can go through it easily, and (you'll) see what colors happen on the ground from the sun hitting all of that imagery."
The project, "Looking Forward to Happiness," is the fourth in the museum's annual participatory series: "C3: Creativity, Conversation, Community." Every year, artists lead Mississippians to create an installation representing the creativity of the state and its people. The museum provides a grant to make the project possible; the people provide the creativity. Everyone, whether submitting a photo, making a collage or viewing the final project, is an involved participant.
"We wanted to achieve something important to Mississippi," Qarqish says. "We wanted to connect with the community and not have it feel intimidating. Everyone uses their phone (to take photos); everyone uses Gmail."
Qarqish, 24, and Welch, 25, met in 2011 as students at Mississippi State University, where both earned bachelor's degrees in art in 2013. Both hail from the Jackson area, she from the city, he from Madison.
Their collaboration, which combines their artistic skills and interests, also touches their personal lives: They're planning a February wedding. Their professional persona, HannaBerry, combines the couple's middle names (which are also their mothers' maiden names), and together, they produce fine art (with a love for large-scale installations) and fine, hand-crafted furniture. They have an exhibition, "Qarqish + Welch: Art as Form ... Art as Function," at the Ohr-O*Keefe Museum of Art in Biloxi through March 17, and they held a reception about the C3 project there recently.
The venture is a challenging departure for the team. As artists, Qarqish and Welch work primarily in isolation, but between gathering photos and leading collaging workshops, "Happiness" puts them squarely into the community to make art with few or no rules in a collaborative visual conversation. "It's interesting to see how many people make an art piece with the collage, or make a story or do something really simple, a simple statement," Quarqish says, emphasizing that the results are for the people. "I think back to how does that make them happy? And then I realize they were having fun, and that's what came to them at that moment. ... We're OK with what happens."
"Everyone just gets into it," Welch adds of the collaging process. "You can tell that they're just enjoying themselves. ... That's when some of the most interesting things have been made."
Submit photos for "Looking Forward to Happiness" through the end of February. Email images to 
[email protected] or submit them via Instagram using the hashtag #c3project2015. Collage makers can create at the Mississippi Museum of Art (380 S. Lamar St., 601-960-1515) during regular hours (Tuesday through Saturday, 10 a.m.-5 p.m.; Sunday noon-5 p.m.). HannaBerry artists will be on hand to lend expertise and inspiration on Thursdays and Saturdays, 10 a.m.-2 p.m. The pavilion is on display March 7-14 in the Art Garden. Participation is free.
More stories by this author
Support our reporting -- Follow the MFP.