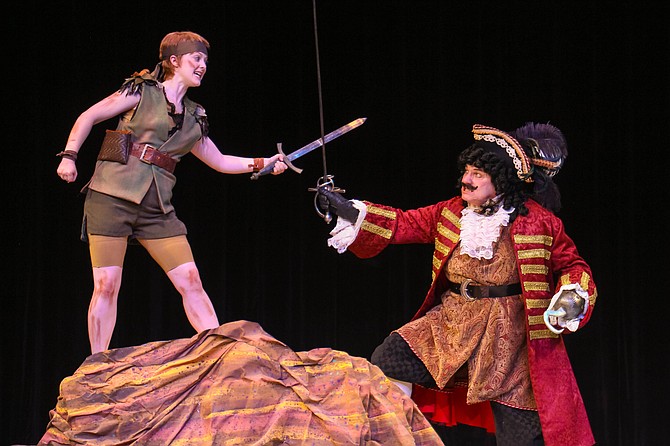 Moments before the curtain goes up on New Stage Theatre's production of "Peter Pan," a chorus of shushing ripples through the audience. The full house of 300 or so children falls quiet. Anticipation is palpable, the kids are excited, dubious or, perhaps, just happy for a morning away from the classroom.
When a pirate jumps out with a loud "arghh!" a few kids squeal. But he's friendly, just there to lay out the ground rules, such as no talking or texting. It's all part of weaving Peter Pan and Tinkerbell's spell of mermaids and Indians and a ticking crocodile. And flying with a little fairy dust. Most of all, it's the magic of a child's longing for family.
"Part of it is this idea of being able to go someplace—Neverland—that is a safe place, a place where heroes triumph and a place where you never grow old, where you can be a child, where you can be childlike, not necessarily childish," Director Brent Lefavor says.
"It's also a lot like Christmas," adds Technical Director Richard Lawrence, who also plays the dog Nana and pirate Cecco on stage. "... What makes Christmas fun is little kids. This play with nothing but adults in the audience would not be nearly as much fun as the adults have with little kids in the audience (and listening) to the kids giggle and get excited."
"Peter Pan" dates back more than 100 years, to the original book and play by J.M. Barrie. Barrie wrote the story for his wards, the five sons of Arthur and Sylvia Llewelyn Davies, who lost both their parents within a few short years. First made into a musical in 1924, Jerome Robbins adapted the current version in 1954. The play has been the subject of numerous radio, film and stage productions.
A petite adult woman has traditionally played the role of Peter on stage. It takes strength to fly with wires and do backflips and cartwheels. The actor also needs a high singing voice. New Stage found its Peter in Arkansas native Katie Emerson, 28. In one scene, Peter gets the audience members involved, putting a good bit of pressure on the actor to ensure they actually respond. So far, Emerson says they haven't let her down.
"It's hilarious and heartwarming how adults respond to it," she says. "Even when there's not many kids in the audience, when I go out and ask them to help me bring Tinkerbell back to life, the adults are right there with 'I believe!' ... They're just as ready to go back there, and I love that."
Flying takes practice and teamwork. Two six-hour days of rehearsal were dedicated to flying, ensuring everyone's safety. It's a feat left to the professionals of ZFX Inc., which specializes in that sort of thing across the nation, setting up and teaching actors how to fly.
"Of the things you think you're going to do in your life ... oh man, it is just really, really exciting," Emerson says. Typically, Emerson gets the sidekick and ingenue roles. "To get to fly and sword fight and be the hero is not what I get to do all the time," she says. "What an amazing, amazing thing to get to do."
For the actors, playing such roles is as much fun for them as it is for the audience. Realism need not apply for "Peter Pan."
"The best is the little kids in the front row when we come out as pirates," Lawrence says. "... They love the being scared."
"As long as they know they're safe," adds David Spencer, who plays kindly Mr. Darling as well as the despicable Captain Hook. "And they are. ... It doesn't matter that it's 2014. They're children."
Even with its G-rated '50s songs and eternally optimistic story line, people of all ages get caught up in "Peter Pan"—even the cynics. For Spencer, "Peter Pan" reveals the beauty of children's souls.
"They're so willing to go to that place," he says. "They're so open. That's a lovely part of this play, and it's why people are attracted to it. You still hook back to your own childhood and that feeling yourself. It's sad, and it even hurts when you watch Peter tell Wendy she can't come with him (at the end) because she's too old. One understands the pain of letting that go."
"It speaks to the child is us," Spencer adds. "While that sounds very cliche, and it's overused, of course, it's nevertheless what it is. ... You can never go back."
"Peter Pan" runs Jan. 6-17 at New Stage Theatre (1100 Carlisle St., 601-948-3533). Evening shows are at 7:30 p.m., and Sunday matinee performances are at 2 p.m. General admission is $28. For more information, visit newstagetheatre.com.
More stories by this author
Support our reporting -- Follow the MFP.