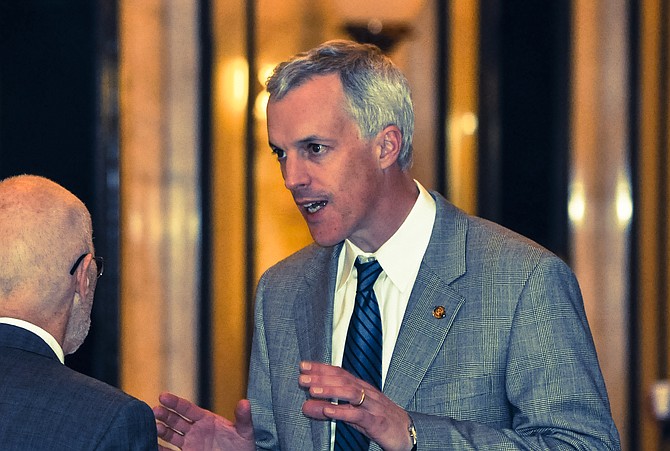 A Mississippi advocacy group wants some state agencies to give closer consideration to people with disabilities when it comes to hiring decisions.
Disability Rights Mississippi is lobbying for legislation that builds on an executive order Gov. Phil Bryant signed last year that encourages state agencies that provides services and other supports to disabled people to give first priority in hiring to persons who have disabilities.
Bryant's executive order, signed in January 2014, also set up that Mississippi Disability Resource Commission to share and track information, to review and give recommendations on legislation that could affect disabled people and report annually to the governor's office.
"It's a good year for this bill," said Joi Owens, managing attorney for DRM.
Owens believes the climate is right for the legislation's success. Earlier this year, the group held a take-your-legislator-to-work event for people with disabilities to invite their legislative representatives to their workplaces. It drew interest from state Sen. David Blount, D-Jackson, and Kenny Wayne Jones, D-Canton, as well as state Rep. Bobby Moak, D-Bogue Chitto, and Speaker Philip Gunn, R-Clinton.
The introduction of the bill comes on the heels of reports of declining national unemployment rates. However, historically, people with disabilities have faced more daunting labor prospects than the general population. A June 2014 report from the Bureau of Labor Statistics, for example, shows that the unemployment rate for individuals with a disability was 13.2 percent during the 2013 calendar year, which was nearly double the rate for people with no disability in the same time span.
That report also shows that people over age 65 are more likely to be disabled and that people with disabilities are disproportionately concentrated in part-time jobs. Thirty-four percent of workers with a disability were employed part-time, compared with 19 percent of those with no disability, the BLS reported.
Mississippi faces unique challenges for people with disabilities who want to work, such as transportation to and from jobs, which is more difficult in our rural state, said Augusta Smith, executive director of Living Independence For Everyone.
Advocates say people with disabilities want to be gainfully employed and are more reliable than workers who are not disabled. Still, a number of barriers exist that keep disabled people out of the workplace, such as employers' misconceptions that disabled workers are less reliable or the cost of providing accommodations is exorbitant.
"A person with a disability has to sell themselves three times harder than an able-bodied person," Smith said. Pam Dollar, executive director of the Coalition for Citizens with Disabilities, say that people with disabilities, including those with intellectual disabilities, are more likely to show up for work and remain focused throughout the day.
"We've found that people with disabilities are much more reliable and dedicated to their jobs," Dollar said.
Sens. Blount and Sean Tindell have sponsored the SB 2017.
More stories by this author
Support our reporting -- Follow the MFP.