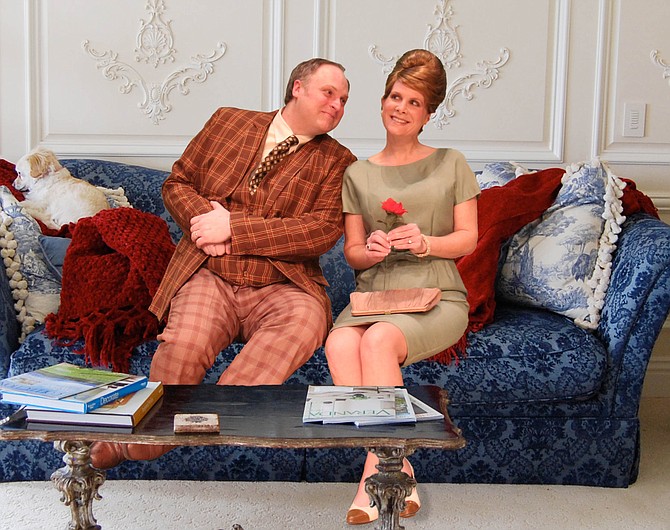 Before the actors hit the boards for an early "stumble-through" rehearsal of "One Man, Two Guvnors" at New Stage Theatre, Joe Frost straps on knee and elbow pads and uses the crook of a cane to massage a sore back muscle, while Jessica Wilkerson practices a tricky bit of her English accent.
"Lloyd. Lloyd. Lloyd," Wilkerson says repeatedly, trying to make her flat-sounding Os rounder.
Other players strategically place rectangular blue pads—the type you might see in a gym to provide safe landings for balance-beam acrobats—upstage. The action in "One Man, Two Guvnors" won't be limited to just walking, sitting and talking.
"It's controlled chaos," says Kerri Sanders, who plays Rachel Crabbe. A Mississippi native, Sanders interned with New Stage three years ago and stayed on to teach the theater's youth troop.
Frost, who teaches theater at Belhaven University, plays perpetually hungry Francis Henshall, the lead character, who is supposed to be fat. But Frost is losing weight, and director Francine Reynolds is threatening to put him in a fat suit.
"You try different physical things with different lines and try to find the one that's going to give you the maximum amount of chaos and energy and comedy while not completely over-running the elements of plot," Frost says of his intensely physical role, which leaves him sweating and panting with each run-through. "... There are motivations that drive every single bit of silliness that happens."
The play, the newest New Stage Theatre offering, first debuted in London at the National Theatre's Lyttelton Theatre in 2011. London critics gushed and raved. The play received a dozen award nominations when it ran on Broadway in 2012, winning both a Tony and an Outer Critics Circle Award.
Playwright Richard Bean adapted "One Man, Two Guvnors" from an 18th-century commedia dell'arte classic, Carlo Goldoni's "Servant of Two Masters." Players adept in that Italian format (literally "comedy of art" or "comedy of professionals") combined stock comedic characters (the colorful Harlequin originated in the genre) and familiar plots with physical comedy, and they improvised dialog at specific points in the plays. The improvisations allowed the cast to tailor the plays to their audiences and current events and include bawdy jokes that couldn't be part of the scripts.
"One Man, Two Guvnors" uses the format for British comedy in the "Bennie Hill Show" vein: Pratfalls, audience interaction and asides combine with slightly blue humor and rapid-fire dialog in a 1963 time frame.
It's what director Reynolds calls "true slapstick."
"It's a huge challenge for the actors because they have to be structured, yes. They have to keep it moving; it can't be slow. But there also has to be the sense of relaxed-ness with them, looseness that doesn't appear loose," she says. "... It does have to be controlled."
"What's really exciting about this format is that you're never going to see the same show twice," adds David Lind, who plays Stanley Stubbers. "If your friend goes to see it one night and you go another night, different things are going to happen." Lind, who hails from San Antonio, Texas, attended Millsaps College and, like Sanders, interned at New Stage before heading to New York City, where he's now based.
The plot of "One Man, Two Guvnors" goes something like this: Two gangsters (the guvnors of the title), Stubbers and Roscoe Crabbe, separately hire Henshall as their personal assistants. Roscoe, though, is actually Rachel Crabbe, Roscoe's twin sister, and Stubbers is both Rachel's lover and Roscoe's killer. Mistaken identities, mayhem and hilarity ensue as Henshall tries to keep Rachel and Stubbers from discovering that he works for both of them, Rachel tries to avoid discovery (including from Roscoe's ex-fiance Pauline, who is now engaged to Alan Dangle), Stubbers lies low, and Henshall just wants to eat.
"It's confusing on purpose," Frost says. His character, Henshall, may seem bumbling and a little dense, but don't be fooled. "I'm a guy with a plan. Every little way I can think of to get more money and scheme to find some food somewhere, that's what I'm going to do."
That and get the girl, of course.
"One Man, Two Guvnors" is at New Stage Theatre (1100 Carlisle St., 601-948-3533) from Feb. 17 through March 1. Curtain is 7:30 p.m. Tuesday though Saturday, and 2 p.m. Sundays. General admission is $28, with discounts for seniors, students and groups. Buy tickets by phone or online at newstagetheatre.com. Visit the website for additional information.
More stories by this author
Support our reporting -- Follow the MFP.