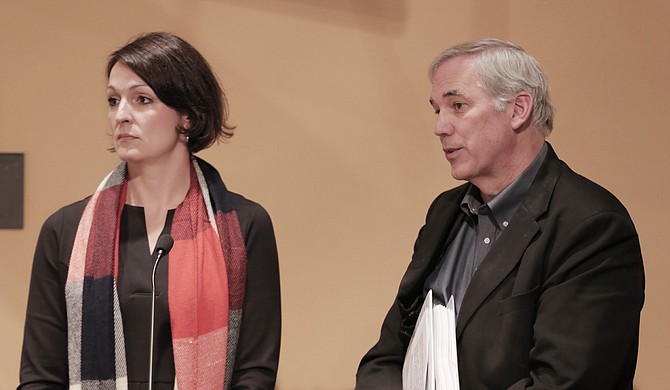 Whitney Place, a long-dormant and previously controversial development project slated for Fondren, is back in the spotlight.
On Dec. 29, Jackson City Council members voted in favor of several resolutions supporting a tax-increment-financing district for Whitney Place and a nearby hotel announced earlier this year. Ward 1 Councilman Ashby Foote, who attended by phone, voted against the resolutions. In his view, the City should not sacrifice any tax revenue after Moody's recent downgrade of Jackson's bond rating, he told the Jackson Free Press.
The TIF would provide $3.1 million for infrastructure upgrades to support the two projects, which represent a $60 million investment. The projects would include two hotels, totaling 203 rooms, 87,000 square feet of leasable office space and 48,000 square feet of retail space. The projects would create 250 construction jobs and 100 permanent jobs, city officials said.
Jackson-based Duvall Decker Architects and Eldon Development LLC would erect one of these hotels, known as The Fondren.
Roy Decker, one of the principals in Duvall Decker, has said the $20 million, 100-room hotel near State Street and Mitchell Avenue would create $227 million in spin-off economic activity and $17 million in local tax revenues over 10 years.
The TIF would help pay for parking—a surface lot for The Fondren and a garage for Whitney Place—as well as sewer and drainage upgrades for The Fondren and Whitney Place. Foote said he supports development in Fondren and around the city, but believes the city should try to collect all the tax revenue it can while battling a budget deficit and employee furloughs.
"If we were flush, and everything were going great, it would be a different issue," Foote said. "But when you're scrambling, I have a problem turning over sales tax to developers."
Whitney Place also proposes a hotel from developers Sunny Desai and Jason Watkins. In 2014, Desai announced plans for a boutique-style Hampton Inn near the corner of Duling Avenue and Old Canton Road, but he later withdrew those plans.
The original Whitney Place, announced in 2010, was planned as a $80-million mixed-use development for Fondren that would replace buildings on State Street known as The Strip, built in the 1930s. Those plans—from David Watkins Sr., who helped redevelop the King Edward and Standard Life downtown—met opposition from locals and historic preservationists. Watkins Sr. told the Jackson Free Press that he is not involved with the new development, which is still named after his late daughter-in-law, and referred questions to son Jason Watkins, who did not respond to emails by press time.
Both projects also plan to apply for a rebate program through the Mississippi Development Authority, which rebates a portion of sales tax generated by tourism-related developments. Christiana Sugg, an attorney with Gouras & Associates and a consultant on both projects, said combining the projects under one TIF would save the city time and money by doing one bond issue instead of two, which would increase closing costs and attorneys fees.
Decker said The Fondren is in the final stages of putting the financing package in place, which includes using the state historic tax credit program, which ran out of money, but that the Legislature may consider reauthorizing in the coming legislative session.
Comment at jfp.ms/news. Email R.L. Nave at [email protected]
More stories by this author
Support our reporting -- Follow the MFP.