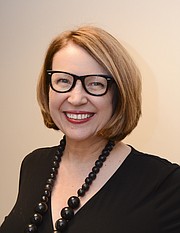 I've had people tell me over recent weeks that they're surprised that (a) I'm a huge "Star Wars" fan, (b) Todd and I love Disney World (especially Space Mountain and that amazing Expedition Everest coaster), and (c) that I'm such a Christmas fanatic down to having many boxes of decor and giftwrap and reindeer (my holiday icon; you know, as in "Donner") in my attic.
The reason they're surprised, I think, is because I'm so serious about social issues and equality—from gender to race to LGBT rights—I'm supposed to be too sophisticated for such trivial, prosaic pursuits. Ha. Those folks don't know me. Or maybe they want me to be as cynical as they are about so many fun pursuits.
Don't get me wrong: I used to be much more judgy and, thus, less happy. Coming from a less-than-educated background in Mississippi—where history makes us the world's best self-haters, I think—I was out to prove something when I escaped into the larger world. I even tried to lose my southern accent; hey, I was young and naive.
But even then, I didn't let go of my love of Christmas kitsch and revelry, which I inherited from my mother and, probably, from all those Victorian types I descend from. I've often had the biggest tree and the craziest selection of ornaments and spent more time wrapping creative gifts than just about anybody I know. I simply love this holiday.
And there is that word: love.
The truth is that I love too many things, and people, and ideas, and experiences to be a sourpuss who complains about everything and judges people who obsess as much as Todd and I do about what must be Rey's back story in that galaxy far, far away. (I have my own fairly unique theory, but you know, spoiler alerts keep me from sharing it with y'all. Sorry. I think I'm right, though.)
I've always been interested in many things—from the eruditish to the lower-browish—but I used to have a hard time just taking time to enjoy the remarkable experiences and people that life presented me.
A few years into my almost 20-year relationship with Todd, we discovered the concept of mindfulness together—when I picked up a book in a bed-and-breakfast in Woodstock, N.Y. (swear to God). As I read the book on the very simple but elusive principal of staying present in your own life and for your experiences, it was as if a curtain was being lifted on my life, and I liked what I could glimpse on the other side.
Where had this been through my whole blessed, frenetic life when I had a hard time being satisfied with anything?
That day, I started trying to practice mindfulness: simply being fully present. It's damn hard, and as the Buddhists tell you, it's always "practice." You end up going through your life catching yourself when you're not present for something and then pulling yourself back to whatever is right in front of you. You notice more things. You experience more bliss, and from the simplest things.
For instance, I've been spending time in New York City working on a project. In my old days there, I had a rather charmed life, but I wasn't present for a lot of it, always looking at the next thing. These days, I try to enjoy every moment there just as I do here in Jackson or anywhere else I go. I just stayed on a block in Brooklyn where the brownstones had front yards, and every day I would intentionally notice who had put lights out that day. It became a game as I walked to the subway. Mindfulness teaches you to notice and relish the little things instead of obsessing over how things would be better "if."
I took the same approach one night when I ended up in midtown alone after a book party there (for the fabulous photographer Maude Schuyler Clay's "Mississippi History"; get your signed copy at Lemuria). The area was packed with people clearly there to see the Rockefeller Center Christmas tree—something I never used to care about because it was "touristy." So after impulsively buying a new pair of shoes—hey, they were on sale—I wandered over to the tree and watched the by-then-thinning crowd take millions of selfies with family and friends. The place was filled with love and delight.
I then watched a remarkable light show on the side of Saks First Avenue and then slowly wandered, lingering in front of and snapping Instagrams of Saks' remarkable holiday windows, even though it was almost midnight. It was one of so many peak experiences I have had since I've discovered how to just enjoy stuff without ruining it with angsty cynicism and unrealistic expectations.
The day before "Star Wars: The Force Awakens" premiered, I was on a packed subway headed to Manhattan when two women behind me started belittling people who like the movie series. One had paid $28 for a 3D ticket to go opening night with friends, and all she could do was complain about how silly the whole thing was.
I felt sorry for her. She was missing the whole point about being mindful: Try to enjoy what's in front of you. It doesn't mean you never criticize things that matter, but pre-whining about something you paid a lot of money to do is kind of the textbook example of not being present in your own life. If you don't like "Star Wars," then don't go. But trying to turn your dislike into a badge of honor is just goofy and fruitless.
While Todd and I were at Disney World recently with his family, I reposted a pic on Instagram of a saying that nailed the delightful experience we were having together: "Fall in love with as many things as possible." It was apropos timing, as the advice described exactly how we were acting as we walked 50,000 steps over two days, packing in everything we could like we were teenagers. Every moment was special, and I definitely had to use my Jedi mindfulness tricks to get through the long lines, being that I'm traditionally an impatient person.
I'm writing this four days before Christmas. I got back last Thursday, and I'm crazy busy this week trying to prep celebrations and gifts for staff, friends and then the family I'll see this weekend. In the old days, I would have complained all along the way, not managing to enjoying the lovely things in front of me, whether it's the crazy Christmas baubles I've collected over the years or my tuxedo cat who won't stay off my wrapping table.
Yes, I'm a serious person, and I care deeply about injustice and hatred. But the reason that I do is because I love so many things and people and cultures and experiences so deeply. I want our world to offer its blessings to everyone, and I want every person, regardless of beliefs, to have a chance to accept them, be happy and love deeply.
In fact, that's my Christmas wish for you. Have a joyful holiday filled with wonder and awe and a Jedi or two, if that is what makes you happy. It certainly does me.
Support our reporting -- Become a JFP VIP.
The news business has changed dramatically in the past year, and we need your help more than ever to keep bringing you important stories about Jackson and the Metro. Become a JFP VIP with an annual membership or you can Sign up as a monthly supporter. Thanks for anything you can do to empower our journalism!