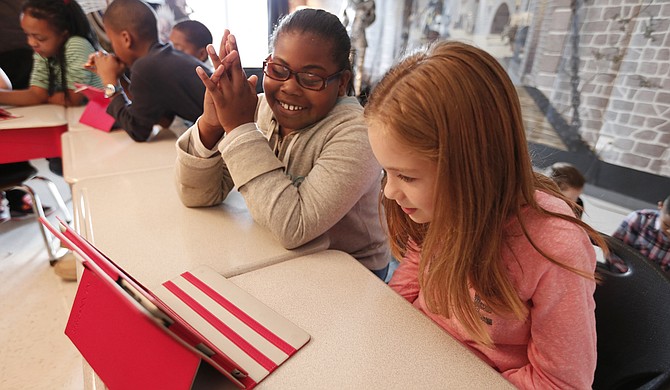 "We have to turn this way ... I think," Avery Berg said as she turned the iPad away from her, straining her neck as she and Quintaria Wright tried to figure out which directions to assign to their robot on the screen.
After a few failed sequences, Wright sighed in slight frustration—this was her first time experiencing coding.
"Why don't we just start over?" Berg said, then deleting a few commands from their sequence by tapping the iPad screen multiple times.
Berg and Wright made up one of many groups of two or three students huddled over iPads trying to code their robot's way to the next level last week at Eastside Elementary in Clinton.
Berg is a fifth grader in Jana Chao's computer programming class at Eastside. Wright is a fourth grader, and she along with all fourth graders at Eastside got their first introduction to coding as a part of Computer Science Education Week from Dec. 7 through 13. Eastside Elementary, which serves all fourth and fifth graders in the Clinton Public School District, participated in the "Hour of Code" initiative from code.org that encourages student exposure to coding nationally and around the world. Fifth-grade computer-programming classes partnered with fourth-grade classes and coached them through different coding programs for an hour each day for the week at Eastside Elementary.
On Dec. 9, Mrs. Chao's class partnered with Kerri Burnside's fourth-grade class to introduce fourth graders to an app called Lightbot, which teaches users to create sequences that direct the movements of a little robot as it moves through patterns.
Mrs. Burnside's fourth-grade classroom was abuzz with quiet murmurs and the occasional "ding" from iPads, as the fifth graders guided their fourth-grade partners through different levels on the Lightbot app.
Fifth graders at Eastside Elementary are required to take computer-science courses, but for fourth graders, last week was their introduction to what they will get to do next year.
The New Norm
This is the first year Eastside has offered computer science for fifth graders, who are required to take the course. Chao said coding helps her fifth graders learn critical thinking skills and gets them focused on how processes work together. She said her class was excited about teaching coding to the younger students.
"All of my kids are loving it. My lower (achieving) kids are really loving it because they get to be the helper, and the roles are reversed," she said. "It's good for all of them, and they're all excited about it."
Eastside Elementary is working to become an Apple "distinguished school," which would enable students to be assigned an iPad or MacBook for the school year like a textbook, so they could take their programming work home with them.
Fifth graders learn programming on MacBook Airs, while fourth graders use iPads in their classrooms—even for math lessons. Burnside teaches math and science, and mainly uses technology to teach in her classroom.
"I have textbooks in my classroom, but as far as math lessons, we do everything with our textbook online," she said.
Assistant principal Mandy Taylor said the school is working toward a paperless initiative, using technology in all classrooms—not just computer-science classes. Taylor also said programming courses introduced in elementary grades can help students' critical thinking development.
"(Coding) is some really great problem-solving stuff to get these kids in(to) that higher-order thinking, which is what college and career-readiness standards are all about," she said.
Other local schools districts are also pushing technology initiatives, but in Jackson Public Schools, for example, with 28,037 students, providing technology to all students can take more time.
All JPS ninth and tenth graders have access to individual laptops. All JPS elementary, middle and high schools have iPads and laptops for students to use—but not enough for each student to have his or her own individual device. This coming spring, JPS plans to launch coding classes through collaboration between high school students in the engineering program at the JPS Career Development Center and elementary school students.
Programming on iPads, even moving through levels on the Lightbot app, takes patience and time—the opposite of most apps and games students tend to use on devices. Chao said this type of learning is teaching her fifth graders that it's OK to fail.
"The whole idea behind it is even though you may fail, you try again and you fix whatever the problem is, so that's been something really cool for them to learn," Chao said.
Student Avery Berg's favorite classes are math and computer science.
"It's tricky and we have to have persistence to get through with it, and it's kind of fun to have to keep doing it over and over again," Berg said. "And you're really excited once you finally figure it out."
For Quintaria Wright, "Hour of Code" week was her first time experiencing coding. Wright's favorite subject is math, but she is excited to take computer programming next year.
"You can use your mind to figure how to get the robot to get to all the blue tiles, when you finish you get excited," Wright said.
Comment at www.jfp.ms. Email Arielle Dreher at [email protected]
More like this story
More stories by this author
Support our reporting -- Become a JFP VIP.
The news business has changed dramatically in the past year, and we need your help more than ever to keep bringing you important stories about Jackson and the Metro. Become a JFP VIP with an annual membership or you can Sign up as a monthly supporter. Thanks for anything you can do to empower our journalism!