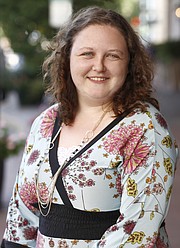 The year 2015 was filled with major changes for me. So much change that I'm almost glad (no, I am glad) that it's almost over. Next year will hopefully be a little calmer, but that doesn't mean I'm just going to sit idly by. I've got a bucket list to create, and finances to figure out, and other things to do. For me, next year means figuring out my next move in life.
As I sat at my desk a few nights ago, painting some papier mache ornaments I had made the day before, I realized that next year, if I want to leave Mississippi, or at least the metro area, I'm free to do so. I'm not living in a student apartment with three other roommates, locked into a year's lease. I'm not living with family members or friends who complain about my constant need for clutter. I'm not living in a terrible house that's just not worth living in for an entire year. I'm not married like I thought I was going to be. So I don't have much holding me back.
Now, that doesn't mean I'm leaving. I love my job and the fact that I get to help a city and state that so deserve it; I love the place where I live and plan to keep living there next year; I love my family and friends; and for the first time in my adult life, I actually have a social calendar (it's tiny, but still). But if I really felt the need, I could live somewhere else.
Unlike some young people here, I don't feel the need to leave Mississippi or Jackson for reasons such as life here being imperfect and the state not having as many opportunities as other places. I'd leave because I've lived here my entire life and have barely seen the world. Sure, I've been to Scotland, but I've barely even seen the United States. I think I've maybe been to about five or six states, and there's so much I want to see.
With all that said, let me tell you why I stay: creativity. While it may seem like the state is backwards in many areas, I believe it excels in creative spirit. Places such as William Faulkner's Rowan Oak in Oxford, Tennessee Williams' birth home in Columbus, Eudora Welty's house and garden in Jackson, the Smith Robertson Museum and Cultural Center, which was the first school for African American students in Jackson (author Richard Wright graduated from there in 1925), and the Margaret Walker Center at Jackson State University, which Margaret Walker Alexander founded as the Institute for the Study of the History, Life and Culture of Black People in 1968, all stand as a testament to our literary history and our struggles as a state.
Walter Anderson's work shows life on the Gulf Coast before Hurricane Katrina ravaged its shores; modern artists such as Wyatt Waters and Tony Davenport highlight Jackson's soul; and other artists such as Adrienne Domnick and Ginger Williams-Cook add another layer of creativity that other cities may not have.
And upstairs at The Iron Horse Grill, wax figures by Anne Robin Luckett show just how much Mississippi influenced modern music.
The first couple of times I went into the "Mississippi Music Experience" museum, I was too preoccupied with getting information for my story that I didn't actually take the time to really look at my surroundings. But when I went back for a follow-up interview with Luckett and restaurant owner Joseph Simpson, I realized the gravity of that museum—what it truly means for Mississippi.
In an interview, Luckett and Simpson lamented about how the rest of the world had gotten hold of our music and run with it, but the museum is an effort to bring the focus back on Mississippi's contributions and its storied music history.
See, music is a huge part of my life. Though I can't play an instrument, I enjoy listening to it and learning about it more than almost anything. I even did a presentation on its history, from prehistoric times to top-10 hits in the 20th century, when I was in high school. I knew Mississippi had a huge impact on music as we know it, but I didn't really understand until I stood in that exhibit for a third time, looking at Pinetop Perkins playing a vertical piano and Elvis Presley shaking hands with Darth Vader (it makes sense if you read the cover story. See pages 14-15).
My favorite exhibit—the one that I probably annoy people with because I talk about it so much—is the one of Mick Jagger singing with Muddy Waters. I love The Rolling Stones, and I love blues, so those figures standing side by side is an incredible sight for me to behold. Every time I go there, I stand in awe at the magnitude of what that exhibit and the night that inspired it—The Rolling Stones sang with Muddy Waters at The Checkerboard Lounge in Chicago—means for music.
It shows just how big Mississippi's influence truly is on rock 'n' roll and music in general. It shows how much we bring to the table—how much people don't realize about us. I mean, yeah, we are high on a lot of bad lists, but the blues we're known for played a role in the foundation of rock 'n' roll and country and pop and hip-hop.
The genre emerged from the fusion of traditional African music and European folk songs. It was African Americans' response to their struggles to achieve equality and success in life and the social, economic and overcome the oppression present since the days of slavery.
If it hadn't been for blues greats such as Muddy Waters and Robert Johnson and B.B. King and, of course, all the other great Mississippi musicians singing about their struggles, we'd probably never have music as we know it.
Think about it—blues inspired Elvis. It inspired The Beatles. It inspired The Rolling Stones. And to this day, it still inspires many musicians and artists.
If blues had never happened, music wouldn't be the same.
So at the end of the day, that's why I stay. It's not just my family or my job or friends that keeps me here. It's that underlying creativity that no one ever gives us credit for. It's our storied past and the culture such as the blues that makes this a such a powerful place. It's why I wake up every day and do what I do. Jackson and Mississippi are worth fighting for.
Assistant Editor Amber Helsel has a bachelor's degree in journalism from the University of Mississippi. Email her story ideas to [email protected]
More stories by this author
Support our reporting -- Become a JFP VIP.
The news business has changed dramatically in the past year, and we need your help more than ever to keep bringing you important stories about Jackson and the Metro. Become a JFP VIP with an annual membership or you can Sign up as a monthly supporter. Thanks for anything you can do to empower our journalism!