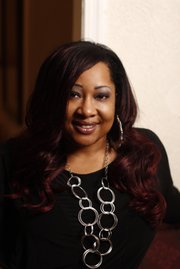 Her vulnerability is her strength. Her tears are her muscles. Her intuition is her power.
I meet women all the time who have been sucked up into their self-shell—where they retreat to when life's pain has left them tormented and defeated. They've fallen victim to the hand life has dealt them. They don't see the bright, sunny skies. They run away from the world and into themselves in search of safety. They trust nothing but the self-shell they've created to welcome refuge, retreat, ease.
Some women have learned to mask their pain with beautiful make-up and fancy clothes. Some women, who have been hurt, throw themselves into their work and career. Many women are promiscuous, or indulge in drugs and alcohol, figuring partying will soothe the pain. There are even women who focus on their children so that pain doesn't hurt so much.
The fact is, pain doesn't stop hurting because you stop thinking about it. It will not go away because you've retreated into yourself. Pain is only released through freedom. Freedom only comes when we can forgive those who hurt us and forgive ourselves for whatever we have come to believe we did wrong that has prevented us from loving ourselves.
I was afraid. I didn't trust men, and I did not trust myself. I had become pretty comfortable dating men who couldn't do anything but hold your hand and buy you a drink in the club. My biggest dilemma was trying to look good enough but not too good that someone else—someone that I might actually be attracted to—approached me. My motto at the time was, "be hot, but not too hot." It worked for a little while. The men paid my bills, bought me a few outfits and met my needs.
I'd been in a serious relationship for a good part of my adult life and wasn't interested in going back there. But, of course, when universal law sends a shift our way, we have no control over that.
So, a few dates in, and it was going well. I was interested. He was a welcome change from what I'd taught myself was enough for me. See, no matter what we convince ourselves of when we are living in the self-shell, our souls still know our hearts. We can't fool either of them. Letting go of my old dating style meant that I had to pay my own bills and let go of the trophy life I'd come to know. But, it wasn't so bad because this new guy struggled with me. It was rough, but we built a bond over gas-station burgers and candlelight because we had no electricity.
I soon became frustrated with the new guy not being able to provide for my every want. I didn't particularly favor coming out of my self-shell where I would have to feel things again. I was ready to run and hide—again.
"I'm sick of living like this. I'm going back to Atlanta," I proclaimed.
I waited for him to just go away, but he did not. He clearly wasn't interested in allowing me to retreat into my comfort zone. "You are not going anywhere. You are my woman, and you are staying here. You will be fine," he said.
Wait a second. Who was he talking to? I didn't know if I was offended or turned on. But I quickly realized I was breaking through. I was becoming me, and not the woman who lived in a place where I couldn't be hurt or hit, where I controlled the safe space, even if it wasn't special.
We began to discuss the situation. In that moment, the self-shell I'd rested in for years had began to melt away. All I could do was bask in the warmth the awakening showered upon me.
I am thankful I was able to break out of that self-shell because many never do. If it wasn't for that reality check I received from my now-husband, I'm not sure I ever would have broken free. I didn't feel a need to. I felt that the world didn't want me, and I didn't want anything from the world.
Sometimes, we are sent special people to keep us on our journey or to bring us back from a side road to the right path. But there are other times when we simply have to find that way on our own.
Women are equipped to do just that. We can preserve ourselves as needed. Yet, we can burst through the flames of hell and declare our own victory. The only requirement is that we decide to do it. Once a woman decides to break free from her shell, whether self-created or forced upon her, she will be victorious.
Funmi "Queen" Franklin is a word lover, poet and advocate for sisterhood. She has a weakness for reality shows.
More stories by this author
Support our reporting -- Become a JFP VIP.
The news business has changed dramatically in the past year, and we need your help more than ever to keep bringing you important stories about Jackson and the Metro. Become a JFP VIP with an annual membership or you can Sign up as a monthly supporter. Thanks for anything you can do to empower our journalism!