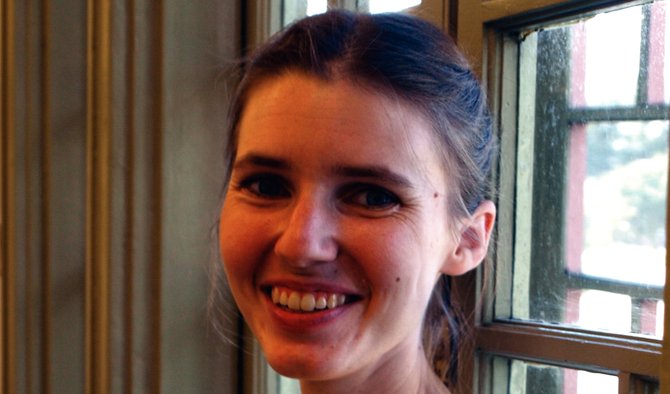 All her life, Katy Simpson Smith has been a storyteller. She recalls telling her parents—both Millsaps professors—imaginative and silly stories as a child, while they sat and listened attentively.
"I had a very lucky childhood in that my parents were very supportive of not only education, but creative endeavors," Smith said.
That support propelled Smith, at first into history and then into her own niche.
Smith, 28, grew up in the Jackson Public Schools system. She left at 16 for the University of North Carolina at Chapel Hill and started on a path toward a Ph.D in history. Little did she know, the days of writing stories on her father's typewriter planted a seed that would soon break the ground, pulling her away from academia. Smith broke the news to her parents and enrolled in the creative writing program at Bennington College in Bennington, Vt.
"When I first enrolled, I realized that's what I needed to be doing for the rest of my life," Smith said. "At any age, to find that is a lucky thing."
Smith was in for another stroke of luck. On a road trip down the coast of North Carolina, she encountered the town of Beaufort and found a cemetery there full of untold stories. There was a man buried standing up, saluting the queen, an entire shipwrecked crew buried together, and a girl whose epitaph read "Little Girl Buried in a Rum Keg."
After that, Smith began writing her first book, "The Story of Land and Sea." It started as a short story and kept growing into the acclaimed novel it is now. The novel is set at the tail end of the American Revolution on the North Carolina coast and follows three generations of families as it explores the complexities of relationships, slavery and loss.
Smith is living her dream as a full time writer in New Orleans, La. She recently returned to her hometown of Jackson to begin her book tour at Lemuria Bookstore. The next six weeks will hold more book signings and readings for Smith while she works on her second novel.
"No rest for the weary," Smith said, laughing.
Get signed copies of Smith's book at Lemuria Books (4465 N. Highway 55 Suite 202).
Support our reporting -- Follow the MFP.