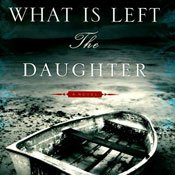 Though a lover of words, Wyatt Hillyer is not very good with them. The main character in "What is Left the Daughter" by Howard Norman (Houghton Mifflin, 2010, $25), Hillyer writes to his daughter: "My whole life, Marlais, I've had difficulty coming up with the right word to use in a given situation, but at least I know what the right word would have been once I hear it." His tattered dictionary serves as a metaphor for his own vocabulary: "Some of its pages are frayed, some might be missing."
"What is Left the Daughter" is a novel of derivatives. Everything we learn is once or twice removed from the action. The narrative itself is in the form of a letter from Wyatt about his life to his 21-year-old daughter Marlais. Though a story of unrequited love, the novel is more a lesson in minimalism in the vein of Raymond Carver or Bobbie Ann Mason. Norman writes with equal measure of love, murder and sex. The novel may not make you cry, but it will make you think.
The story is set during World War II in Canada and mostly takes place in the small town of Middle Economy. After both of his parents commit suicide, Wyatt moves in with his aunt and uncle and quickly falls in love with his adopted cousin, Tilda, who never returns his love.
Tilda is basically Wyatt's opposite. Like Wyatt, she is a lover of words, but is an excellent writer. She also seems to have an over-abundance of passion, mourning people she doesn't even know, making up for Wyatt's lack of ardor with her own. After tragedy strikes Middle Economy, the town never quite recovers and Tilda moves to Denmark, never to see Wyatt again.
Wyatt seems to drift through life as an observer. A comment he makes at the beginning of the novel about his youth—"my grades were only average, but I felt above average at paying attention"—summarizes his experiences.
The secondhand elements of the novel emphasize Wyatt's removal from life. Wyatt often references "The Highland Book of Platitudes," which is an entire book of unoriginal sayings that have been said thousands of times before. Also, radios play a symbolic role in the novel. They are harbingers of bad news, but are secondhand sources.
Furthermore, Wyatt reconnects with a woman from his past because she operates the switchboard through which he is placing a call. For several months instead of talking in person, they talk through the switchboard. And finally, we must remember that rather than going to see his daughter, Wyatt is writing her a letter.
The novel is truly melancholy, but we never get close enough to Wyatt to experience his emotions. Much like the other characters in the novel, Norman also holds readers at a distance. The constant understatement, however, allows for shocking events to pop out of nowhere and makes the novel all the more interesting.
"What is Left the Daughter" is well written and certainly does not waste words. Every moment and every story Wyatt tells hold meaning. Discovering that meaning is the readers' challenge and part of the pleasure of reading the book.
Howard Norman signs "What is Left the Daughter" Friday, July 30, at 5 p.m. with a reading at 5:30 p.m. at Lemuria Books (202 Banner Hall, 4465 Interstate 55 N., 601-366-7619).
Katie Bonds Wants to Read...
"The Help" by Kathryn Stockett—Set during the Civil Rights Movement in Jackson, the book will soon be a movie.
"mockingbird" by Kathryn Erskine—Although in the "young adult" category, it looks good, and the author will sign at Lemuria Books Aug. 16.
"Hotel on the Corner of Bitter and Sweet" by Jamie Ford. My mom, who has excellent taste, recommends it.
"Sh*t My Dad Says," by Justin Halpern—I'm wondering if anyone can top the sh*t my dad says.
"Eat, Pray, Love" by Elizabeth Gilbert—I've been wanting to read, but Donna Ladd recommended it, so now I can't wait.
"The Happiness Project: Or, Why I Spent a Year Trying to Sing in the Morning, Clean My Closets, Fight Right, Read Aristotle and Generally Have More Fun" by Gretchen Rubin—It's on the list because everyone can use more happiness in his or her life.
More like this story
More stories by this author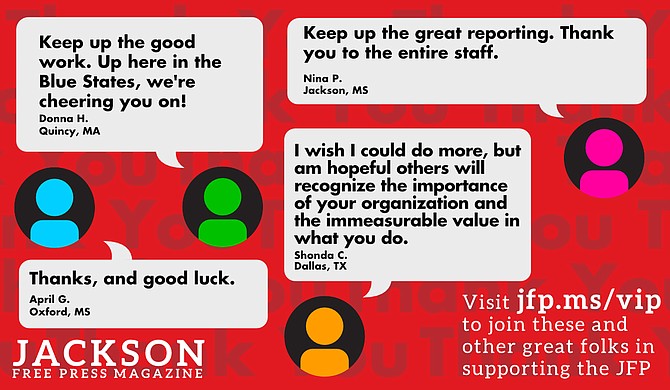 Thanks to all our new JFP VIPs!
COVID-19 has closed down the main sources of the JFP's revenue -- concerts, festivals, fundraisers, restaurants and bars. If everyone reading this article gives $5 or more, we should be able to continue publishing through the crisis. Please pay what you can to keep us reporting and publishing.