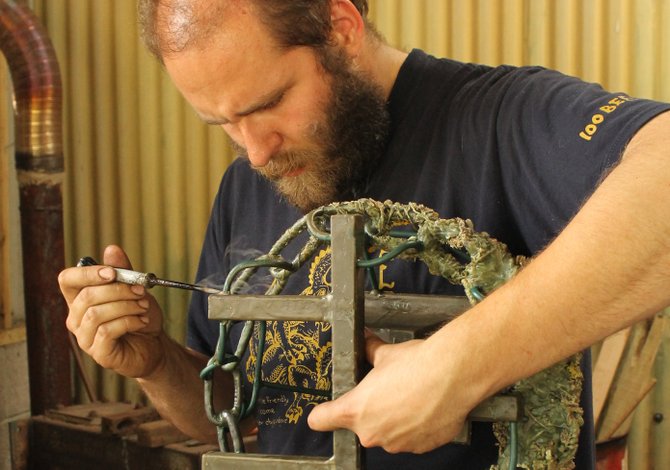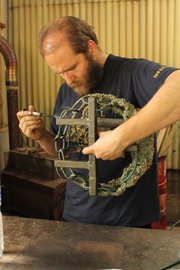 The scarlet-red object lumbers down a lush hillside. Flashes of sunlight catch and reflect. Amusingly, it moves inexorably, slowly, almost of its own volition. It seems weightless and is nearly soundless. But its mass leaves a crunching, crushed track of green blades in its wake. It has edges but is all surface, moving solidly across the rich meadow.
"Mobiesque" is a creation of sculptor Stephen Coles, 29, who focuses on cast metals—iron and bronze. "It was a curve that I extracted and pulled" on a computer, he says of the piece. "I ended up making this form that had one side."
Coles cast "Mobiesque" (and variations with additional surfaces) to see how the computer model would actually move and to get the feel of the form.
In addition to geometry, Coles experiments with resonance. "I'm interested in doing pieces that react to sounds," he says. "I've done a series of bronze bowls, sort of singing bowls" filled with water, and he harmonized its tones with a harpist for a tender, spiritual composition.
"I'm interested in a lot of humor in my work," he says. "It's a dry English humor, so I don't know how well it translates."
He cast plastic Chinese-made Halloween masks and rubber chickens in iron for a show last year, "taking cheap, disposable items and almost trying to make them into relics that have a permanence—trying to transcend that cheap, jaded, throwaway consumerism."
Coles is also intrigued with how the elements interact with metals. He might pour hot iron into a block of ice, for example. "You get this reaction that comes off it," he says. "It's similar to fireworks in some respects."
A native of England, Coles owns Coles Casting, a fine-art foundry in Shaftesbury, which is west of London. He completed his undergraduate sculpture degree in 2007 at West Wales School of the Arts, which is one of the few schools in the United Kingdom that emphasize studio skills along with research and theory. "They still run a foundry," he says of his alma mater. "They still teach stone-carving."
At West Wales, Coles made the contacts who brought him to the United States. He received his master's degree in sculpture at New York's Alfred University in 2010, where he runs the foundry and is filling in for professor Coral Lambert, who is on an art tour at the moment. He returns to the U.K. at the end of the year with a short detour to mount a show here at Millsaps College.
Among the art Coles will display at Millsaps is a piece he cast in iron from sandblasted plywood. The small-scale study takes on an organic, almost watery quality in the cold metal. Coles juxtaposed six 2-by-1 foot panels, some with horizontal grains and others with a vertical focus.
"I'm experimenting quite a bit as well with the formative aspects," he adds. "... the idea of all these very permanent materials, yet using them in a fairly ephemeral manner." He is working with ordinary household insulation and with Styrofoam. He hopes to bronze the final Styrofoam piece. He will display photographic prints that focus on the process and the spectacle of his work.
Coles takes the open American artistic ethos back home, offering residencies at Coles Casting. Unlike U.S. artists, Coles says that most U.K. artists rely on galleries to promote their work, and they emphasize theory over execution. Sculptors will usually outsource the hot, craft-based work of casting their pieces instead of doing it themselves.
Among his influences, Coles counts the late abstract expressionist David Smith, who used industrial materials to create his large steel geometric sculptures. Joseph Beuys, the late conceptual artist, and contemporary artists Anthony Gormley and Mona Hatoum also inform his work.
Early on, Coles dabbled with other artistic methods, but sculpting metals won out. Painting is an "illusory medium," he says, with "artificial depth." Sculpture "is in the physical world. It has a permanence and a presence," and remarkable plasticity. He can freely add to and subtract from a piece, and unlike carving, which is purely reductive, casting offers nearly unlimited options. Just the sheer heat—cast iron is liquid at about 2,700 degrees—is impressive. "The energy in the material is really quite a spectacle," he says.
"I see myself as more of a sculptor in general," Coles adds, and his work expands beyond metals into ceramics and other materials. "Five or 10 years down the road, I might be working in something completely different."
See Stephen Coles' "B+ (new work and investigations)" at the Lewis Art Gallery of Millsaps College (1700 N. State St.) from Nov. 5 through Dec. 17. Coles gives a gallery talk Nov. 14 at 2 p.m. Admission is free. Visit millsaps.edu or call  601-974-1762 for more information.
More stories by this author
Support our reporting -- Follow the MFP.