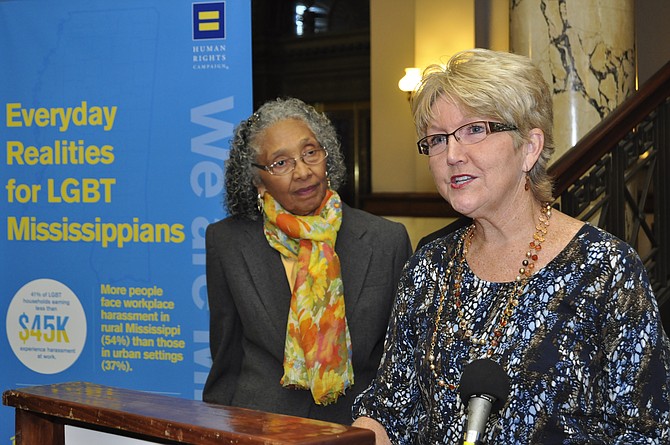 It's no secret that knowing someone who identifies as LGBT increases the likelihood that a person is going to support the expansion of rights and legal protections of lesbian, gay, bisexual and transgender people. This is why the Human Rights Campaign has started an initiative to advance public education and engagement of LGBT issues through advertisements, door-to-door efforts, and communication through mail and phone calls.
The campaign, called All God's Children, is faith-focused in order to spread the message of God's love for everyone, including LGBT people. A Gallup poll shows that Mississippi is the most religious state in the country and that an estimated 55 percent of Mississippians are Baptist.
Religious leaders such as Rev. Denise Donnell, who spoke at a press conference about the campaign at the Mississippi Capitol today, believe that a Christian faith can motivate people to accept and demand equality for all people.
"It is absolutely imperative that we move forward in having conversations in communities all across Mississippi where we talk about the power of God's love for LGBT Christians," Donnell, HRC Mississippi's faith director, said. "It is our duty; it is our responsibility; it is our Christ nature to open (our) hands, and to open our hearts and to change our minds to welcome all of God's children to God's table. And we are all God's children."
By sharing the personal stories of the LGBT community and its allies, HRC hopes to reverse the fact that only 20 percent of Mississippians say they know someone who identifies as LGBT.
The first commercial, featuring Southern Baptist mother Mary Jane Kennedy, shares a story not uncommon to Mississippi families. When Kennedy found out that her second of three sons was gay, her reaction was: "What's going to happen? This is going to tear our family apart."
Instead, Kennedy said she and her husband made sure her son felt loved. She began to minister to LGBT people who felt they were being rejected from the church.
"I confess I don't understand everything about our LGBT neighbors and friends, but that does not matter," Kennedy said at the press conference. "They need to experience the love of God, expressed through the family of God."
Rep. James Evans, D-Jackson, spoke about a dark veil of injustice over the Mississippi Capitol, where state leaders amended the state constitution to include a ban on gay marriage.
"They thought they were right. That's how little light they had," Evans said. "Jesus warned us about our worthless traditions. ... Let's reexamine some of those traditions and start thinking justice."
Others who shared their stories through the campaign were Rep. Alyce Clarke, D-Jackson, Rev. Stan Wilson, Jeremy and Kathryn Cole, Blossom Brown and Sergeant Justin Kelly. The HRC is spending $310,000 on the campaign, including commercials, which begin airing today.
The All God's Children effort begins just two days before a federal court is scheduled to hear Mississippi's first marriage-equality lawsuit, which challenges Mississippi's gay-marriage ban.
This story reflects a correction. An earlier version misstated the amount HRC is spending on its Mississippi campaign. HRC is spending $310,000 not $31,000 as originally reported.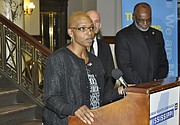 More stories by this author
Support our reporting -- Follow the MFP.