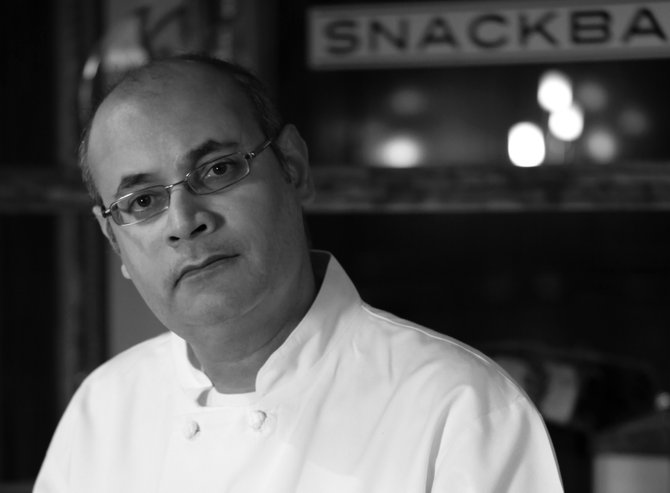 Last Monday, some of the most acclaimed chefs from across the country gathered in New York City to celebrate their craft. The James Beard Foundation—the Hall of Fame of the American food world—held its annual awards ceremony. Among the chefs from culinary meccas like San Francisco and Austin and New York, one man represented Mississippi as one of the top five chefs in the entire south: Vishwesh Bhatt. Although the winning honor went to two chefs from New Orleans, Bhatt's success is huge for the Magnolia State.
Bhatt, 48, is the chef at Oxford's Snackbar, part of the City Grocery family of restaurants that John Currence owns. A native of India, Bhatt moved with his family to France for a couple years before coming to the U.S. to finish his schooling. I spoke to Bhatt by phone about his culinary inspiration and what James Beard means to him.
Huge congratulations on making the short list. Can you explain that process? What does a James Beard nomination mean to you?
There are open nominations, then (a committee of) judges narrow it down to the semi-finalists, or what's called the long list. That list in each region is about 20 or so chefs. Then after that it's a committee that votes; the committee includes previous winners of the Beard Award, stuff like that. So the top five make the cut, the short list.
As for what it means: absolutely everything. It means your peers think what you are doing is good.
What was the ceremony like?
It's magnificent. It's surreal. This is sort of the big event for people in food. So when you're there, and you see all these people that you admire—those people have inspired me and my work.
Chefs, we're competitive, but we're also a tight-knit community. I was up for the award in the south; the four other chefs nominated were from New Orleans, but I know all of them. The chefs from the southeast, I know all of them as well. It was a lot of fun, very humbling and emotional to be considered in that group. It's a huge honor, and it hasn't quite sunk in how big that is.
How did you get into the culinary world? Did you grow up cooking?
I realized at an early age that if I helped I got to eat quicker. And my mother realized that I was going to keep pestering her, so she might as well give me something to do. So she eventually started telling me to shuck these peas or go wash these potatoes—whatever it was, stuff that I could do as a kid.
So that grew gradually, me watching her do the recipes and then helping a little bit more. I learned watching her and then trying. As I got older, I could handle some of the simple recipes or slicing and dicing.
It was never my intention that I would be cooking as a living. And I didn't realize at that time that I was actually learning stuff. It wasn't until much later, when I was in college (at the University of Kentucky) and I needed beer money jobs, that I (started) working in kitchens and found I had some fundamental skills in the kitchen.
(But) once I started cooking, I really enjoyed it. ... I decided I was going to cook full time ... and then I knew what was going on at City Grocery was really special, so I got a job there and thought, "This is really what I want to do." So I went to cooking school.
What are some of your favorite dishes to cook at Snackbar?
I like really simple, non-fussy stuff. For example, we've got a French onion soup that I love because we make it from scratch. We spice the onions 30 at a time and caramelize them slowly and then add some good wine to it, and we make our own veal stock that we add to it.
We've been fortunate to get some really nice Gulf food up here, so just a quick sauteed shrimp dish, or some redfish or grouper, speckled trout right now. Anything along those lines.
Where do you like to travel for culinary inspiration?
New York City is a really good one, of course. But I love Charleston, Nashville, New Orleans—some of my favorite chefs are in those cities.
I also love the food in Seattle, the food in Santa Fe, New Mexico. Chicago is another great food city. San Francisco might be almost better than New York.
All of those places I love, but if I had to pick one right now, I would say New Orleans. Just because, in New Orleans, food is part of the fabric of the city. For example, there are really great French or Italian restaurants in New York that are really good restaurants, some of the best in the world. But some of them don't have the soul of the restaurants in New Orleans. The food is an integral part of the people and of that city.
Yeah, it's great to see cities besides the traditional foodie locations getting recognized for great cooking.
I'm excited about (how) Jackson is really catching on. Young chefs are coming to Jackson (and Mississippi) and doing exciting stuff. ... One thing that's been fun for me is being part of the Southern Foodways Alliance, and realizing that there are some great food traditions in the south that we've gotten away from, but now we're embracing them again—and that I'm part of that in some small way.
People used to think southern food was just what you had at home for Sunday supper or whatever. But look at the Gulf and the abundance of produce we have with our long growing season. People are finally sort of paying attention to that.
(Ours) might be simple ingredients, they might be humble ingredients, but we can do wonderful things with them. We don't have to buy really expensive Belgian white asparagus; we can get really nice green beans from the farmers market and make something equally as good.
For someone like me, who grew up eating seasonally—we didn't have mega grocery stores where you can go buy something from Belgium and something from Chile. We went to the produce market and bought what was available nearby at that time of the year. Seeing that happen again is a wonderful feeling.
More stories by this author
Support our reporting -- Become a JFP VIP.
The news business has changed dramatically in the past year, and we need your help more than ever to keep bringing you important stories about Jackson and the Metro. Become a JFP VIP with an annual membership or you can Sign up as a monthly supporter. Thanks for anything you can do to empower our journalism!