I have always been a pretty artsy-craftsy person. It came from my mom, who created her own art in frames by using old fabric and leftover wallpaper from her DIY projects. I picked up on it at an early age.
When I had my oldest daughter, I spent a lot of time doing crafts with her, and as a pre-school teacher in Dallas, Texas, I had the opportunity to teach kids art.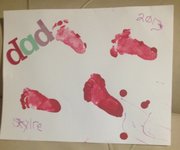 The best part is that while teaching small children art, you are also bonding with them. Crafts give children the opportunity to use their motor skills and accomplish small, fun tasks.
I had my youngest daughter in January of last year. When Father's Day rolled around, she was 5 months old, and I wanted to do something special for my husband that included Peyton's help. I thought of doing a photo album of her, which would include maternity photos and pictures of the ultrasound. To me, that just didn't say enough. I decided on making a card with her footprints, and I even got her to scribble on the card. My husband thought that was the perfect Father's Day gift because it was simple. Plus, the baby got to help.
I planned the project perfectly. Peyton's babysitter helped with this one. I went over to her house on Saturday so she could help me paint the baby's feet and press them on the card, and also to hide the card so that Daniel could not see it until Father's Day. I was right to bring more than one card because the first set of feet smudged. After pressing Peyton's feet, I left the card to dry overnight. The following day, I added pre-cut letters, helped Peyton sign her name and even let her add her own personal scribbles.
I like to take advantage of occasions such as Mother's Day and Father's Day. Having small children in the house makes those occasions so exciting. For me, the many homemade gifts I have collected over the years are so priceless. With Mother's Day being close, here are a few age-appropriate ideas for gifts to make with your children.
6 months to 1 year Handprints and footprints are simple to do on a card, picture frame or other surface. Other than that, picture collages are a good second choice for this age.
2-4 years Let the child make flower and heart clay molds.
5-7 years Let the child paint a picture frame and include a photo of the child or mother and child.
8-10 years Let the child decorate a flower pot and plant seeds.
11-12 years Let the child make breakfast in bed—they can prepare eggs and toast with orange juice and a flower picked fresh from outdoors.
From 13 years and older, children can start buying gifts with money they earn from chores.
Mother's Day gifts do not have to be something the child or parent purchased. Homemade items and sweet gestures are just as special and more touching. For me, the best thing about motherhood is being the go-to person to give advice to my teenage daughter and being the light that makes my little one clap and yell "yay," as I walk through the door after being gone all day.
More stories by this author
Support our reporting -- Follow the MFP.