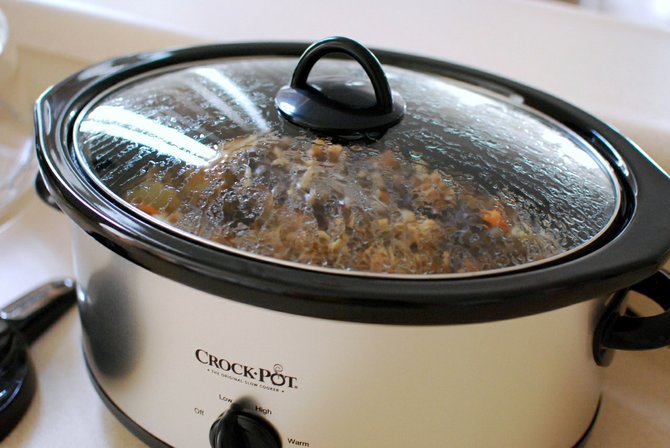 Turkey necks have become a family favorite for me and mine, especially since I have board meetings every other month that can run late. I created a recipe to free myself from having to watch the pot for a long time after getting home late, and to create a juicy, tasty dish that lasts beyond just one meal.
I remember boiling beef and pork neck bones in large pots years ago, and they seemed to take forever to cook thoroughly.
I stopped eating those types of meat neck bones, and began substituting turkey necks instead. I found that turkey necks had much more meat and were easier to eat off the bone than beef and pork. Plus, when I slow-cook turkey necks in a Crock Pot, they tend to have a distinct flavor that has our family asking for them.
Let's just say I went cold turkey, never to return from our family's favorite—turkey necks! The fact that I don't have to stand on my feet cooking is a big bonus for this recipe.
I like to pair my turkey necks with sweet, buttery corn on the cob and Brussels sprouts, or mixed greens and squash. This particular time, I tried something new with the okra I received from someone at my job. I mixed okra, tomatoes, onion and fresh seasonings. It turned out to be a fresh kick for my palate.
SLOW-COOKED TURKEY NECKS
Start to finish: 20 hours (Prep time: 20 minutes)
Approximately 1.75 pounds turkey necks (I use two packages)
6 cups tap water
1/4 cup red onions, chopped
1/4 cup bell peppers, chopped
1 garlic clove
2-3 tablespoons onion powder
2-3 tablespoons no-salt seasoning
2-3 tablespoons lemon pepper seasoning
2-3 tablespoons roasted chicken special recipe seasoning (you can use any mixture of basil, oregano, paprika, red pepper, thyme, parsley and other spices)
2 pinches coarse sea salt
1/4 cup liquid smoke
1/4 cup liquid steak or meat seasoning   Turn slow-cooker setting on high. Add water to the slow cooker. Gently place the turkey necks and all remaining ingredients in the slow cooker.
Place the slow cooker lid completely over the turkey necks. After the turkey necks have cooked on high overnight (about 10 hours), you should have a slow boil. The turkey necks will appear brown in color.
Reduce the heat setting to low or simmer when you leave for work. After you return home from work (eight to 10 hours later), the turkey necks should be ready to eat. 
Warning: Boiled water can cause burns, so use oven gloves to remove the lid, and use a large dipping spoon with large holes so the water can drain from the turkey necks.
You can pair the turkey necks with any southern side dish, such as collard greens or mashed potatoes and gravy.
Servings: about 5.
More stories by this author
Support our reporting -- Follow the MFP.