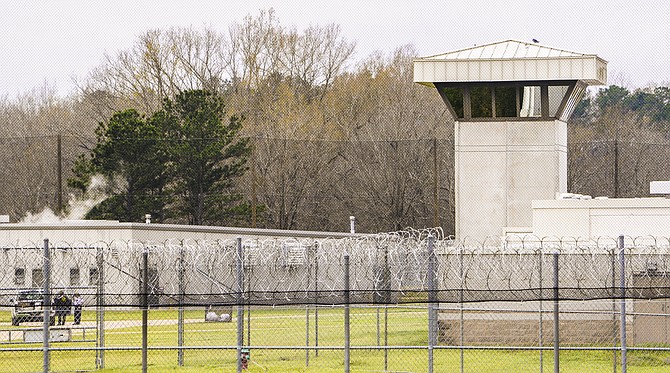 "I sit in my room for a good 1 1/2-2 hours, and dad comes in my room, and goes off on me, calling me bastard, nogood, mistake, and telling me I'm inconciderate [sic] and just care about my self, and he slaps me, then goes back to his room.
"As I sat on my bed, tears of rage flowing, remembering my childhood my anger kept building and building, and I went to my car, got the 9mm, and walked to his room, peeked in, and he was asleep. I walked about 2 steps in the door, and screamed, and shut my eyes, when I heard him move, I started firing. When I opened my eyes again, I freaked! I grabbed what casings I saw, and threw them into the bushes, grabbed the gun, and went to town."
Edward Byrom Jr. confessed to murdering his father, Edward Byrom Sr., on June 4, 1999, in a letter to his mother, excerpted above. One of at least four known confessions—there are two additional letters and a statement to his court-appointed psychologist—it might have been evidence to convict "Junior" for murder.
Instead, Tishomingo County deputies arrested Junior as part of a murder-for-hire conspiracy. Junior's friend Joey Gillis was the shooter, they said, and his mother, Michelle Byrom, was the mastermind.
Junior led police to the murder weapon, though. And only Junior had gunpowder residue on his hands.
He made a deal. Junior testified against his mother in return for a reduced sentence.
The prosecutor's theory, based on Junior's statements (which police subsequently lost) was that Michelle planned to pay Gillis $15,000 for the hit from the proceeds of Edward Sr.'s life insurance.
"When they got me here, I gave them a bullsh*t story after another, trying to save my own ass, but when (Tishomingo County Sheriff) David Smith started questioning me, and told me what happened, I was so scared, confused, and high, I just started spitting the first thought out, which turned in to this big conspiracy thing, for money, which was all BS, that's why I had so many different stories," Junior wrote in his letter.
Junior walked out of prison last year. Gillis, whom prosecutors said Michelle paid to kill her husband, got an even lighter sentence. Mississippi released Gillis in 2009.
Michelle is now down to what could be her final appeal.
On Feb. 24, the U.S. Supreme Court declined to hear the case, and Jim Hood, Mississippi's attorney general, requested an execution date: March 27.
'Happening Now'
If Mississippi executes Michelle, now 57, she will be the first woman the state has put to death in 70 years. It may also be a horrible injustice.
"John Grisham couldn't write this story," said Warren Yoder, executive director of the Public Policy Center of Mississippi, in an interview with the Jackson Free Press.
"In any reasonable world, this would be a short story by Flannery O'Connor," Yoder wrote in an email. "Instead, it is happening now in our Mississippi."
Junior's confession isn't the only evidence the jury did not get to see.
Sexual and domestic violence filled Michelle's life. The abuse was so severe that she became mentally ill, doctors said. Evidence indicated that her stepfather, Harold Postalwait, sexually abused her for years and forced her to work as a prostitute.
When Michelle was 15, she ran away from home and became a stripper. That year, Michelle met Edward Byrom Sr., then 31, and moved in with him. Under Mississippi law, Edward Sr. was guilty of statutory rape; the age of consent is 16. Junior arrived three years later, and Michelle and Edward Sr. married when Junior was 5.
Continuing what her stepfather began, Edward Sr. verbally and physically abused Michelle. He forced her to have sex with other men, which he videotaped.
"I wish I could say this is unusual," Yoder said of the case.
Junior didn't escape abuse, either.
"[I] was fixing to go to bed when my dad came in, and said, 'What do you think your [sic] doing coming in at this time?' and before I could answer, he shoves me down, and my back hits the book shelf, and I begin to get up, and he grabs me and slaps me twice, and says, 'You were a f*cking mistake to begin with!' and shuts my door and leaves," he wrote. "... He was always like that."
"I wish I could unread those letters," Yoder said. "Those are searing—a descent into madness."
Michelle tried to leave Edward Sr., but his threats of violence always dragged her back. It's a familiar story for domestic-violence victims, especially those with few resources. The prosecution's response is familiar, too: Blame victims for not leaving—even though that can get them killed.
"There's been arguments made that maybe Eddie wasn't the husband or the father that he should've been," prosecutor Arch Bullard said during Michelle's trial. "... Why didn't she just leave him? Why didn't she divorce him? Why didn't she seek sanctuary somewhere else?"
Dr. Keith A. Caruso, a forensic psychiatrist who has testified in numerous death-penalty trials, diagnosed Michelle with borderline personality disorder, depression, alcoholism and Muenchausen syndrome, a serious mental illness that caused her to ingest rat poison to make herself ill.
"It just hasn't seem to gotten through that people in horribly abusive situations are doing things that don't look reasonable, like taking rat poison so she can stay in the hospital and get some temporary relief from the situation," Yoder said. "That's not a strategy that looks reasonable, (but in the hospital) nobody's actually abusing her right this minute."
Michelle's mental disorders are consistent with abuse, Caruso said.
"If I had been called to testify ... I would have offered the opinion that ... she was inclined to harm herself and act in a self-defeating manner, so that she was psychologically unable to leave the abusive relationship with her husband," he said in a March 19, 2013, affidavit.
Michelle also suffers from lupus, anemia, chronic pain from a dog attack and numerous surgeries, fibromyalgia and severe hypertension. She was on at least nine medications to treat her ailments.
Her attorneys, trying their first capital case, did not call those witnesses to testify, believing their testimony would be more useful during an appeal. They had Michelle waive her right to have a jury decide her sentence, justifying that the decision would be a constitutional error and grounds for an appeal.
"I've never heard of such a whacky strategy before," said Jackson attorney David Voisin, a consultant for death-penalty cases. "... It's presumptuous to roll the dice that way when someone's life is on the line."
That left Michelle's penalty up to one man: Circuit Judge Thomas Gardner. Because of the lack of mitigating evidence, Gardner characterized Michelle as a schemer, only concerned with profiting from her husband's death. He imposed the death sentence.
In 2006, Michelle appealed to the state Supreme Court for the second time, saying that her attorneys were wrong. In a 5-3 decision, the court denied her appeal. Justice Jess H. Dickinson excoriated the attorneys and Judge Gardner in his dissent.
"I have attempted to conjure up in my imagination a more egregious case of ineffective assistance of counsel during the sentencing phase of a capital case," Dickinson wrote. "I cannot."
"... [T]he trial judge lacked statutory authority to impose the death penalty in this case. Byrom and the State of Mississippi cannot merely agree for the trial judge to have sentencing authority where the statute does not give the judge such power."
Prosecutor: Gillis Not Killer
On the morning of June 4, 1999, Edward Sr. drove Michelle to the hospital. She had double pneumonia. Edward Sr. returned home, where he was murdered with a World War II era Luger 9mm pistol that had belonged to his father.
Sometime after the killing, Junior called 911, and the Tishomingo County Sheriff's office responded. With no evidence of forced entry, their suspicions fell on Junior. Determining that Junior and Gillis had been together earlier, they also questioned Gillis.
Junior accused Gillis of the shooting, and his mother of hiring his friend to do the deed. Gillis denied he was the shooter.
While she was in the hospital and under the influence of at least 12 powerful drugs (including Talwin for pain, a sleeping pill Restoril, the antidepressant Zoloft, and Librium for anxiety and to relieve effects of alcohol withdrawal, all of which could have seriously impaired her judgment), the Mississippi Highway Patrol questioned Michelle, and she did not incriminate herself. Later that night, Tishomingo County Sheriff David Smith questioned her. Smith informed Michelle that Junior had told him about the conspiracy and told her not to let her son "take the rap." Michelle parroted back the details Smith told her of Junior's statement.
The court threw out Michelle's first two statements because of Miranda errors; however, while still hospitalized, Michelle repeated her "confession" twice more, and the court allowed those statements. Michelle could not know that her first incriminating statement was improper.
Indeed, the police told her that the prosecutor was already aware of her confession, and repeatedly admonished her not to let Junior take the fall alone.
"The whole tenor of the interrogations, while she was drugged up and in the hospital, was 'this is going to go really bad on your son,' basically saying that 'you should say something to help your son,'" Voisin said. "And that's what she did."
Police lost Junior's statements; however, he confessed to the killing to W. Criss Lott, a court-appointed forensic psychologist. Lott did not include the confession in his report to the court. Nonetheless, Judge Gardner was aware of it.
"I contacted the presiding Judge and asked him what I should do in the hypothetical situation where I had received specific information about the facts and details of a crime during the course of a forensic evaluation for mental competency and sanity," Lott said in an affidavit dated Feb. 3.
"The Judge told me I should tell him what I knew and so I told him about Edward Byrom Jr.'s confession to me that he had killed his father."
That confession, never heard by Michelle's jury, is the centerpiece of her most recent appeal, now under consideration with the state supreme court.
"When (Lott) evaluated Joey Gillis, Gillis said, 'I didn't shoot anybody. I helped Edward Jr. after the shooting, but I didn't shoot anybody. Edward Jr. told Dr. Lott a very consistent story: that is that he was the one who did the shooting—that Edward Jr. himself did it," Voisin said.
The judge also did not allow Junior's confession letters into evidence due to a questionable defense error.
"It's not like the lawyers were doing some legal jujitsu," Voisin said, adding, "It doesn't serve the cause of justice to punish a defendant by withholding truthful information that goes to the heart of the case."
The prosecutor knew about the letters and Junior's confession to Lott. "It's one thing to dismiss one incriminating statement as an offhand remark, but when someone writes two letters, one of them very detailed, and then also makes a confession to a court-appointed psychologist, after a while, you have to think this guy is telling the truth," Voisin said.
On the stand, Junior denied everything. He testified that Gillis was the killer and that Michelle had hired him.
The jury returned a guilty verdict.
Michelle's attorneys then waived her right for a jury to hear the penalty phase of the trial, and they did not have any witnesses testify on Michelle's behalf—namely, that she was mentally ill and a long-term abuse victim. On Nov. 18, 2000, Gardner imposed the death penalty.
Gillis, the man Bullard said murdered Edward Sr., never testified. In March 2001, Gillis pled guilty to conspiracy to commit capital murder and accessory after the fact in a plea agreement.
"They didn't even make him plead to a murder charge, and he's out in the free world," Voisin said.
In an interview with the Daily Corinthian newspaper, Bullard admitted that his theory—the one that has Michelle facing execution—was wrong.
"Gillis was part of the conspiracy, but not the person who actually committed the murder," Bullard said. He also admitted that he knew Junior confessed to Lott, but said it could have "seriously compromised" Junior's future testimony against Gillis.
It would have also compromised his case against Michelle, but Bullard did not admit that. "The only reason that Michelle was convicted is because she supposedly hired Joey Gillis for this murder-for-hire plan," Voisin said. "If Edward (Jr.) was shooting his father for his own reasons, and it wasn't part of this plan to hire Joey Gillis, then Michelle should not even be in prison, much less on death row."
That is, Michelle Byrom's conviction may hang on a lie. "She's been abused as a child, abused as a wife and now, she's being judicially abused," Yoder said, calling the case "flagrantly unjust."
What's at stake is whether Mississippi is executing a woman who did not commit the crime she's convicted of.
"The state doesn't contest any of (the facts)," Voisin said. "They're just trying to raise these technicalities to sweep this under the rug, and say, 'Let's just kill Michelle, anyway.' That's what it boils down to."
Junior's words to Michelle Byrom bring home the point: "Do you remember the last question your attorney asked me? If I did it? Yes, I did," Junior wrote. "I released a chaotic chain of events that are still unraveling. Use this letter, if you must, just let me know."
More stories by this author
Support our reporting -- Follow the MFP.