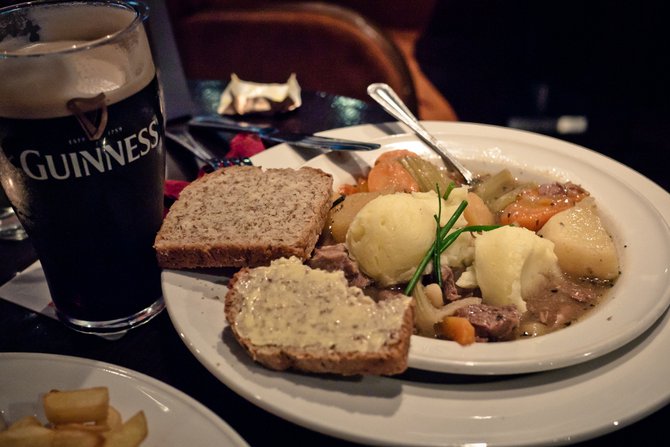 On Ireland's rocky west coast, a little hamlet of a town lies in County Clare somewhat south of Galway. The town is called Doolin. Tiny quaint houses are clustered between largely unbroken expanses of green, dotted only by sheep. In Doolin, a cluster of buildings slightly larger than normal marks it as the tiny town's cultural center. A B&B offers room and respite to a handful of travelers, and down the way a little is Gus O'Connor's pub.
Thanks to its close proximity to the Cliffs of Moher, a tourist favorite, the pub has developed a reputation that far outreaches its population. Established in 1832, Gus O'Connor's is well known for two things: the local music that fills its walls nearly every night and the food.
I remember distinctly what it felt like to walk into Gus O'Connor's on a chilly, sharp autumn day. Escaping the seaside wind, the pub was a warm haven, with a fire lit in a deep hearth and two musicians playing leisurely in a corner. Extricating ourselves from layers of coats, scarves and gloves, my companion and I sat down for lunch.
Only one meal is worth ordering at O'Connor's—not because it's the only good thing on the menu, which I'm sure it isn't, but because it is so delicious and so suited to its location that to order anything else would be a crime. It's a softly steaming bowl of beef and Guinness stew, with a side of brown bread and butter, and a pint o' black beauty to wash it down. The warm, thick stew immediately banishes any lingering chill from outside, and the comforting, familiar flavors make your fellow tourists feel like family.
I'll never forget that bowl of stew.
One of my goals this year was to learn to make beef and Guinness stew. Although I can't recreate Doolin or Gus O'Connor's, this meal is perfect for any day where you want to escape the cold, feel comforted and loved, or both.
You can make this stew a million different ways—on the stove, in the oven, in a slow cooker—and with lots of slight differences in the ingredients. This recipe is the result of combining a few versions I've found, and tinkering with what I like best. The key is to not rush. This is a meal that will take you several hours to make (for me, it's about four), and there's no point in trying to finish it in less time by kicking up the heat (I've tried, and the charred beef you'll get isn't the flavor you're looking for, trust me).
Beef and Guinness Stew
Ingredients:
3 tablespoons olive oil
2 pounds boneless chuck roast, cut into 1-inch cubes
1/4 cup flour
2 cups onion, coarsely chopped
2 cups carrots, coarsely chopped
3 garlic cloves, minced
2 11.5-ounce Guinness Stout beers
3-4 sprigs fresh thyme or 1 teaspoon dried thyme
2 teaspoons Worcestershire sauce
2 tablespoons tomato paste
3 cups beef stock
Salt and pepper to taste
Directions:
Toss the meat in olive oil until it is lightly covered on all sides (you don't want it dripping). Brown the cubes in a large pot. Be sure there is only one layer of meat in the pot at once—brown in multiple batches if need be, then set aside for the moment. Add the onions and carrot to the pot, cooking until just beginning to soften. Add the garlic and cook another minute.
Put the beef back into the pot and add the rest of the ingredients. Adjust the heat so the stew is just barely boiling, cover and let cook for 2-4 hours. Check every hour or so and add more liquid if too much has boiled off (either beef stock or Guinness, depending on your preference). The stew is done when the beef is very tender, and you can easily pull it apart with a fork.
Serve over mashed potatoes with a side of bread (and a pint of Guinness, of course).
Feeds 4-6.
More stories by this author
Support our reporting -- Follow the MFP.