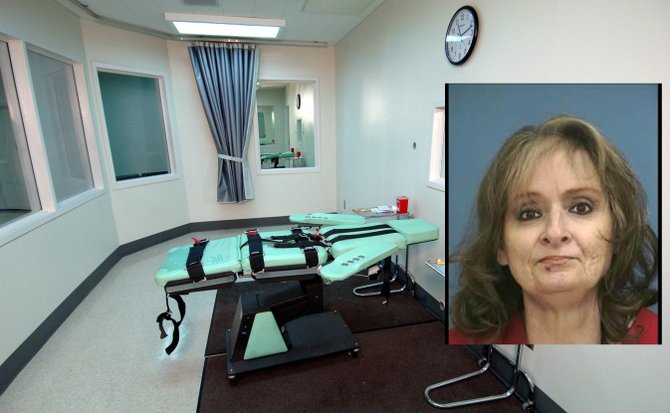 Months after the Mississippi Supreme Court reversed Michelle Byrom's death sentence, Byrom is finally off death row and back in the custody of Tishomingo County.
Accused of masterminding a murder-for-hire plot to kill her abusive husband, Byrom received the death penalty in 2000. Arch Bullard, the prosecutor in the case, alleged that family friend Joey Gillis killed Edward Byrom Sr. and that his son, Edward Jr., helped cover up the crime. At the time of the murder, Michelle Byrom was in the hospital for pneumonia.
It is unclear why it took nearly four months to remove Byrom from death row in Rankin County. With her conviction overturned, from a legal standpoint, she is innocent and not proven guilty. She remains under arrest, however.
Asked this morning whether the district attorney's office plans to retry Byrom on capital-murder charges, Richard Bowen, assistant DA in Tishomingo and six other counties, replied: "Oh, yes. Why wouldn't we?"
Bowen said a status hearing is planned for Aug. 4, at which time a judge could schedule a new trial or dismiss the charges.
Mississippi law states that a judge is not obligated to grant bond to those charged with a capital crime, thus, Byrom may remain behind bars through a second trial, which has not been scheduled. No bond hearing is imminent, either. A circuit judge is not scheduled to appear in Tishomingo County for several months.
Due to the extraordinary circumstances of the case, however, a bond hearing could take place in another county. Bond is not meant to be used as a punishment, but as an incentive for the accused to show up in court. Byrom, who suffers from lupus and other serious health conditions that have her confined to a wheelchair, is an unlikely flight risk.
Among the evidence the original trial judge, Thomas Gardner, suppressed were Junior's multiple confessions that he killed his abusive father after Edward Sr. slapped him around. "I sit in my room for a good 1-1/2 (to) 2 hours, and dad comes in my room, and goes off on me, calling me bastard, no good, mistake, and telling me I'm inconciderate [sic] and just care about my self, and he slaps me, then goes back to his room," Junior wrote in a letter to his mother. "As I sat on my bed, tears of rage flowing, remembering my childhood my anger kept building and building, and I went to my car, got the 9mm, and walked to his room, peeked in, and he was asleep. I walked about 2 steps in the door, and screamed, and shut my eyes, when I heard him move, I started firing."
Junior agreed to a plea deal in return for his testimony against his mother. In March 2001, Gillis also pled guilty to conspiracy to commit capital murder and accessory after the fact. Gillis and Junior are both free men.
Attorney General Jim Hood requested a date for Michelle Byrom's execution by lethal injection after the state Supreme Court denied her third appeal in February. The U.S. Supreme Court refused to hear her appeals twice before. But national media attention drew intense focus to the case after the Jackson Free Press broke Byrom's story March 19. Outraged citizens began a call-in campaign on the governor's office and volunteered to work on Byrom's behalf.
On Hood's requested execution date, March 27, the court denied the attorney general. On March 31, in a surprising decision, the court reversed Byrom's conviction and ordered a new trial with a new judge. The media scrutiny likely played a role in the court's decision.
Former Mississippi Supreme Court Justice Oliver Diaz, who heard Byrom's previous appeals during his tenure on the bench, emphasized the unusual nature of the reversal at the time.
"The whole decision was surprising, from the fact that it was handed down on a Monday, which is very unusual for the court in a non-emergency manner, to the recusal of the trial judge, which is also fairly unusual, through the relief that they granted," Diaz said. "To reverse the conviction and send it back for a new trial at this stage, the whole scope and breadth of the decision is really surprising at this point. It's not something that's normally done by the court."
Byrom spent 14 years on death row.
News editor R.L. Nave contributed reporting to this story.
More stories by this author
Support our reporting -- Follow the MFP.