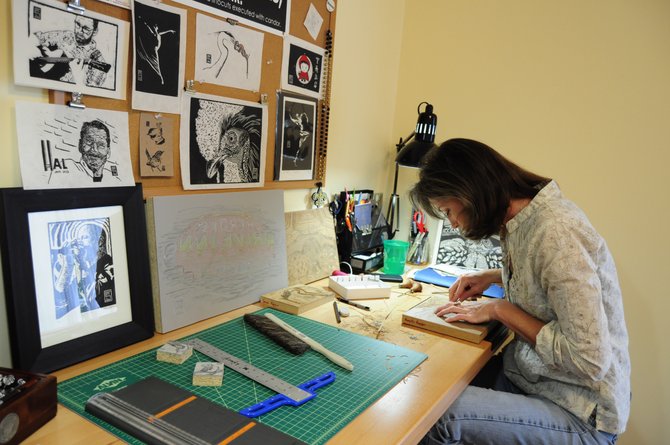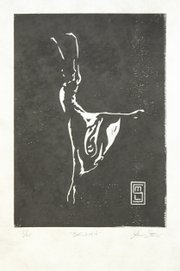 For Laurin Stennis, art is about refuge and full self-expression.
"I always drew as a kid," she says. "It was just one of my go-tos."
Stennis, a Jackson native, has no formal artistic training. Her bachelor's degree is in religion from Millsaps College (she considered being a priest "for about 25 minutes," she says), and her master's is in social work from Tulane University in New Orleans. Now 41, she makes art full-time.
Political cartoonist Mark Bolton, who worked in Jackson for many years (lastly for The Clarion-Ledger from the late '80s until 1996), is part of Stennis' conscience. "I remember being impressed by this little rectangle that evoked conversation and reaction," she says.
Most of Stennis' work isn't political—she also counts Mississippi artist Walter Anderson and papermaker Blanche Batson among her inspirations—but her background is undeniably so. Her grandfather, John C. Stennis, was a United States senator for 41 years, and her father, John Hampton Stennis, served in the Mississippi Legislature.
Every so often, her art makes a statement. The Trayvon Martin killing inspired a piece that shows sweet Little Red Riding Hood juxtaposed with the word "Thug," which also the name of the piece. Another is a commentary on the sexual abuse of children in the Catholic Church called "Baptismal Feast."
"There's some irritation, often political in nature, that's just under my craw," she says. "I found that when I would talk about it ... it just didn't go over as well. This is a way to keep my mouth shut and still say what I need to say."
Much of Stennis' work portrays animals, particularly birds. "I'm a bird dork," she says.
A photo inspired "Speech Righter," a heron with a snake wrapped around its beak.
"This was one in a series of how things were unfolding," Stennis says. "Ultimately, the heron did have lunch, but here, you cannot tell who's winning."
Such ambiguity saturates her work.
"When people see things and talk about things as if they were black-and-white, that's a struggle for me, because all I see is gray ... ironic because I work in black and white," she says.
Literature also inspires Stennis' art, especially that of Flannery O'Connor, her favorite author. "She can engage and observe and tell us about all the grotesqueness and hypocrisy and faulty nature that we all have, but she does it with compassion," she says.
"I don't have an agenda," Stennis says. "... I just want to encourage thinking, encourage a new look or a fresh look at things that plague all of us.
"I don't think anybody's got it right, least of all myself."
In her process, Stennis draws the inverse of the finished piece. The final print will be the opposite of what's apparent, similar to a photographic negative.
"Everything I leave (on the block) will be a mark, whereas in drawing, where you engrave is the mark," she says.
Adding color is time and resource intensive. She may use multiple blocks, one for each color, or gradually reduce areas of one block, called a reduction print. For her four-color tiger image, Stennis made five carvings on the same block, starting with white, then orange, then a smoky purple and then black. The final carving is only the tiger's stripes.
"By the time you get to the end, you've killed it," she says. "... That can never happen again."
Stennis hand-presses every print. For color work, she may make 20 prints of the first image and end up with four good ones. Mindfulness is critical, as are fine motor skills.
"When I start carving, if my mind wanders, my knife wanders," she says. Most mistakes happen "when I'm not here," she adds.
Last year, the Craftsmen's Guild of Mississippi accepted Stennis' membership application.
"Mississippi arts and letters are where, to me, we lead the nation," she says. "To be counted among them is a deep honor. I want to be always worthy of that. That, to me, is an obligation to our state."
Stennis is scheduled to teach a course through Millsaps Community Enrichment program this 
coming November.
"This process—from concept to drawing to carving to hand pressing—is interdisciplinary. It goes back to everything I love. It's not just one thing," she says. "You don't know what's going to happen. You have to just let go."
For more information, visit laurinstennis.com, or find Lauren Stennis, Ink on Facebook.
More stories by this author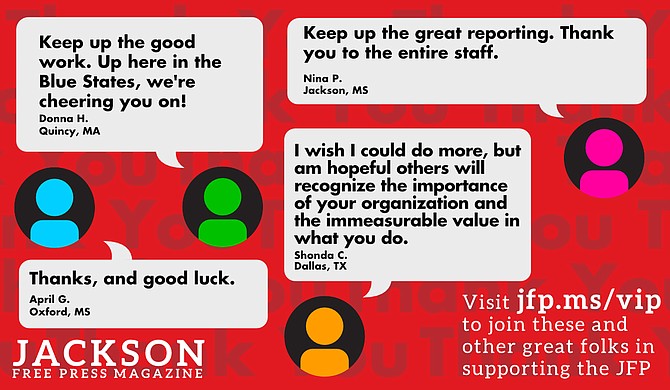 Thanks to all our new JFP VIPs!
COVID-19 has closed down the main sources of the JFP's revenue -- concerts, festivals, fundraisers, restaurants and bars. If everyone reading this article gives $5 or more, we should be able to continue publishing through the crisis. Please pay what you can to keep us reporting and publishing.