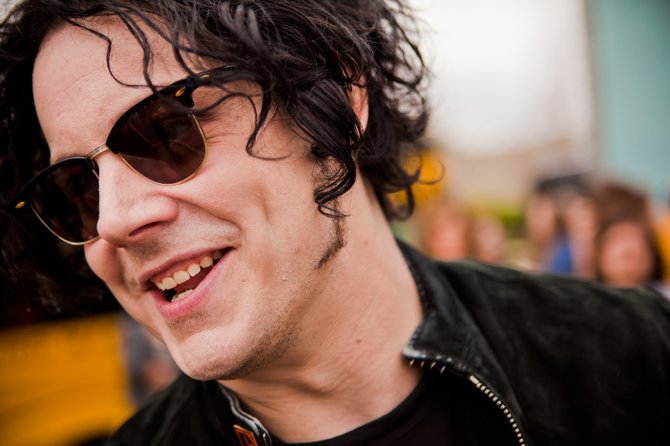 Jack White released his second solo record "Lazaretto" on June 10, A joint effort from Columbia Records and White's sub-label Third Man Records, "Lazaretto" debuted at No. 1 on the Billboard 200 album chart, selling 138,000 copies within the first week on shelves. Forty thousand of those sold were vinyl copies called "the Ultra LP," which contained a plethora of things never before found in a record sleeve. Namely, it has an angel hologram!
White was many things to many people before "Lazaretto." He is perhaps best remembered as half of the garage-rock duo The White Stripes. The band, consisting of White on guitar and ex-wife Meg White on drums, blazed a path in the early 2000s for up-and-coming DIY rock bands like The Black Keys and The Hives. Those bands likely would have found their ways eventually, but The White Stripes definitely opened doors for them musically.
One of the things The White Stripes are best known for is the song "Seven Nation Army," which became a hit on rock radio and a staple of live sporting events. If you attend any college football game this year, you're likely to hear the familiar seven-note guitar riff.
Talk-show host Conan O'Brien championed the band on live television, allowing them to be the in-house musical guest on his old NBC show "Late Night" for an entire week. This was unprecedented at the time. The format usually features a different group or comedian nightly. White later appeared on the last episode of O'Brien's short-lived run on "The Tonight Show." White would then release O'Brien's live single "And They Call Me Mad?" through Third Man in 2010.
White formed two bands while still playing with The White Stripes: The Raconteurs, featuring songwriter Brendan Benson and straight-ahead rock 'n' roll, and a super-group called The Dead Weather with Alison Mosshart of The Kills with a more experimental sound.
After The White Stripes officially broke up in 2011, White performed with or produced the likes of Bob Dylan, Alicia Keys, Neil Young, Loretta Lynn, The Rolling Stones and Wanda Jackson. He also acted in and performed music for the film "Cold Mountain."
White also delved further into his musical imprint label. Along with music from his many bands, the label has released tracks by Beck, The Shins, Cold War Kids and Stephen Colbert, many of which were recorded during live performances at the Third Man studio in Nashville.
The label has served as an outlet for White's vision of creating new ways to enjoy vinyl records. Besides the aforementioned "Ultra LP," the company has printed multi-colored and liquid-filled discs. One was even placed inside a helium balloon to be discovered by folks on the ground.
Singer, guitar hero, songwriter, producer, actor, furniture upholsterer and businessman—all of these things make up Jack White's universe. The best artists take components of all their influences and somehow shape them into new and original ideas. They build upon what has come before them. Jack White is fixated on the future of music while keeping one eye on the past. After the much-deserved success of "Lazaretto," we can all wait and wonder what he will come up with next.
More stories by this author
Support our reporting -- Follow the MFP.