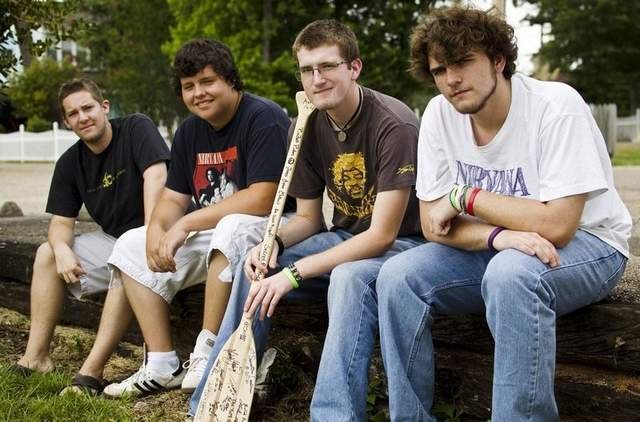 A strange thing happened to the development of rock 'n' roll music back in the '60s: Bands such as The Beatles inspired young people everywhere to form their own musical groups. A new movement was born called "garage rock" (because most of these bands rehearsed in suburban garages).
The music was raw and immediate. These groups weren't obligated to labels or business pressure and because they weren't 
"professionals," their music was their own and created for pure joy.
Hattiesburg's Stellatone is a band that carries this tradition. The duo of Stephen Curley and Dylan Kern has forged its own path of glorified, distorted music and do-it-yourself rock. Curley says he and Kern "were jamming as a two-piece and got tired of bass players quitting, so Dylan switched to bass out of necessity." The four-piece group is in the early stages of planning a regional tour.
Last year, the band played a small tour in Mississippi as Queens of England. This year, the guys have their sights on a larger area. "We may be overreaching, but so far, we have shows planned in Nashville, North Carolina and Georgia," Kern says.
Stellatone's grooves are guitar-driven. Before you succumb to the loping, hard guitar sounds, you might find yourself surprised by the band's ability to write catchy melodies with thoughtful lyrics.
These past few years have seen resurgence in garage rock with the help of bands like Jack White's The White Stripes. By its nature, the music creates a sense of urgent excitement with audiences. I noted to Kern that Nashville is home base of White and his Third Man Records empire. "I know. We sent him a demo a while back," he says. With Stellatone's attitude of doing whatever is necessary to make music, this makes perfect sense.
Catch Stellatone for free at Morningbell Records (622 Duling Ave., Suite 205A, 769-233-7468) at 8 p.m. on July 19 with That Scoundrel. All ages are welcome. Find Stellatone on Facebook.
More like this story
More stories by this author